By

Leanne Hays
Updated 08/27/2020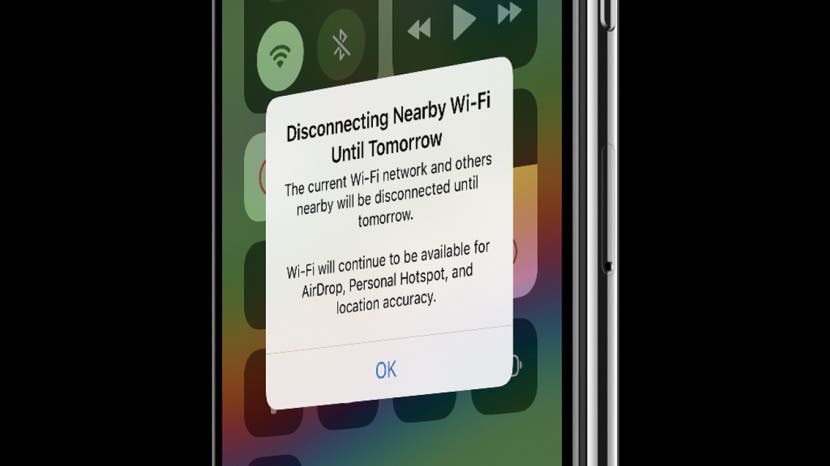 * This post is part of iPhone Life's Tip of the Day newsletter. Sign Up. *
Learn how to temporarily disconnect from a Wi-Fi network using the Control Center on your iPhone. You're connected to a Wi-Fi network with a weak signal, and you'd like to turn off Wi-Fi on your iPhone. Of course, you could open your Settings app, open Wi-Fi, disconnect from your current Wi-Fi network, and join another or switch to cellular. But did you know there's a much faster way to accomplish this task by using the Control Center? Here's how
Related: How to Customize the Control Center with iOS 11 on iPhone
How to Turn Off Wi-Fi on Your iPhone Temporarily
Open the Control Center by swiping down from the top right corner of the display on your iPhone X or newer, or up from the bottom of the screen on earlier iPhones.


 
In the Control Center, tap the Wi-Fi symbol to temporarily disconnect from Wi-Fi.

When you tap the symbol, a notification appears that this Wi-Fi network is disconnecting until the following day (Wi-Fi will remain on for AirDrop, AirPlay, and personal hotspots). Note that if you want to completely turn off all Wi-Fi functions, you will need to turn of Wi-Fi in Settings.
Your iPhone will join other known Wi-Fi networks if you change your location or restart your device.



If you change your mind, simply open the Control Center and tap on the Wi-Fi symbol again to rejoin the Wi-Fi network you just left.