By

Rachel Needell
Updated 01/24/2023
What To Know:
Tap and hold apps in the sidebar and then drag them to the center to add more windows to Stage Manager.
Resize windows as often as needed by tapping and dragging the curved line in the corner of each app.
Tap a window to bring it forward. You can have up to four open app windows at once within in an app group.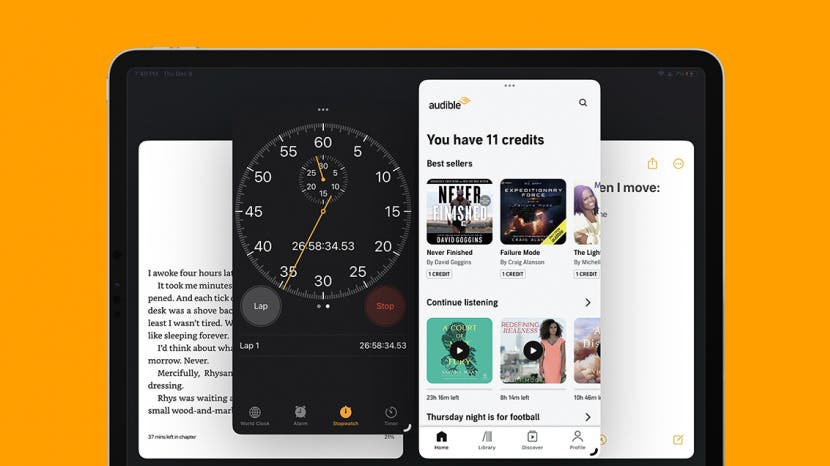 Stage Manager, the multi-tasking user interface available on M1 iPads, helps make your iPad more like a computer than ever before. One of the key advantages of Stage Manager is the way a user can switch between multiple app windows with ease. Grouping apps together in Stage Manager is an amazing way to take your multitasking abilities on the iPad to the next level. Let me show you my favorite way to work on the iPad!
How to Group Apps with Stage Manager
It's important to remember that Stage Manager is only compatible with iPad Pro 12.9-in (3rd gen or later), iPad Pro 11-in (1st gen or later), and iPad Air (5th gen or later).
Before we get started, be sure you have Stage Manager enabled by swiping down from the top left to access the Control Center and tapping the Stage Manager button that looks like three dots next to a rectangle. It will be white when enabled. Additionally, be sure you've downloaded iPadOS 16 or later for this to work. If you like tips like this about using your Apple devices, be sure to sign up for our free Tip of the Day! Let's dive into app groups in Stage Manager:
On your iPad, open an app you'd like to work within.


If it opens in full screen, tap and drag the curved line in the corner to resize it.



The sidebar will automatically pop up with all your recently used apps.


To add another app window from the apps in the sidebar, tap and drag the app to the center.



Continue adding apps from the sidebar as you see fit. However, there is a limit of up to four. If the sidebar disappears, swipe slowly from the left side of the screen and it will appear again.


To add an app that's not in the sidebar to the app group, tap the three dots at the top center of any app window.



Tap Add Another Window.


Your screen will automatically open to all your recent apps. Tap an app to add it to the app group.



To add an app from the Home Screen instead, swipe up to go to your Home Screen.


From your Home Screen, you can add any app to the group. If you choose an app already within an app group, it will abandon the old one for the new one. 



Once you have multiple app windows open, tap an app to bring it forward.


Continue resizing apps to get the best workflow for you. I find myself resizing the windows frequently as I work. 



Then, to preserve the group you've just created, you can tap another window in the sidebar, or simply swipe up to go to the home screen.


You will see your new app group minimized, all together, in the sidebar. That is your app group!



If you swipe up slowly halfway to access all recent apps, the apps you've grouped will stay together as long as you have Stage Manager enabled.


If you go back to the Home Screen and open one of the apps within the app group, the entire app group will open together with that specific app on top. 



To remove apps from the app group, tap and drag the app from the three dots at the top center of each app window back to the sidebar. 


To close an app within the app group, tap the three dots at the top center and tap Close.


And that's how you group apps with Stage Manager on the iPad! I've really turned into such an iPad nerd with the release of Stage Manager. And, to be fair, while there is a bit of a learning curve to this new multitasking user interface, once you get a bit of practice, you can get the hang of it super quick. Good luck!

Discover your iPhone's hidden features
Get one daily tip each day (with screenshots and clear instructions) so you can master your iPhone in just one minute a day.