By

Ashleigh Page
Updated 05/03/2023
What to Know
If you see a 'this accessory is not responding' HomePod alert, resetting your HomePod or HomePod mini may solve the issue.
You'll need to learn how to reset your Apple HomePod before selling it, giving it away, or sending it in for service.
There are three ways to complete a HomePod or HomePod mini reset.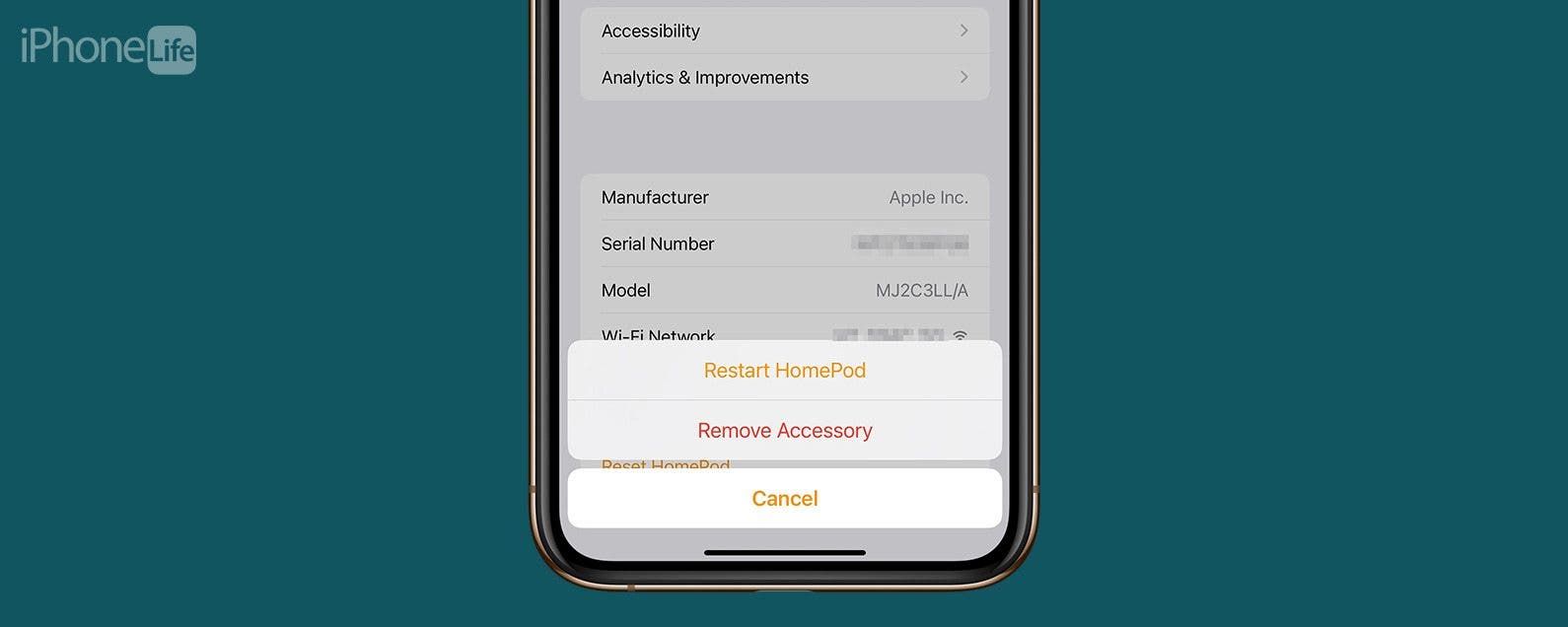 HomePod not responding? Whether you're having issues or looking to sell your current HomePod, we'll explain how to reset HomePods and HomePod minis, regardless of the model you have. We'll go over the three methods for resetting your HomePod to factory settings starting with the easiest one!
Jump To: 
How to Reset HomePod mini & HomePod with the Home App
This is the fastest and simplest HomePod reset method! Keep in mind that after the factory restore process, your HomePod will take several minutes to restart, after which you can begin the pairing with your iOS device.
Important Notes for Resetting HomePod mini & HomePod
Before doing a factory reset, make sure to try briefly unplugging your HomePod and restarting your HomePod. If these fail to resolve your issue, do a factory reset with one of the methods below.
If you are resetting a HomePod mini that is part of a stereo pair, you will need to unpair the stereo pair prior to resetting your device. For more Apple product tips, sign up for our free Tip of the Day newsletter.
Once you've read the important note above, you are ready to learn how to reset HomePods via the Home app.

Discover your iPhone's hidden features
Get one daily tip each day (with screenshots and clear instructions) so you can master your iPhone in just one minute a day.
To reset your HomePod or HomePod mini, you must first open the Home app.


Tap the HomePod icon you wish to reset to open it. 



Scroll down and tap the HomePod Settings icon.


Scroll down and tap Reset HomePod.... 



If you just want to restart your HomePod to troubleshoot tech problems, tap Restart HomePod. It will take a few minutes for it to restart. You won't need to re-pair it again.


To factory reset your HomePod, tap Remove Accessory.



Confirm that you wish to Remove the HomePod. This will require you to re-pair your HomePod.


If you reset due to device issues, you will need to set up your HomePod after factory resetting to reconnect it to your iOS device. For step-by-step instructions on setting up HomePod minis or first or second-generation HomePods, read this.
How to Factory Reset HomePod mini & HomePod without iPhone
This hardware reset will also restore your HomePod and HomePod mini to factory settings, which will remove your HomePod from the Home app. Once you complete the Apple reset below, you will need to set up your HomePod by pairing it to your iOS device.
To reset your HomePod without using your iPhone, unplug the HomePod and wait 10 seconds.
Plug the HomePod back in and wait 10 seconds.

Place a finger on the top of the HomePod, and don't remove it until Siri tells you to. (Otherwise, you'll have to start over.)
Your HomePod will first show a rotating white light and then it will turn red.

Siri will say, "Your HomePod is about to reset. Keep pressing until you hear three beeps."
Remove your finger once you hear the three beeps.
How to Reset HomePod mini via Mac (HomePod mini Only!)
This reset option is available for HomePod minis only because it has a USB-C plug allowing it to be connected to a Mac. It's important to note that if a HomePod Software update is available, this will need to be installed first. After the update, the HomePod factory reset will automatically start. The software update takes roughly 15 minutes, so if you're looking for a quicker option, I recommend trying one of the two options above.
Open a Finder window and click HomePod under Locations.


Click Restore.



Click Next to download the HomePod software. 


Click Agree to accept the Terms of Agreement. 



The software update will download. 


You'll see a notice stating, "Your HomePod has been restored to factory settings." Click OK and unplug your HomePod mini.


Pro Tip:
As a final note for those troubleshooting: if none of these reset methods resolve the issues with your Apple HomePod or HomePod mini, I recommend either calling Apple Support or taking the device to your local Apple Store.
Now you know how to reset Apple HomePods of all models! Next, learn some of the best HomePod commands and what to do if your HomePod is not responding.