By

Amy Spitzfaden Both
Updated 06/22/2023
What to Know:
HomePods can be set up to become stereo pairs as long as you have two Apple HomePod minis, two HomePods (Gen 1), or two HomePods (Gen 2).
A HomePod Stereo Pair can be used as a speaker for your Apple TV or to give your music more dimension.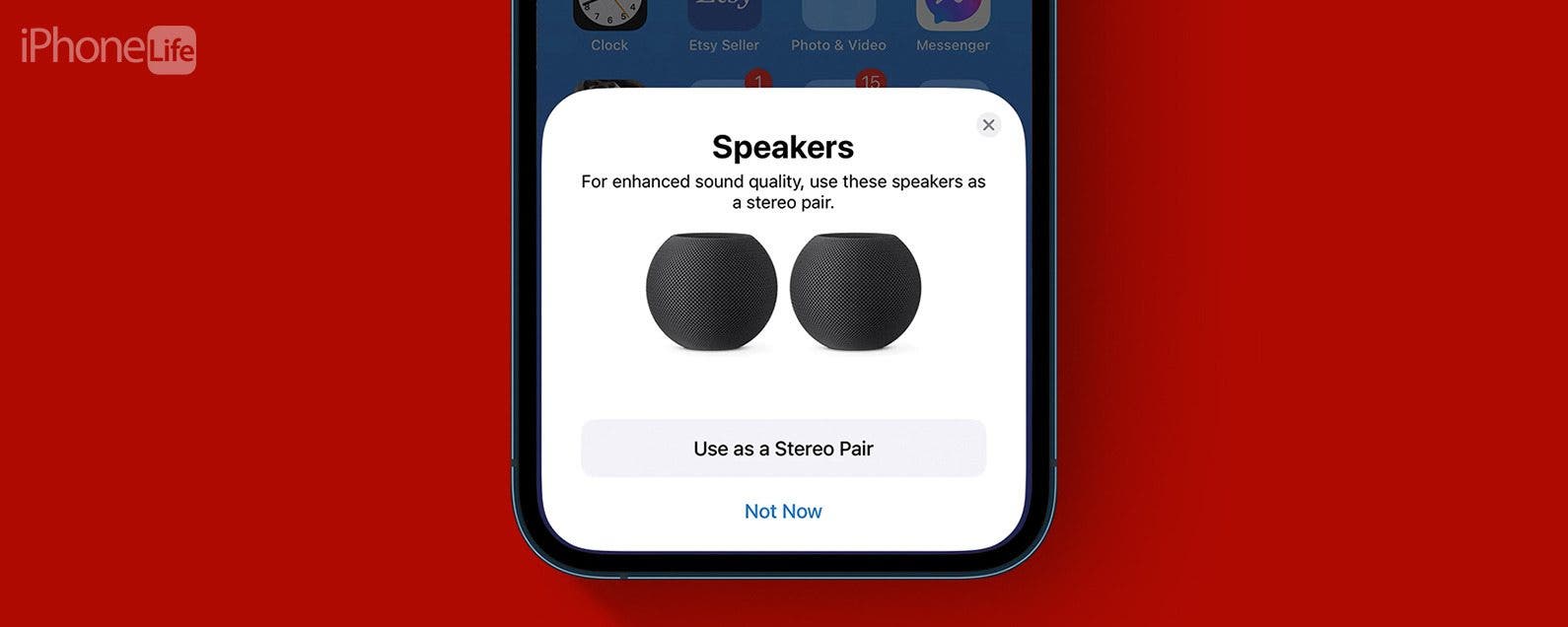 Creating a stereo pair with two Apple HomePod mini or HomePod speakers can create a rich sound experience that cannot be accomplished with one HomePod alone! Songs that are meant to be heard in stereo can reach their full potential, and your paired HomePod minis can become speakers for your Apple TV. We'll teach you how to set up a HomePod or HomePod mini stereo speaker, whether you're starting fresh or already have two HomePods set up.
Jump To:
How to Create a Stereo Pair with Already Set Up HomePods
If your HomePod setup already includes two HomePods or two minis, you can set them up to create a stereo pair. They will need to be in the same room as each other, so if you had them assigned to different rooms, that will have to change. You can do this on an iPhone, iPad, or an iPod touch running the latest software. To set up a HomePod or HomePod mini Stereo Pair:
Once your Stereo Pair has been configured, your HomePods or HomePod minis will play audio from the same input at the same time. Now you can use your new home stereo speakers!

Discover your iPhone's hidden features
Get one daily tip each day (with screenshots and clear instructions) so you can master your iPhone in just one minute a day.
Warning:
Using Siri or speakerphone on your HomePod, or setting a HomePod alarm will still result in only one of the paired speakers emitting sound.
That's it; you know how to set up HomePod minis, HomePods (Gen 1), or HomePods (Gen 2) as Stereo Pairs! Now you can enjoy an upgrade in audio quality with your HomePod Stereo Pair. Skip down to learn how to use the Stereo Pair as an Apple TV speaker. For more HomePod tips, check out our free Tip of the Day newsletter.
How to Set Up New HomePod or HomePod Mini Speakers as a Stereo Pair
You will need either two HomePod minis, two HomePods (1st generation), or two HomePods (2nd generation) to do this. Only one won't create a stereo system, and you can't mix and match the HomePod mini with full-sized HomePods or even the first and second HomePod generations. If you already have one HomePod set up, here is how to add the new one to create a stereo pair.
Set up your second HomePod mini as usual. Here's a refresher in case you need a refresher on setting up HomePod minis or HomePods, read this. Once you get the option to, tap Use as Stereo Pair, then keep following the on-screen directions. Now you know how to pair HomePods together!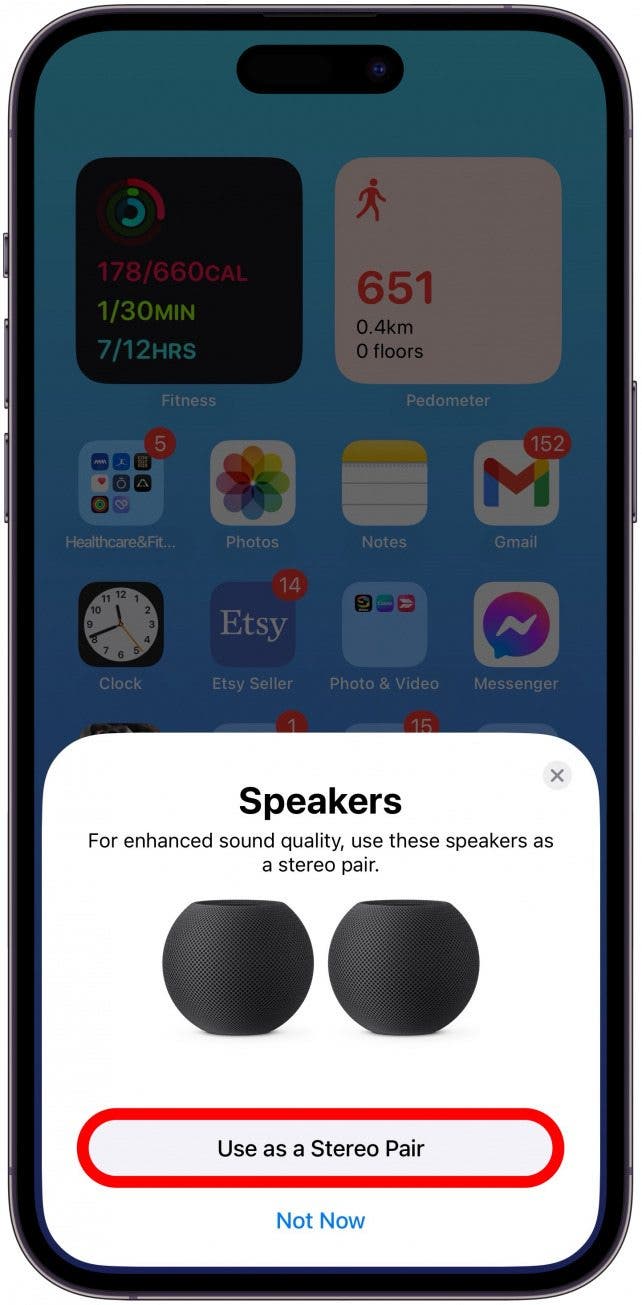 How to Switch HomePods to the Left or Right Channel
If you decide you want to switch which HomePod is the left channel and which is the right channel, I'll show you how to do that. The steps are similar for iPhones, iPads, and iPod touch, but I will use an iPhone for this example:
Open the Home app and long press the Stereo Pair.


Tap Accessory Settings.



Tap Audio Settings.


Follow the on-screen directions to identify the left and right speaker, then tap the center arrows icon if you need to switch HomePod channels from left to right.


How to Unpair a Stereo Pair
If you get a new HomePod, or just don't like the setup anymore, you'll want to know how to unpair your stereo pair. This won't remove them from your Home app; it will just show them as two separate devices instead of a pair.
Open the Home app and long press the Stereo Pair you wish to unpair.


Tap Accessory Settings.



Scroll to the very bottom and tap Ungroup Accessories.


Tap Ungroup to confirm.


The HomePods will be unpaired and appear as two separate HomePods in your Home App.
How to Connect a Stereo Pair of HomePod Minis to an Apple TV
If you want to use your Apple HomePod speakers as a stereo pair for your Apple TV, unlike the original HomePod, which can be set as the default speaker for an Apple TV, you can only connect HomePod minis to an Apple TV via AirPlay.
On the Apple TV, open the app from which you want to play audio and press Play.


Long press the Home button on the Siri remote to open the Control Center.



Swipe down to the AirPlay icon and click to select it.


In the audio output menu that opens, swipe down to the stereo pair and click to select it.


Now you know how to create stereo pairs with HomePods or HomePods mini and enhance your home audio experience! No need to buy new speakers, Stereo Pairing your HomePods lets you experience better sound with HomePods mini, HomePods (Gen 1), and HomePods (Gen 2). Next, learn more about HomePods and what you can do with them.