Jealously guard your hoard of infrequently used apps by disabling Offload Unused Apps
By

Elisabeth Garry
Updated 10/29/2021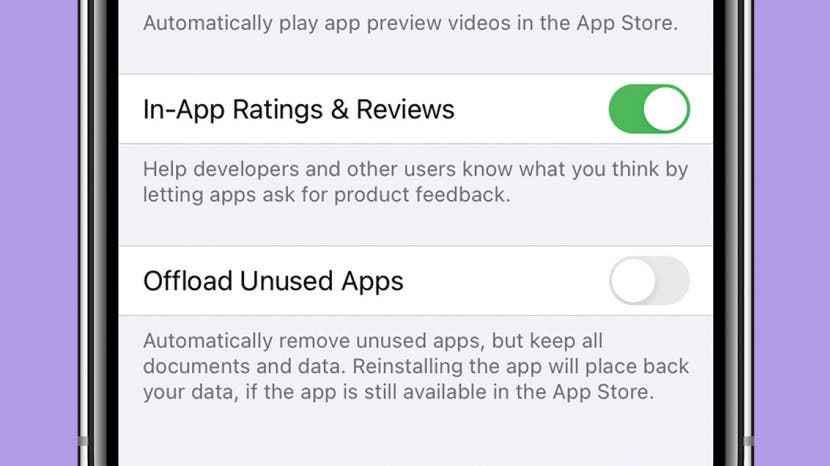 * This post is part of iPhone Life's Tip of the Day newsletter. Sign Up. *
Have you ever gone to use an app you haven't touched in a long time, only to find that the app has disappeared? The good news is you're not losing your mind: Apple occasionally offloads apps it doesn't think you're using anymore. The better news is that you haven't lost any data stored in the app (you only need to reinstall to get it back), and the best news is that it's easy to prevent your iPhone from unloading unused apps in the future. Let's go over how.
How to Turn Off Offload Unused Apps
Go to Settings.


 
Tap App Store.


 
Toggle Offload Unused Apps to the off (gray) position.

 
Now, no matter how long you neglect your apps, they'll always be there waiting when you need them. To learn about more apps and features you might actually use every now and then, consider signing up for our Tip of the Day!
Related: How to Hide Apps on the iPhone & Find Them Later (Updated for iOS 14)
If you change your mind and decide you'd like your iPhone to Marie Kondo itself every now and then, simply toggle Offload Unused Apps back on. Otherwise, you can relax in the knowledge that all the apps that bring you joy will remain safe on your home screen from now on. Offloading unused apps isn't the only way that apps may go missing. Check out this article on how to find hidden or missing apps on your iPhone, or this one that specifically helps you fix a dissapearing Mail app.