How do you know if someone blocked your number? You can't for sure, but here are some ways to make an educated guess.
By

Leanne Hays
Updated 05/05/2021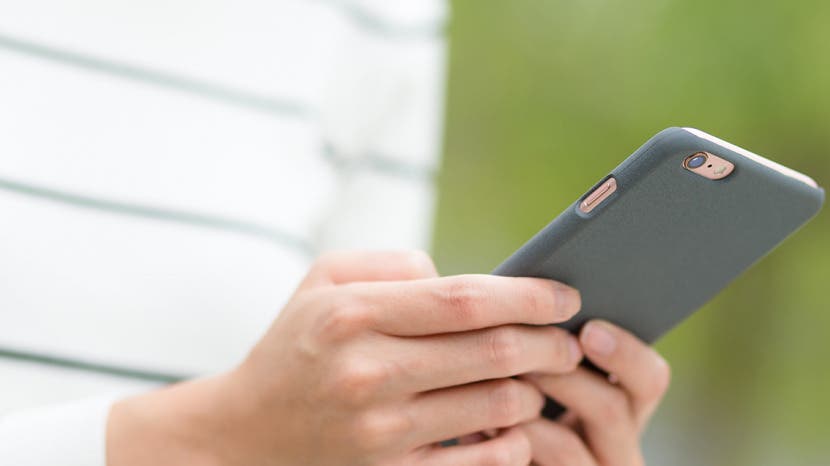 You've been trying to get in touch with a friend or family member, but they haven't returned your calls or messages. Are they just busy or have they blocked your number? How do you know if someone blocked your number? There's not a surefire way how to know if someone blocked your number, but there are a few telling signs that might indicate someone blocked your number from texting or calling. We've already gone over how to block a number, as well as how to block your number or call privately, now let's go over the clues that calls and messages from your iPhone are being blocked.
5 Ways to Know If Someone Blocked Your Number
Jump To:
1. iMessage Not Delivered
How do you know if someone blocked you on iMessage? If someone has blocked your number on their device, you won't get an alert when it happens, but here is a clue to know if someone blocked you in iMessage. You can still use iMessage to text your former contact, but like your phone calls they'll never receive the message or any notification of a text received. There is one clue that you've been blocked, though. Look underneath the last text you sent before you suspect you were blocked, does it say Delivered?
If the previous iMessage says Delivered but the most recent one doesn't, it can mean that you've been blocked. As you can see in the photo below, the two iMessages I sent my sister during our blocking experiment were never tagged with a delivery notification.
Master your iPhone in one minute a day:
Sign up to iPhone Life's Tip of the Day Newsletter and we'll send you a tip each day to save time and get the most out of your iPhone or iPad.
2. Use SMS
If iMessage isn't delivering, using SMS is a good way how to tell if someone blocked your number. If you want another indicator that your number has been blocked, enable SMS texts on your iPhone. This way, when iMessages don't go through, your device will re-send the message using your cellular plan. As you can see in the picture below, my iPhone dutifully attempted to re-send my iMessages in SMS form, indicated by the green text bubbles.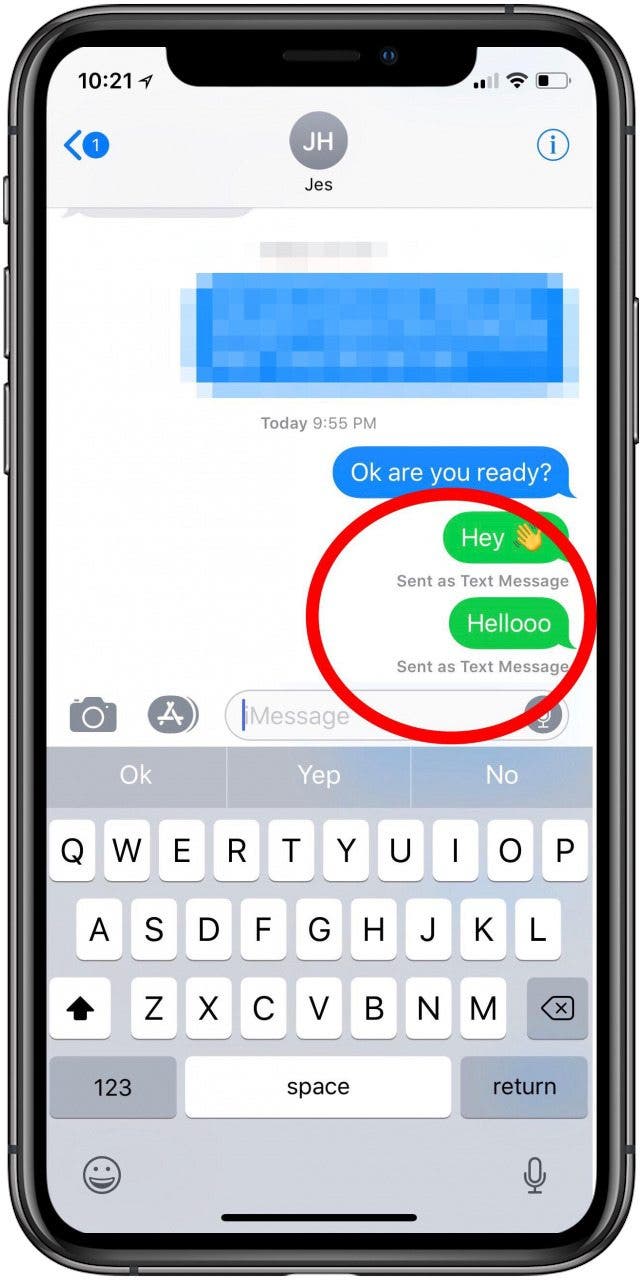 If your SMS messages also don't receive a reply or a delivery confirmation, it's another sign that you've been blocked.
3. Could It Be Do Not Disturb Mode?
Okay, you've tried the first two, but how do you know if someone blocked you? Could it be Do Not Disturb Mode? If the person you texted hasn't blocked you and their iPhone is in Do Not Disturb mode, when their iPhone comes out of Do Not Disturb, they'll receive both a notification and your iMessage.
To show this, my co-worker Sarah did not block my number on her iPhone for the first message in the picture below, then blocked me for the second message, "Hey Sarah - test text." For the second photo, Sarah set her iPhone to Do Not Disturb. You can see in the first photo below that for the first, unblocked text, there is a delivery notification. The second, blocked text, had no Delivered notification underneath. For the text during Do Not Disturb, a delivery notification popped right up, although the message wasn't delivered until Do Not Disturb mode was turned off. Therefore I must conclude that if someone has Do Not Disturb mode turned on, you'll still receive delivery notifications for your messages, but you will not if you've been blocked.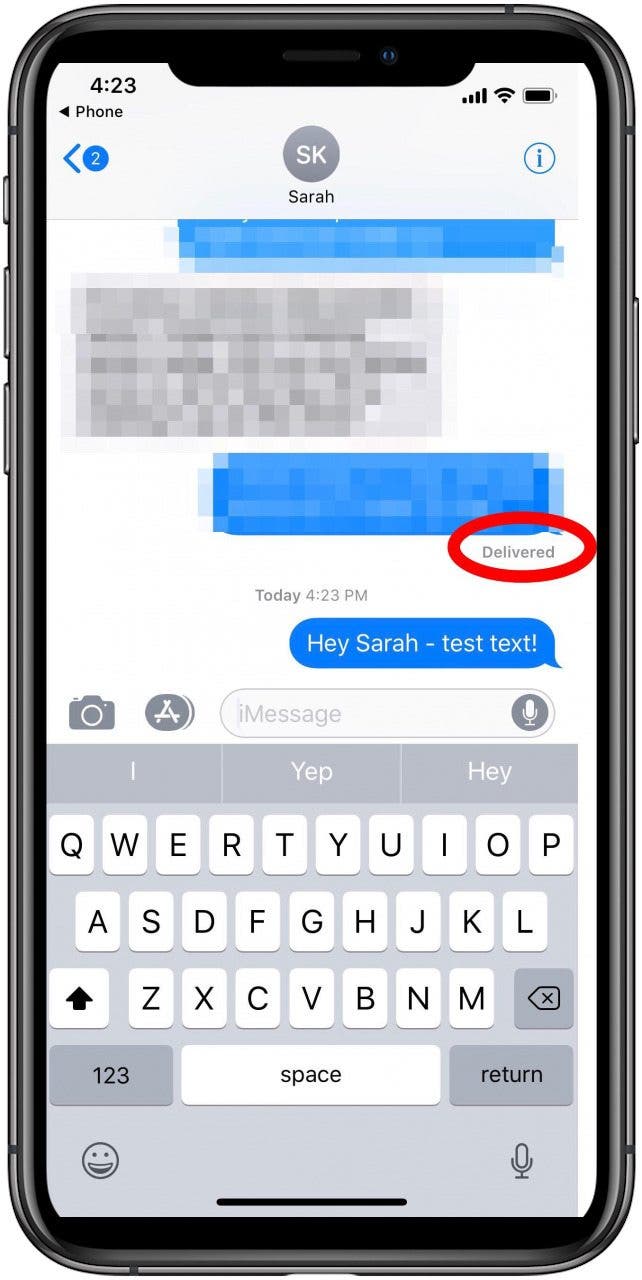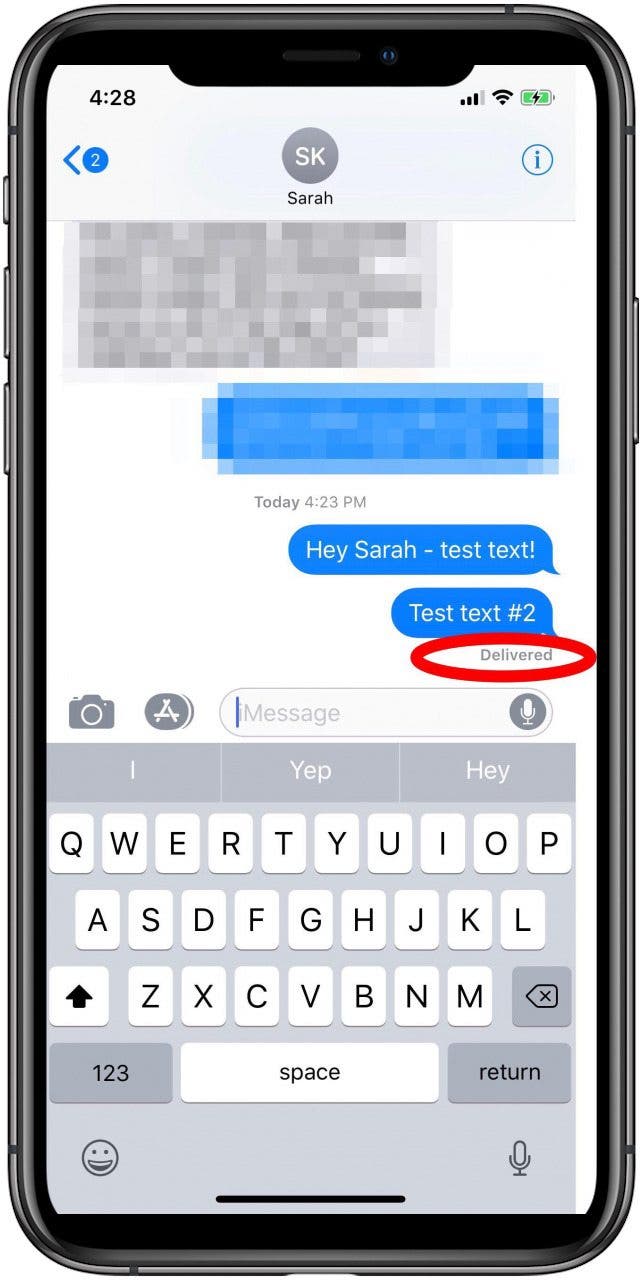 Related: How to Check Voicemails from Blocked Numbers on iPhone
4. Going Straight to Voicemail
Calling someone can be a great way to tell if someone blocked you on the iPhone. So if your text wasn't answered, and there's no delivery verification either, there is still the possibility that their phone is out of service for whatever reason. Unless there's an emergency, I'd wait to call your friend or family member. If your text still isn't answered after a few hours and you decide to call, here's how you can be pretty sure you've been blocked:
For this experiment, I asked my sister to block my number, and here's what I discovered. The phone rang, but very briefly, not even a full ring before connecting to voicemail. I was able to leave a message as I would with any unblocked call, but it appeared in a separate section of the voicemail on her iPhone; in the blocked calls section. After she unblocked me, my sister was notified in the usual way about my voicemail on her iPhone's Lock Screen. While I was blocked, however, there was no way at all for her to know I'd called, and no notification about the blocked voicemail. The only way she knew I rang was when she opened her voicemails and checked the Blocked Messages section.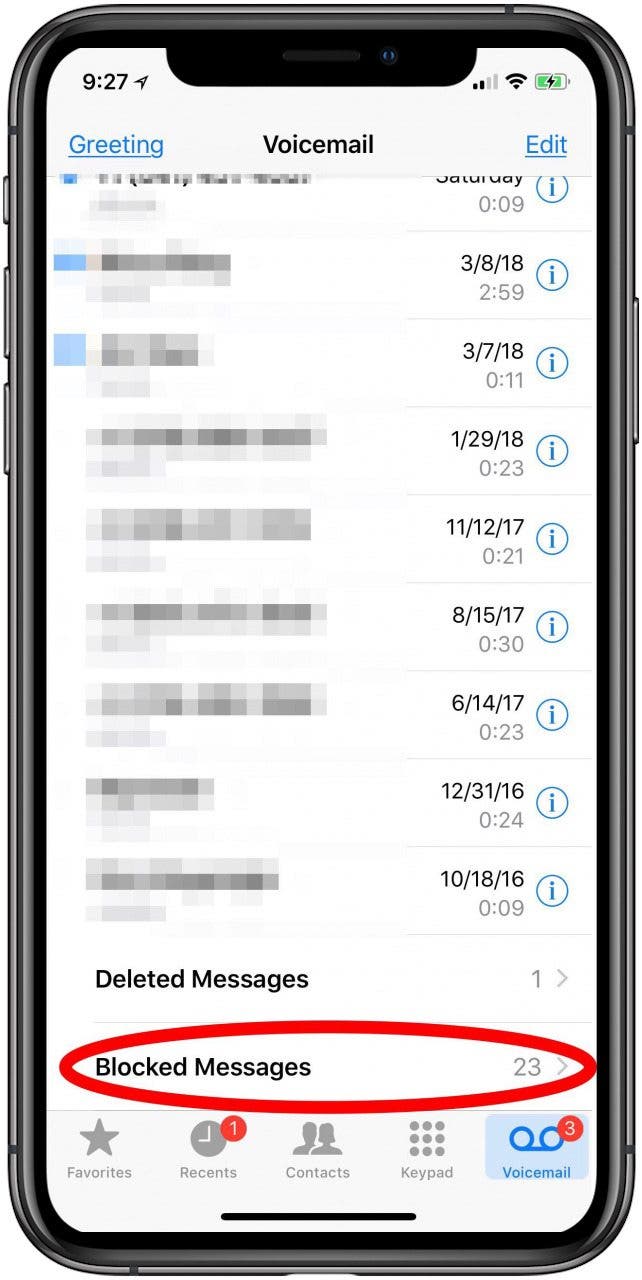 If your phone number isn't blocked and the person you're attempting to contact has their phone in Do Not Disturb mode, your voicemail will go to the regular, unblocked section. Also, if you call twice within three minutes and you're not blocked, the second call may go through due to the Repeated Calls feature. The Repeated Calls feature isn't a guarantee your second call will go through, though. As you can see in the picture below, there is an option to toggle Repeated Calls off.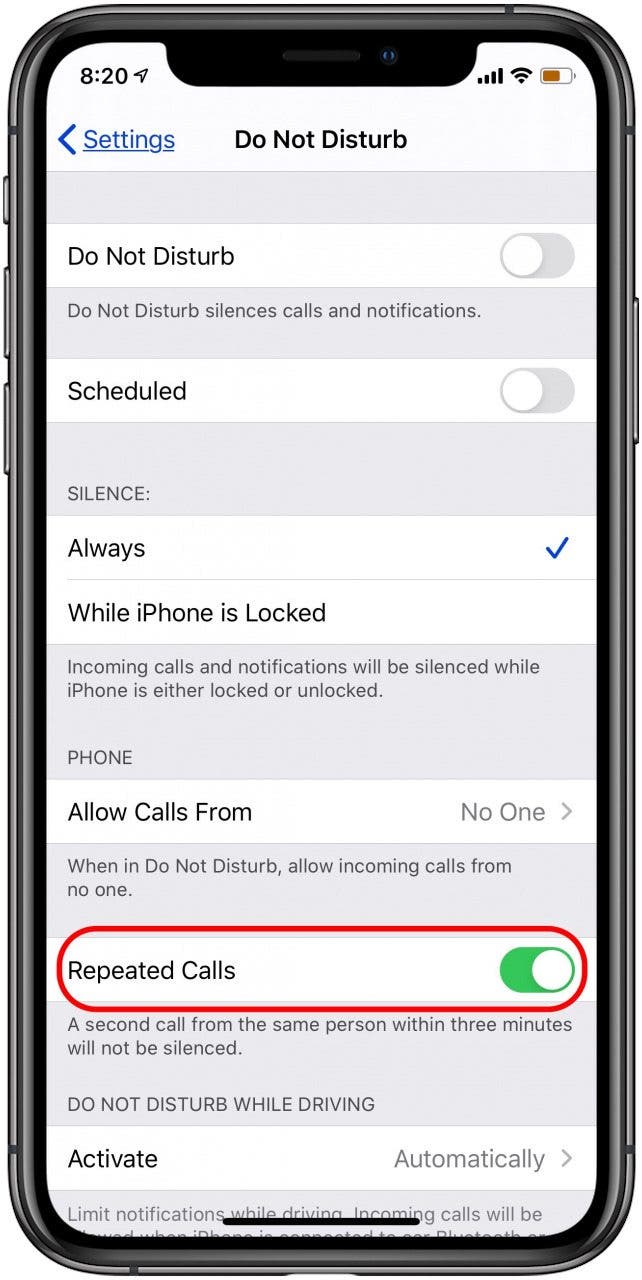 5. Automated Response? Not Blocked!
If someone is in Do Not Disturb mode, they can set up auto responses, to send you a text message, saying something like "Can I call you later?" These only happen if the call actually comes through, so if you get an auto response back, it means your number is not blocked in that person's phone.
Now that you have a few helpful clues to check for in your texts and calls, you'll be able to tell with reasonable assurance whether your number has been blocked or not. It's always best to speak to the person in question directly, though. Hopefully, there's been a misunderstanding; but if they did intend to block you and no longer want to be in contact, chalk it up to experience and move on. 
Blocked Number FAQs
1. How Do You Know If Someone Blocked You on iMessage?
Can you tell if someone blocked your number for texts only? Well, you can tell if someone blocked your number, which would include both texts and calls. It is not possible to block someone's texts without also blocking their calls, and vice versa. If you're having an issue with only texts going through, troubleshoot iMessage failures first, and then retry the steps listed in the messages sections of this article!
2. How Can I Call Someone Who Has Blocked My Number?
While there can be many reasons a number gets blocked, sometimes emergencies happen and users need to contact someone who has previously blocked their number. This is a tough area, and we do not recommend using this tip unless it's s true emergency. There can be legal ramifications to contacting someone who has made it clear they do not want you to do so! We strongly recommend respecting people's privacy, and we do not accept responsibility for users who act otherwise.

If you truly need to contact the person who has blocked your number, you can try hiding your caller ID by using *67. This will hide your caller ID and allow the call to go through, but will show up as No Caller ID or another similar message. This means that many users will still decline the call, but it at least hides your caller ID. Note that this still doesn't always work depending on carrier settings, but it's an option in an emergency.
3. How Do I Unblock My Number from Someone's Phone?
Unfortunately it's not possible to unblock your number when someone else has blocked your number on their device. If you're actually looking for how to block or unblock your own number to make private calls or to allow people to see your name when you're calling on a number that usually shows up as private, we can help with that!
Top image credit: leungchopan / Shutterstock.com