By

Olena Kagui
Updated 03/06/2023
What to Know
Learn how to use the Depth app.
Differentiate between Depth app and a dive computer.
Customize the Depth app: imperial vs metric.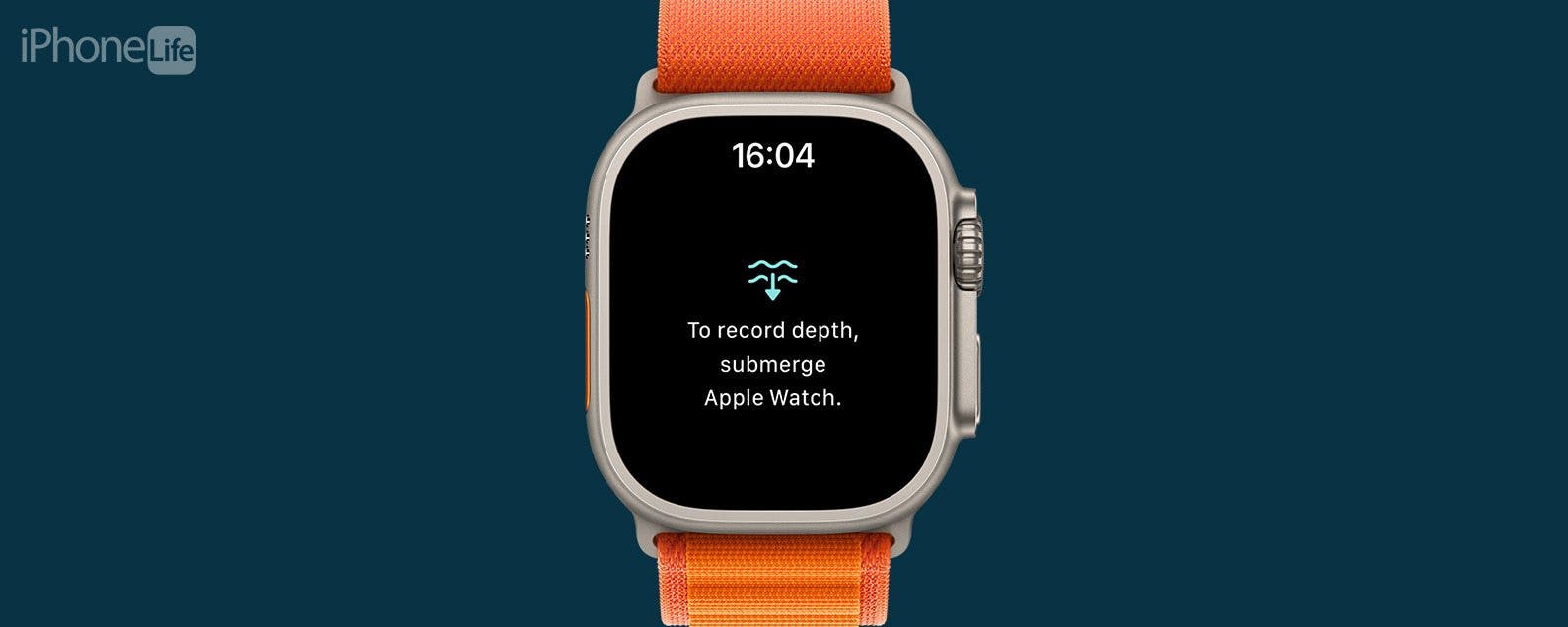 The Depth app is new to the Apple Watch Ultra and was mentioned in the same sentence as "Apple Watch dive computer," which confused many users into thinking they are the same thing. I will clarify how they are different and go over when, where, and how to use the Depth app. Let's dive in.
Jump To:
What Is the Apple Watch Depth App
The Depth app is one of the most confusing of the new Apple Watch Ultra features. Many seem to think that it is the same as the Apple Watch dive computer, while all it does is measure depth, as the name implies. The Depth app records water temperature, depth, and duration of water activities up to 130 feet (40 meters.) In addition to scuba diving, you can use it for snorkeling, free-diving, or swimming underwater in a pool.
Warning: The Depth App is not a dive computer. It only works up to 130 feet (40 meters), then the screen turns yellow, and functionality becomes limited.
The Apple Watch Ultra and the sensors comply with the EN13319 diving depth standard that is internationally recognized for dive computers and gauges. This means that it can be used as a dive computer with the help of third-party apps. At the time of writing, the only compatible option is Oceanic+ Dive Computer App ($9.99/month, $79.99/year, or $0.99 per day.) 
Downloading the Oceanic+ Dive Computer App on the Apple Watch Ultra will give you access to features such as your dive parameters, ascent rates, a built-in variometer, a GPS-enhanced dive logbook, your dive stats, and so much more. If you only use the Depth app, you will only see depth, duration, and water temperature. If you like articles like this, you'll love our free Tip of the Day; sign up now!
How to Use the Depth App on Your Apple Watch Ultra
Using the Apple Watch Ultra's Depth app is easy because it launches automatically by default. Tat the Depth app will open as soon as your Apple Watch is submerged a meter (3.2 feet) or deeper. If you don't want your Depth app to launch automatically because you prefer using a different app or want to save your Apple Watch battery life, you can easily disable it.
Your Depth app will launch automatically by default unless you disable it in your Apple Watch Settings.


Tap General.



Next, select Auto-Launch.


Under WHEN SUBMERGED, you will see the Depth app. Disable it by tapping the toggle so it turns gray.


If you tap on the Depth app from your Home Screen, you'll be prompted to submerge your Apple Watch.


If you're still on the fence about getting an Apple Watch Ultra, make sure to check out our review!
How to Customize the Depth App on Apple Watch Ultra
The Depth app can show you the depth in feet or meters, and it can tell you the water temperature in Fahrenheit or Celsius. To customize this:
Open Settings from your Home Screen.


Scroll down and tap Depth.



Under DEPTH UNITS, tap either Feet or Meters.


Under WATER TEMPERATURE UNITS, tap Fahrenheit or Celsius.



At the very bottom, you'll see a disclaimer advising you to read the Apple Watch User Guide for diving instructions and warnings before you get in the water.


Now you know how to use the Depth app! Please be careful when doing underwater activities, as they can be dangerous. It is best to stick to safe areas and always go with an experienced friend or organized tour group in case of any emergencies. We hope you have fun and stay safe while discovering all the exciting Apple Watch Ultra features, such as the 86-decibel siren! Next, try the 25 best Apple Watch games for the Apple Watch Ultra and older watch models.