Are you disappointed because your new iPhone 13 camera is taking terrible photos? You're not alone, but there is an easy way to fix it!
By

Olena Kagui
Thu, 11/11/2021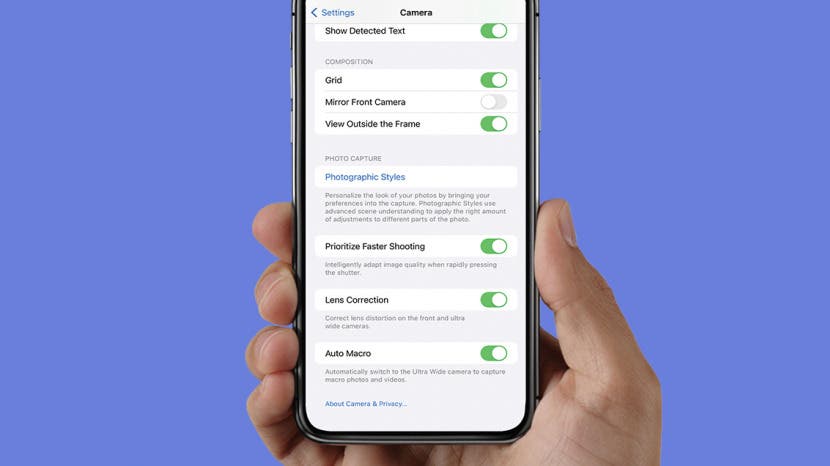 The iPhone 13 made a splash with the promise of exciting new camera capabilities. But many users have experienced issues that made them consider returning the new phones. Before you decide to throw in the towel, let me walk you through two easy ways to improve photo quality instantly on iPhone 13 Pro and iPhone 13 Max Pro.
What's in This Article
iPhone 13 Pro Macro Mode Photography Issues
The iPhone 13 Pro and Pro Max have a fantastic new macro mode feature. Macro photography is close-up photography of small things such as plants or insects. To take these, your iPhone will automatically shift from the primary wide lens to the ultra-wide lens, which brings the subject closer and changes the focus. If the camera detects something within 5.5 inches of the lens, this will happen automatically. 
The automatic mode change can happen if something passes near the lens or in low light. Sometimes this happens even if there isn't anything close to the lens, and it can be frustrating. It can even cause you to miss a moment you are trying to capture because you need to take the time to refocus your camera. The two things that help are to turn off auto macro mode and lens correction.
Related: 15 Photography Tips to Help You Master Your iPhone's Camera
How to Turn Off Automatic Macro Mode
Some iPhone 13 Pro and Pro Max users have noticed their iPhone camera zooming in too much, suddenly and unexpectedly. This may be due to the new auto macro mode feature rather than a camera malfunction or software glitch. To turn it off:
Open Settings.


 
Tap on Camera.


 
Toggle off Auto Macro.


 
With Auto Macro toggled off, you'll have to tap on 0.5 near the shutter to make sure that the ultra-wide lens is being used to capture the photo in order to use macro mode manually.


How to Turn Off Lens Correction
Lens correction is another setting that can improve your photography, but it may also cause problems. To turn it off:
Open Camera in Settings.


 
Toggle off Lens Correction.


 
When this is off, you may want to tap on the subject when taking photos and videos before you start taking photos or recording the video. This will help your iPhone use the correct lens to get the best results.


Apple iPhone Camera Lenses Explained
These troubleshooting tips may help fix the problem, but understanding how the iPhone lenses and zoom work can also be useful.  The iPhone 13 and iPhone 13 mini both have a dual-lens system, which has been the norm since iPhone 7 came out in 2016. One lens is wide, while the other is ultra-wide. These phones are capable of up to 5x digital zoom. 
The iPhone 13 Pro and iPhone 13 Pro Max have three lenses. Two are the regular wide and ultra-wide, while the third is a telephoto lens. These phones are capable of 15x digital zoom but also 3x optical zoom. What is a telephoto camera smartphone lens? In simple terms, a telephoto lens has a higher focal length so that you can zoom in without compromising the quality of the photo.
3x zoom means that the longest focal length is three times the shortest. So a 3x zoom means that the lens has the power to enlarge an image ten times between normal focal length and telephoto length. Here's what the difference between 1x zoom and 3x zoom looks like on an iPhone 13 Pro Max: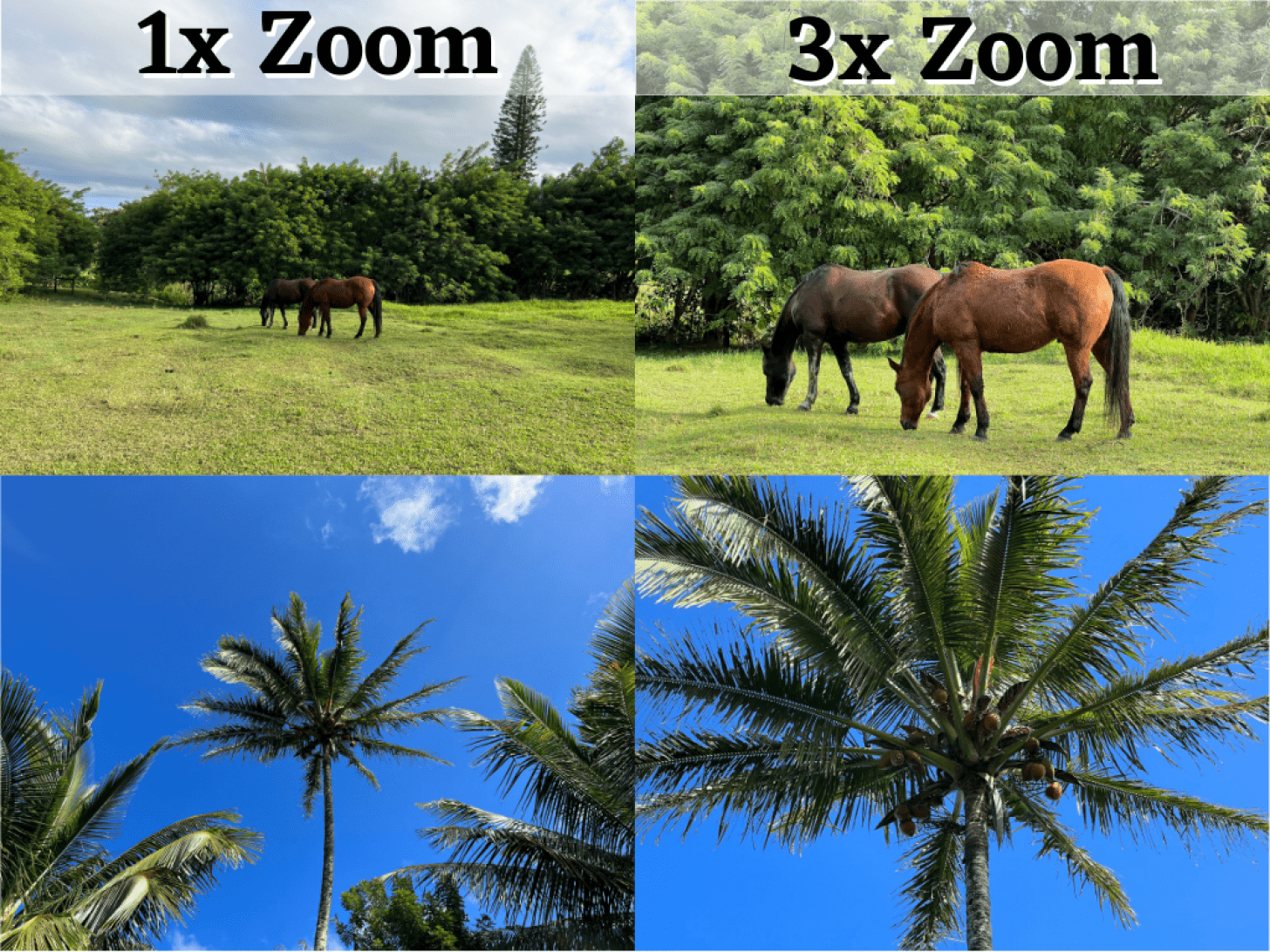 The difference between optical and digital zoom is also essential to note. Digital zoom uses magnification technology to enlarge the area of the image by cutting down on the megapixels, which lowers the quality of the image. This means that zoom on iPhone 13 and iPhone 13 mini cameras is equivalent to cropping an image to magnify the subject. 
Optical zoom magnifies by leveraging the physical change in a lens to adjust the distance between the camera sensor and the subject resulting in high-quality magnification. If you use the 0.5x, 1x, or 3x zoom options on iPhone 13 Pro and iPhone 13 Pro Max, the image quality isn't compromised, making the camera significantly more powerful.
It can take a while to get used to a new phone and all the features, including the camera options. It can be frustrating to learn how to master the new iPhone 13 camera features, but it is worth it! For more iPhone tips, such as how to zoom out in Portrait mode, sign up for our free Tip of the Day newsletter.