How do you know your AirPods are charging? And how long do AirPods take to charge? We've put together a guide to answer your AirPods charging questions.
By

Tamlin Day
Updated 05/28/2021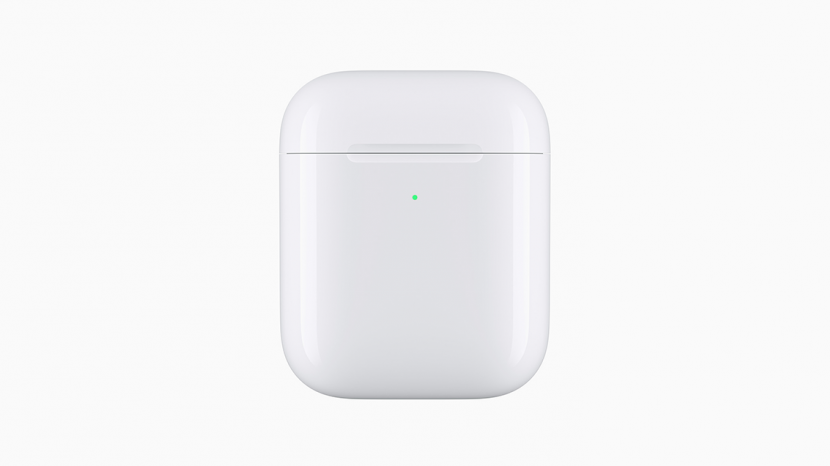 Using your iPhone to check the status of your AirPods and AirPods case is a quick way to know if your AirPods case is charging, if your AirPods are charging, or how much time you have left to listen to music. We'll show you how to check the battery levels of your AirPods and their charging case, and how to make sure your Apple AirPods case is charging properly. Let's get started with how to use your iPhone to monitor the status of your AirPods battery life.
* This post is part of iPhone Life's Tip of the Day newsletter. Sign Up. *
Jump to:
3 Ways to Check AirPods Battery Life & Charger Case
Your AirPods will need to be paired to the device you'd like to use to check the status of their charge. Need to know how to clean your AirPods without damaging them, too? We can help.
How to Check If Your AirPods Case Is Charging: Open the Case Near Your iPhone
Here's how to check your AirPods' battery on your iPhone to see if they're fully charged or in need of a charge!
Open your AirPods case, leaving your AirPods inside, and hold the open case near your iPhone.
The battery levels of both your AirPods and their charging case will appear on screen.


 
Notice the little black lightning bolt next to the battery icon. This indicates active charging. In the screenshot above, the AirPods are charging but the case isn't.
Related: Apple AirPods Guide: How To Connect (Pair), Set Up, Charge, Use AirPod Controls & More
How to Know If Your AirPods & Case Are Charging: Use the Today View
Are my AirPods charging? You can check battery levels on your AirPods using the Batteries Widget in the Today View.
Swipe right from the first Home screen to find the Today View.
To add the Batteries Widget, tap Edit at the bottom of the Today View screen.


 
Tap the green plus sign next to Batteries.
Tap Done. 


 
You can now view your AirPods and charging case status in the Batteries section of Today View when you open your AirPods case.
When your AirPods are in use and the case is closed, only their battery levels will appear on the screen.


How to Know Your AirPods & Case Are Charging: ​Ask Siri
You can also use Siri to check the status of your AirPods charging and case charging without ever having to open the case.
Ask Siri, "How much battery do my AirPods have?" and Siri will reply with the battery status of both.
If you are wearing your AirPods, you will need to ask specifically about the battery levels of the AirPods or of the charging case.


Now you know how to use your iPhone to check the charge status of your AirPods and their charging case using your iPhone screen, Today View, and Siri. 
How Long Do AirPods Take to Charge?
Business Insider reports that the AirPods themselves, when placed in the Apple AirPods case, should take about 20 minutes to fully charge. The case itself will take around an hour to recharge, and holds three or four charges for your AirPods. Apple gives a bit more detail, indicating that on certain AirPods models you can still expect a few hours of listening time even after only 15 minutes of charging.
AirPods Charging FAQs
1. Does Leaving AirPods in Their Case Drain Battery Life?
Actually, no! In fact, leaving the earbuds in their case is a good way to preserve AirPods battery life and battery health. 
2. How Can Your Tell if Your AirPods Are Fully Charged?
AirPods cases have charging indicator lights, but they're not especially intuitive if you're not familiar with the color coding. When you open your AirPods case with the AirPods inside, the little charge indicator light will show how much battery your AirPods have left. Green means AirPods are fully charged, orange means they have less than one full charge left in them.
If you need to know how charged an AirPods case is, that's just as simple. Open the case without the AirPods in it. Now the charge indicator light will tell you how much charge your AirPods case has left. As before, green means the AirPods case is fully charged, and orange means it has less than one full charge left in it.
3. What Is the AirPods Battery Lifespan?
On average, AirPods batteries carry a two-year life expectancy before users start to see diminished charging and charge hold. You can preserve your AirPods' battery lifespan in a number of ways, though, which will help you get the most out of your accessories!
4. Is It Bad to Leave AirPods Charging Overnight?
If you're talking about leaving your AirPods in their case overnight but the case is not connected to a power cable or otherwise currently being charged, then no, it's not dangerous. It's the best way to store them! 
Otherwise, if you're wondering about leaving your AirPods case connected to power overnight, that's not advisable because lithium-ion batteries like those used in Apple products don't do well when left charging for longer than they need to. It can shorten battery lifespan if a device is left charging overnight. If you're interested in learning more about caring for your iPhone, iPad, AirPods, or other Apple device batteries, we can help with that, too.