You can extend the life of your AirPods batteries with just a few simple tips and tricks. We'll show you how to charge, care for, and extend your AirPods' lifespan.
By

Erin MacPherson
Updated 09/13/2021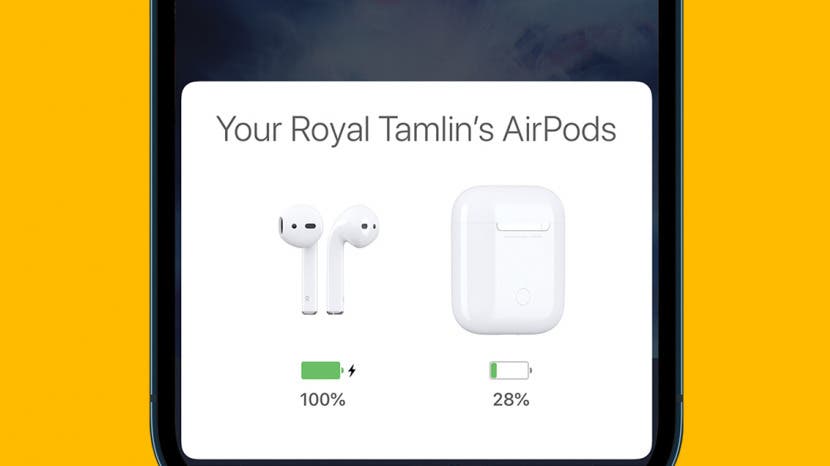 AirPods allow you to listen to music, ask Siri a question, or make a phone call without even touching your phone. With such amazing features, how long do AirPods batteries last, and how can you improve AirPods' battery life? This article will answer those questions and more.
Jump To:
How Long do AirPods Stay Charged?
AirPods can be charged in their case for just 15 minutes to get three hours of listening time or two hours of talk time. AirPods Pro can be charged for just five minutes to gain enough battery life for one hour of either listening or talking time.
According to Apple, first-generation AirPods can last for up to five hours of listening or up to two hours of talk time on one full charge. Second-generation AirPods have an extended talk time of three hours. AirPods Pro battery life is about four and a half hours of listening or three and a half hours of talking. When fully charged, the charging case for AirPods offers up to 24 total hours of additional listening time or around 18 hours of talk time.
How Long Do AirPods Last
The release of iOS 14 brought an update for AirPods called Optimized Battery Charging. This allows your iOS devices to learn your daily routine and only charge your earbuds (or other Apple devices) to 80 percent until just before you are ready to use them. This saves the battery from being left in the case at 100 percent for too long, which could end up damaging your battery. Utilizing this new update and trying the tips in this article can help your AirPods battery life get you through all of your music and phone calls for the day.
In general, AirPods' battery lifespan will vary depending on the amount of use they endure and how well they are cared for. On average though, Apple AirPods batteries can last for about two years.
How to Improve AirPods Battery Life
AirPods are quite small devices that have an even smaller battery so any damage can result in loss of functionality and battery life. There are a few good habits you can get yourself into to help extend the battery lifespan of your AirPods.
Related: How to Save Battery on the iPhone: Maintaining Your Lithium-Ion Battery
Store AirPods in Their Case
The case itself supplies up to 24 hours of battery life, so whenever you are not using your AirPods, keep them in their charging case. This will make them ready for use any time you need them. 
Don't Fidget with the AirPods Case
One great feature of AirPods is their instant connection via Bluetooth. This connection happens as soon as you open the case near any of your iOS devices, so every time you flip open that top, your AirPods Bluetooth is activated and using their battery. Prevent this by only opening the AirPods case when you're planning to use your AirPods.
Keep Your AirPods Protected
Extreme temperatures (heat or cold) can damage the batteries in your AirPods. Try to not use them when conditions are unfavorable, and do not leave them in direct sunlight when not in use. It's also best not to store the AirPods and case anywhere that's frequently cold or warm.
Turn Off Smart Features
There are a variety of features that may not be essential to everyday use that you can easily turn off to save your AirPods' battery life. One example is Automatic Ear Detection, which switches the audio from your connected device to your AirPods the moment you put them in your ear. Once disabled you can manually press play or pause, saving just a bit more battery life for your AirPods. To disable Automatic Ear Detection:
Open the Settings app.
Tap on Bluetooth.


 
Select your AirPods.


 
Toggle off Automatic Ear Detection by tapping the toggle if it's green. The toggle will be gray when the feature is disabled.


Use One AirPod at a Time
If you are concerned about not having your AirPods working all day long, using one at a time while charging the other could give you round-the-clock battery life. It may not be ideal for listening, but this style of use will only utilize half the battery power at a time.
Now that you know how long AirPods battery life is and how to optimize the listening and talking time you get out of your AirPods, you should be able to make your AirPods last much longer! Just remember to also keep them clean and safe as well, and they'll be in good shape for quite some time.
Did you know that exposure to water could have a negative impact on the battery life of your AirPods? Learn more about how waterproof AirPods are here.