By

Olena Kagui
Updated 01/24/2022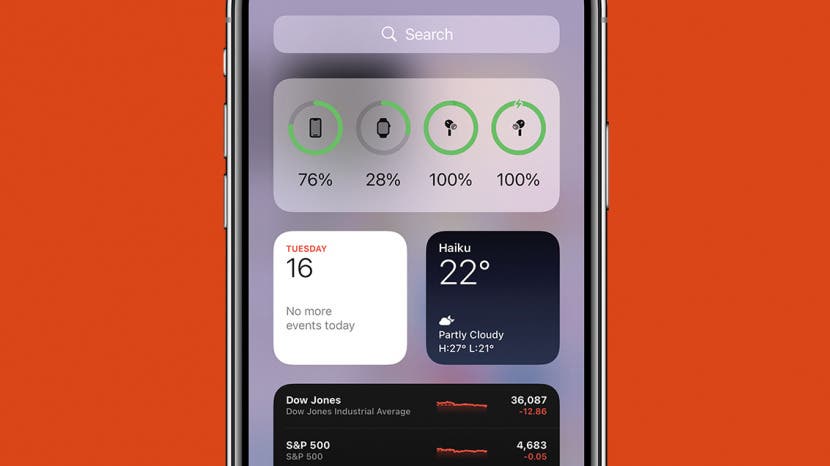 Since AirPods are not attached like wired headphones, it is possible to end up with only one AirPod working. This article covers the quickest way to troubleshoot a single AirPod not working or charging. I'll also explain how to fix AirPod volume so that both pairs sound equally loud. Finally, I'll tell you if and how you can buy one AirPod only.
Jump To:
Left or Right Airpod Not Working: Troubleshooting Steps
Are your AirPods only playing in one ear? It happens. If you experience your left or right AirPod Pro not working, follow these steps to fix it. These work for any model of AirPods.
1. Fully Charge The AirPods Charging Case
The very first thing to do is make sure the charging case for your AirPods is fully charged. To check that the AirPods Case is fully charged, remove the AirPods and plug the case in or place it on a wireless charger. If the light on an empty AirPods Case is green, it is fully charged.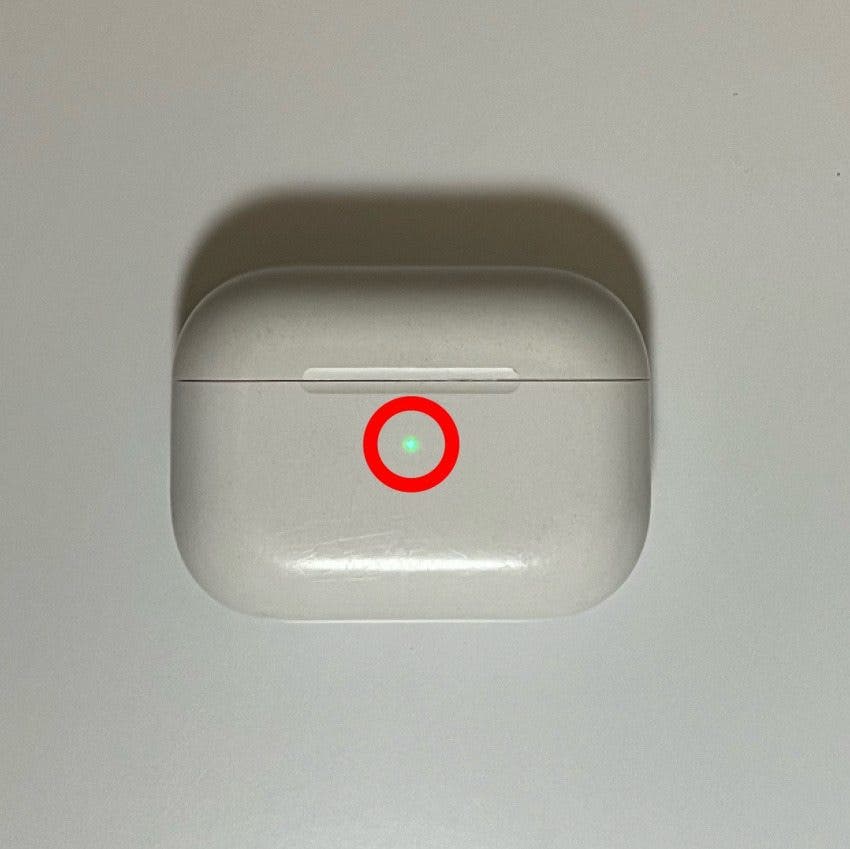 Discover your iPhone's hidden features
Get a daily tip (with screenshots and clear instructions) so you can master your iPhone in just one minute a day.
2. Charge AirPods in Case for 30 Seconds
Put both AirPods back in the case to let it charge them for at least 30 seconds. Even if just one AirPod is experiencing problems, do this with both to make sure that everything is working as it should.


3. Check That Both AirPods Are Charging
Open the AirPod case near your iPhone. A popup will appear, showing you the battery levels of the case and each AirPod. The most common reason for one AirPod not working is that it ran out of battery. If the battery level on the "faulty" AirPod was low, try listening to it again once it's charged.
If the battery level in the popup shows both AirPods only, remove one and keep the case open. Open Today View and check the Batteries widget to check them one by one, making sure that both AirPods are able to charge without issue. Checking if the AirPods are charging can also rule out other issues.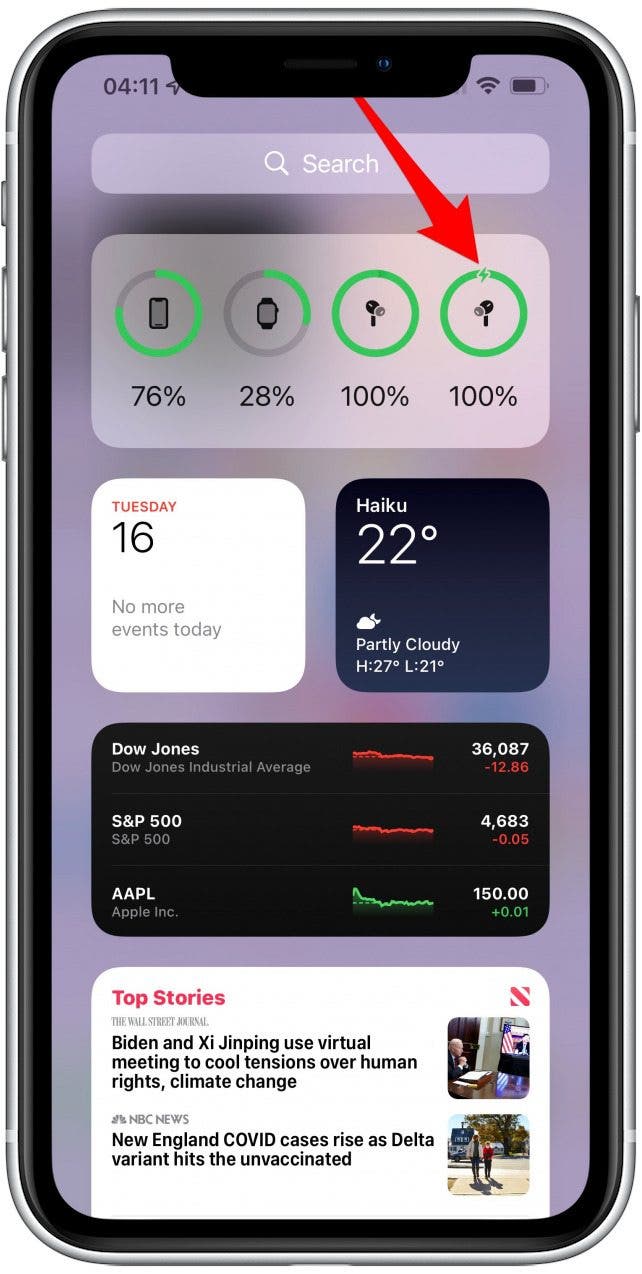 If both AirPods show the lighting icon, you can move on to the next step. If one or both aren't charging, skip to step 5.
4. Play Audio to Test the AirPods
If both AirPods were sufficiently charged and they don't have problems charging in the case, put them on and try playing music on them. If one AirPod still isn't working, try resetting it next.
5. Reset Your AirPods
Next, it's time to try and reset your AirPods by selecting Forget This Device from the Bluetooth Settings of your iPhone, iPad, or iPod touch. For step-by-step instructions on how to reset AirPods of any model, read this. You'll have to reconnect the AirPods again to check if the issue has been resolved.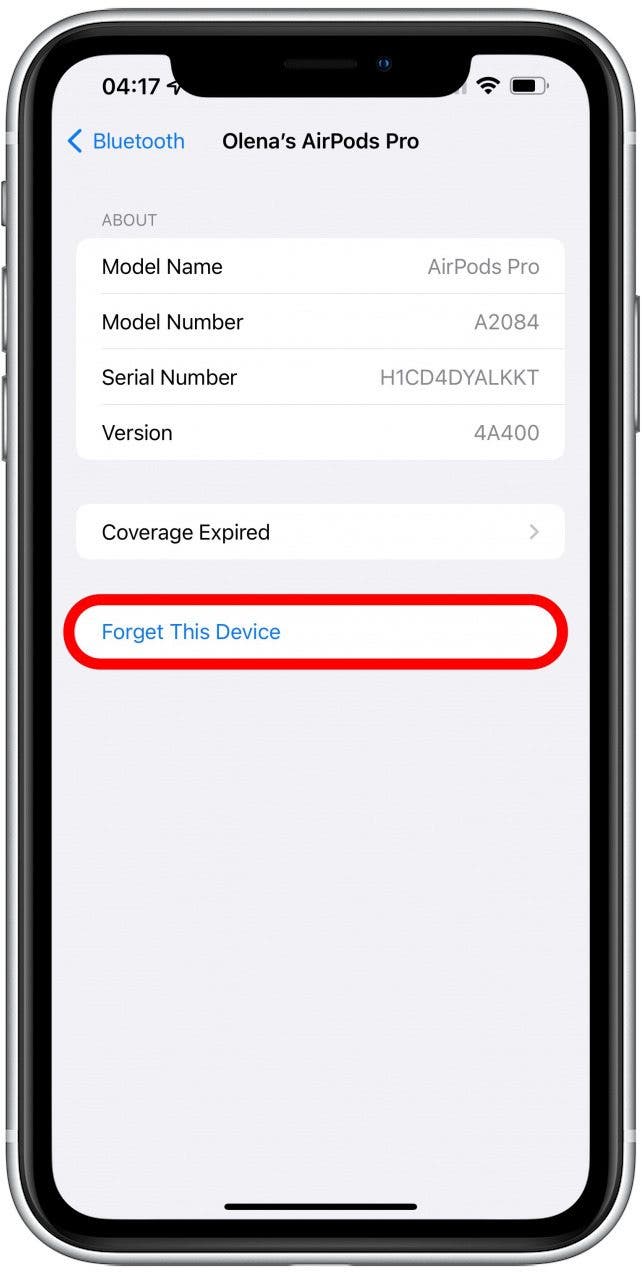 6. Clean Your AirPods
It may sound simplistic, but a buildup of gunk can mute or even silence an AirPod. Be really careful when you clean your AirPods, and check out these cleaning tips. Make sure to keep your AirPods dry as water can damage them. If your Airpods get wet, do this.
7. Turn Bluetooth Off & Back On Again on Your iPhone
Sometimes the AirPods are not to blame, and a Bluetooth glitch is causing problems. Open the Control Center by swiping down from the top-right corner of your screen. Tap the Bluetooth button to turn it off, wait a few seconds, and tap it again to turn it back on.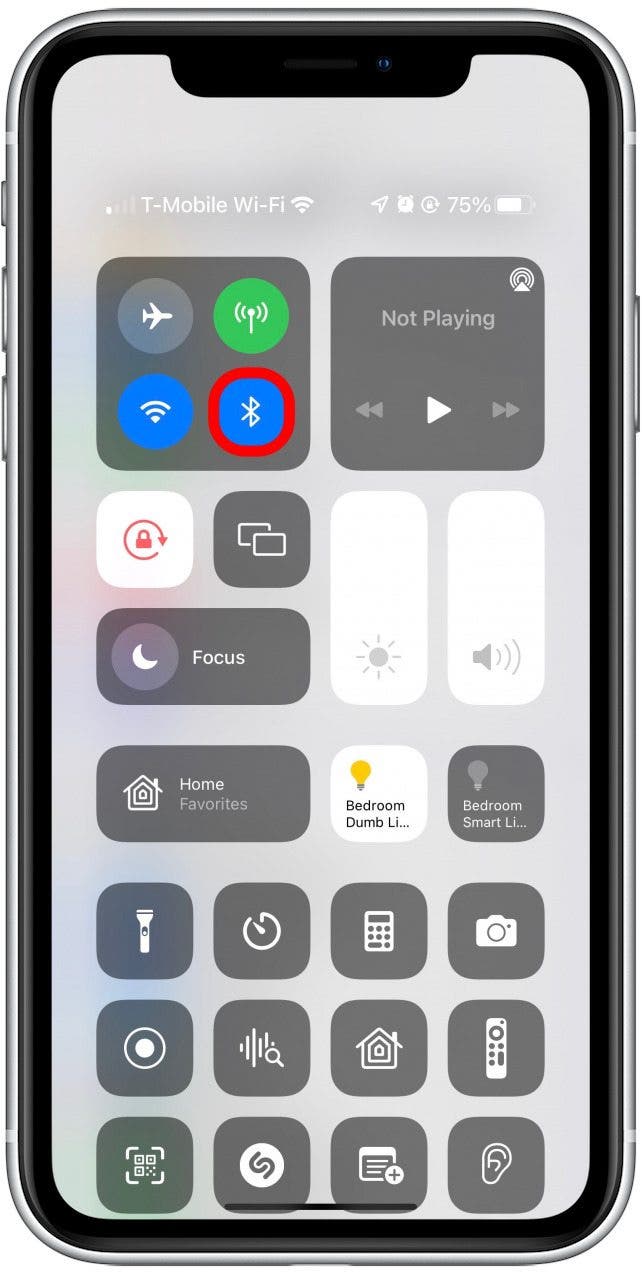 8. Reset the Default Settings on Your Device
If one AirPod still isn't working, it may be an issue with the settings on your device. You can test this by trying your AirPods on another device. Or, you can try another pair of AirPods or earbuds on that device to see if the problem is on the device. 
If you determine that your device is causing the problem, first update it to the latest software version. Updates often contain common bug fixes, so it is always worth doing. If this doesn't work, try resetting next:
Open Settings.


 
Tap General.


 

Scroll down to Transfer or Reset iPhone.


 
Tap Reset All Settings.


This will only reset your device to its default settings; it won't delete any data. However, if you have made other changes to your settings, this will undo them and could be time-consuming to restore.
9. Contact Apple Support
If you've followed these steps with no success, it may be time to reach out to the professionals. Contact Apple Support directly and see if they have any tips. If your AirPods are under warranty, they may be able to fix them for free or for a reduced fee.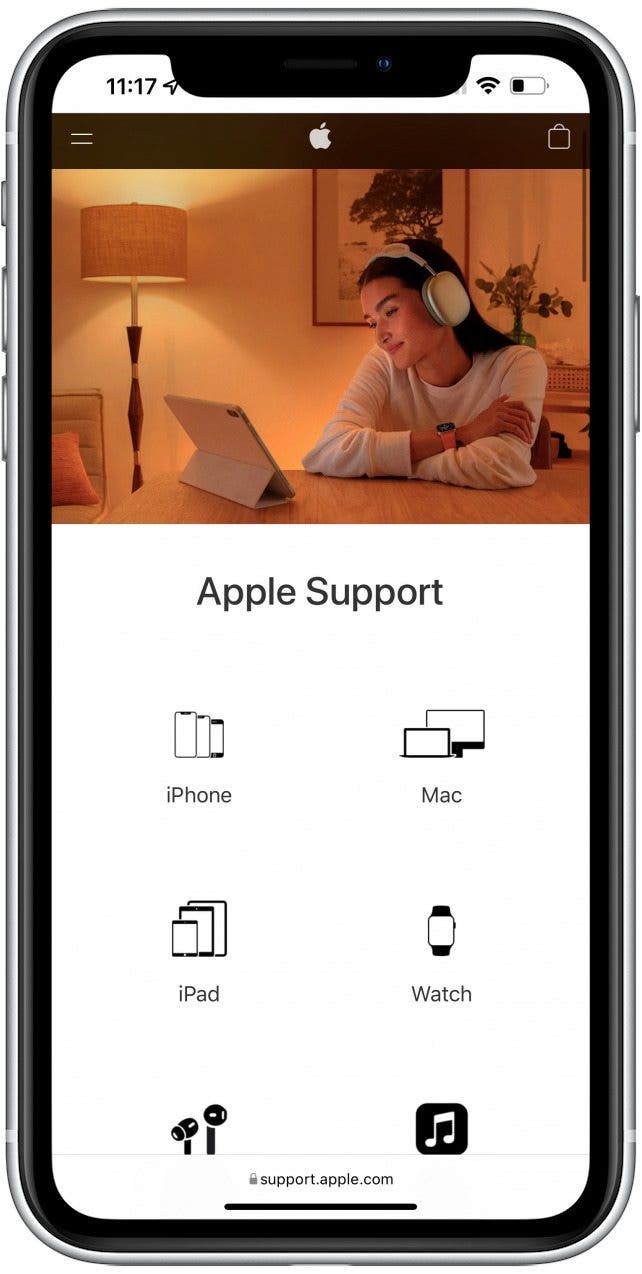 How to Fix AirPods Quiet in One Ear
If you notice that your Apple AirPods are really quiet, or if one seems quieter than the other, there may be a quick way to fix this. The issue may be your stereo balance settings. 
How to change AirPod settings:
Open Settings.


 
Tap Accessibility.


 

Select Audio/Visual.


 
Under Balance, check that the slider is right in between L and R.


 

Toggle Mono Audio off if it is on.


Pro Tip: Ever wonder, "Why do my AirPods sound low sometimes?" If your iPhone or iPad is in low power mode, it may automatically lower the volume of your AirPods. To learn more tips like how to use low power mode, sign up for our free Tip of the Day newsletter.
Related: How to Make Your AirPods' Batteries Last Longer
Why Does One AirPod Die Faster
If one of your AirPod seems to always run out of battery quicker than the other, you may have configured just one AirPod to use the microphone. To check this:
Open Settings.


 
Tap Bluetooth.


 

Next to your AirPods, tap the "i" icon.


 
Under Press and Hold AirPods, make sure that both Left and Right say Noise Control.


 

If only one says Siri, it will drain faster than the other.


 
Tap it and select Noise Control to slow the battery drain on that AirPod.


If both AirPods are set to Siri or Noise Control, they should drain at a similar rate. However, keep in mind that many factors can cause one to drain faster than the other.
Does Apple Sell Separate AirPods
No, you cannot buy a single AirPod from Apple through the Apple Store. However, you can buy a replacement through Apple Support. You have to go through the official Apple Support website. You can buy a replacement for an individual lost or damaged AirPod or just the case. 
Buying a replacement costs $89 for one AirPod Pro and $69 for one AirPod. Fixing a damaged AirPod costs the same out-of-warranty or just $29 per incident if you have AppleCare+. If your AirPod or Charging Case holds under 80 percent of the battery's original capacity, you can send them in for Battery Service. This is free if you have AppleCare+ and costs $49 each for both AirPod and AirPod Pros out-of-warranty.
It is also possible to buy and sell individual AirPods via third-party marketplaces. However, it is harder to verify that you are buying a legitimate product, so it is recommended to go through Apple directly.
take advantage of the new Spatial Audio features
. Once you've got your AirPods working, find out
how to pair your AirPods to another iPhone
.