By

Rachel Needell
Updated 12/01/2022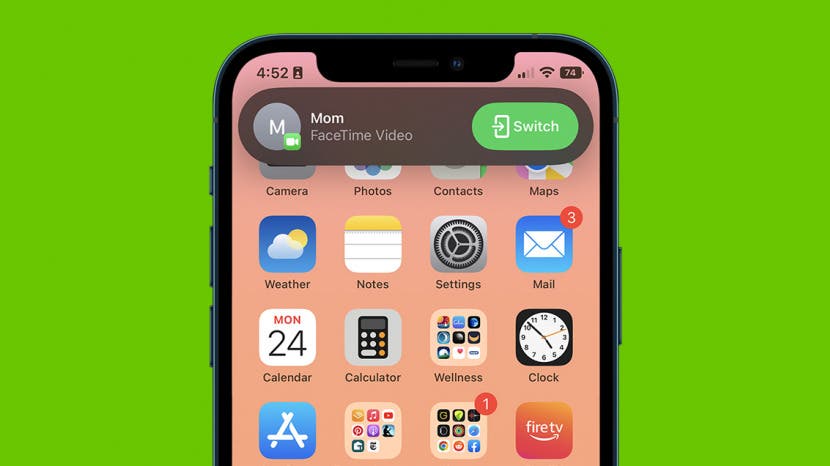 * This post is part of iPhone Life's Tip of the Day newsletter. Sign Up. *
One of the most seamless features to arrive with iPadOS 16, iOS 16, and macOS Ventura is the ability to shift FaceTime calls from one device to the other with Handoff. This is especially useful when I want to switch from my iPhone to my iPad Air, which has Center Stage, a feature that keeps my face in the frame. With Handoff, you no longer have to hang up completely to switch devices.
Why You'll Love This Tip
Quickly switch between iPhone and iPad while on a FaceTime call.
Switch between devices while on FaceTime without having to hang up the call.
Related: What Is Center Stage for iPad? How to Use Center Stage in FaceTime & Zoom
How to Switch FaceTime from iPhone to iPad
First, make sure that Bluetooth and Wi-Fi are turned on on all devices you'd like to use Handoff with. Then you will need to have Handoff enabled on your devices. If you like tips like this, be sure to sign up for our free Tip of the Day! 
How to Enable Handoff on iPad & iPhone
To use Handoff on your iPhone, go to Settings.


Tap General.



Tap AirPlay & Handoff.


Toggle Handoff on. It will be green when enabled.



To use Handoff on your iPad, go to Settings.


Tap General.



Tap AirPlay & Handoff.


Toggle Handoff on. It will be green when enabled.


How to Move FaceTime Call from iPhone to iPad with Handoff
Answer or make a FaceTime call from your iPhone.


Then, when you receive a FaceTime call on any device you will get a notification on the FaceTime app on all nearby connected devices that shows the device you are currently FaceTiming with, in this instance, I was using my iPhone.



Tap the notification to open a preview of your video.


Tap the Switch button and when you're ready to handoff the FaceTime call onto your device.



You will receive a banner notification on the device you are switching from as well, with the option to tap "Switch."



Then, you will pick up your call as usual on another device.


And that's how you switch FaceTime from your iPhone to iPad. You can also use Handoff to transfer calls from your iPhone to Mac or vice versa! This feature has already come in handy for me multiple times, especially because my iPad Air 5th Gen's camera is so high quality. It's also been helpful when I realize one of my devices is dying and I can quickly switch from one to another without disrupting my conversations. Pretty cool!