By

Olena Kagui
Updated 09/18/2023
What to Know
Teslas auto lock, but you can also manually lock them in many different ways, including using a key card or fob, the display lock button, and apps.
You can lock and unlock Teslas from the inside, outside, and even remotely from afar.
Learn alternative ways to lock and unlock your car in case you ever experience your Tesla key card not working.
Learning how to unlock a Tesla in several different ways is useful if you ever lose or misplace your key card. In this article, I will teach you how to lock Tesla 3, Y, S, and X with or without key cards or fobs, from the inside or outside, using your Apple Watch and using third-party apps. You'll even learn how to lock your Tesla remotely from anywhere in the world!
How To Lock a Tesla Model 3, Y, S & X
The most common way to lock and unlock a Tesla is by using the Tesla key card, but you can also use a key fob, the Tesla app, or third-party apps that can be accessed on a variety of devices, including the iPhone, Apple Watch, Mac, iPad, etc. All these options can be used if you are outside or inside the Tesla. However, if you are inside the car, you can also use the lock/unlock button on the Tesla display. Here are all the ways you can lock (or unlock) your Tesla:
1. Tap your activated Tesla key card against the card reader on your car.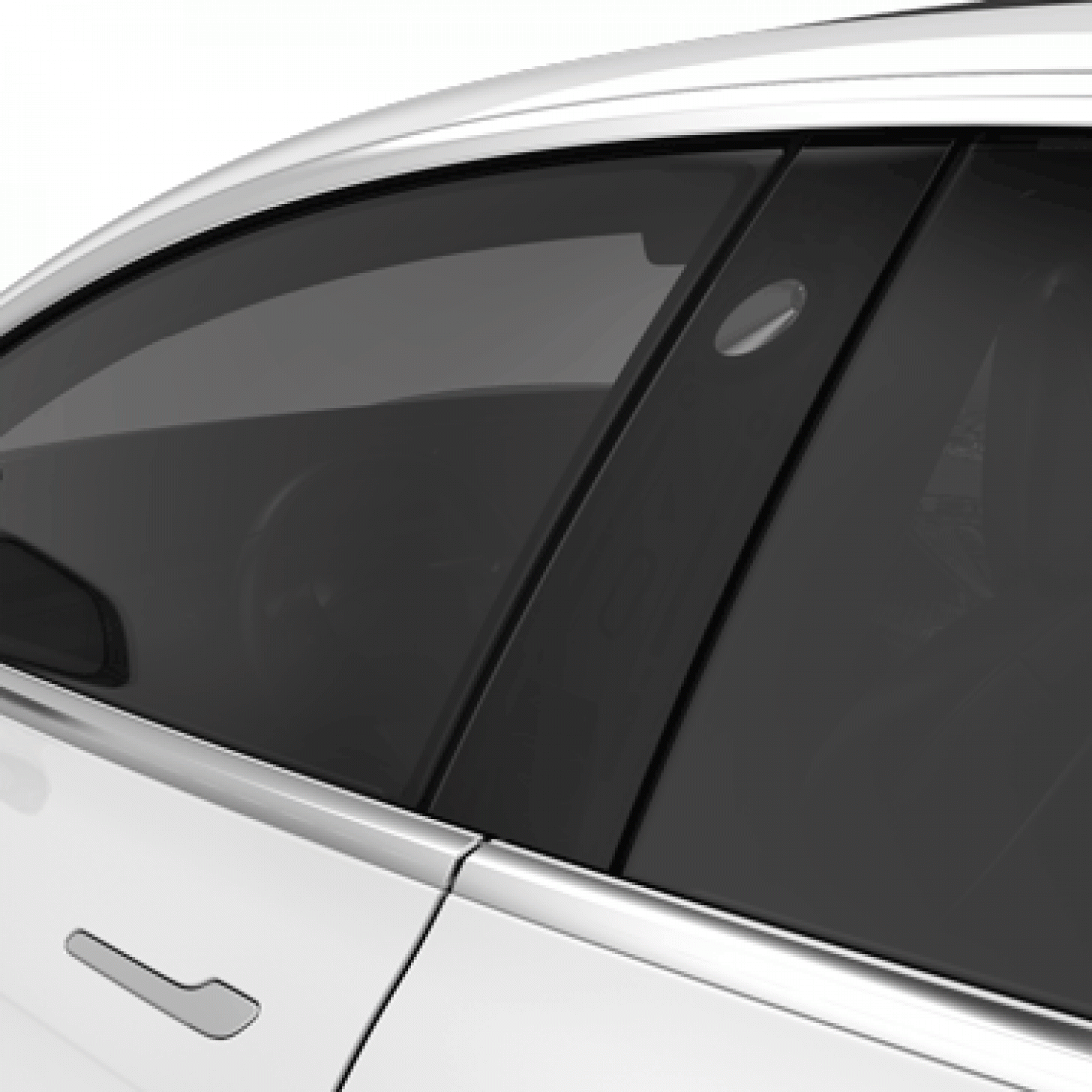 Photo credit: Tesla owner's manual

Discover your iPhone's hidden features
Get a daily tip (with screenshots and clear instructions) so you can master your iPhone in just one minute a day.
Your Tesla has a card reader on the driver's side of the car. It is located under the camera used for Autopilot on the pillar between the front and back doors. Your Tesla key card has to be actuated for this to work, and it can take a few tries to get it in the right spot. If it isn't working, try to move slower and hold it near the card reader longer. If you have a broken or lost Tesla key card, you can order a replacement. Now you know how to lock a Tesla with your key card; it works the same as unlocking it!
2. Tap the lock/unlock icon on the Tesla display.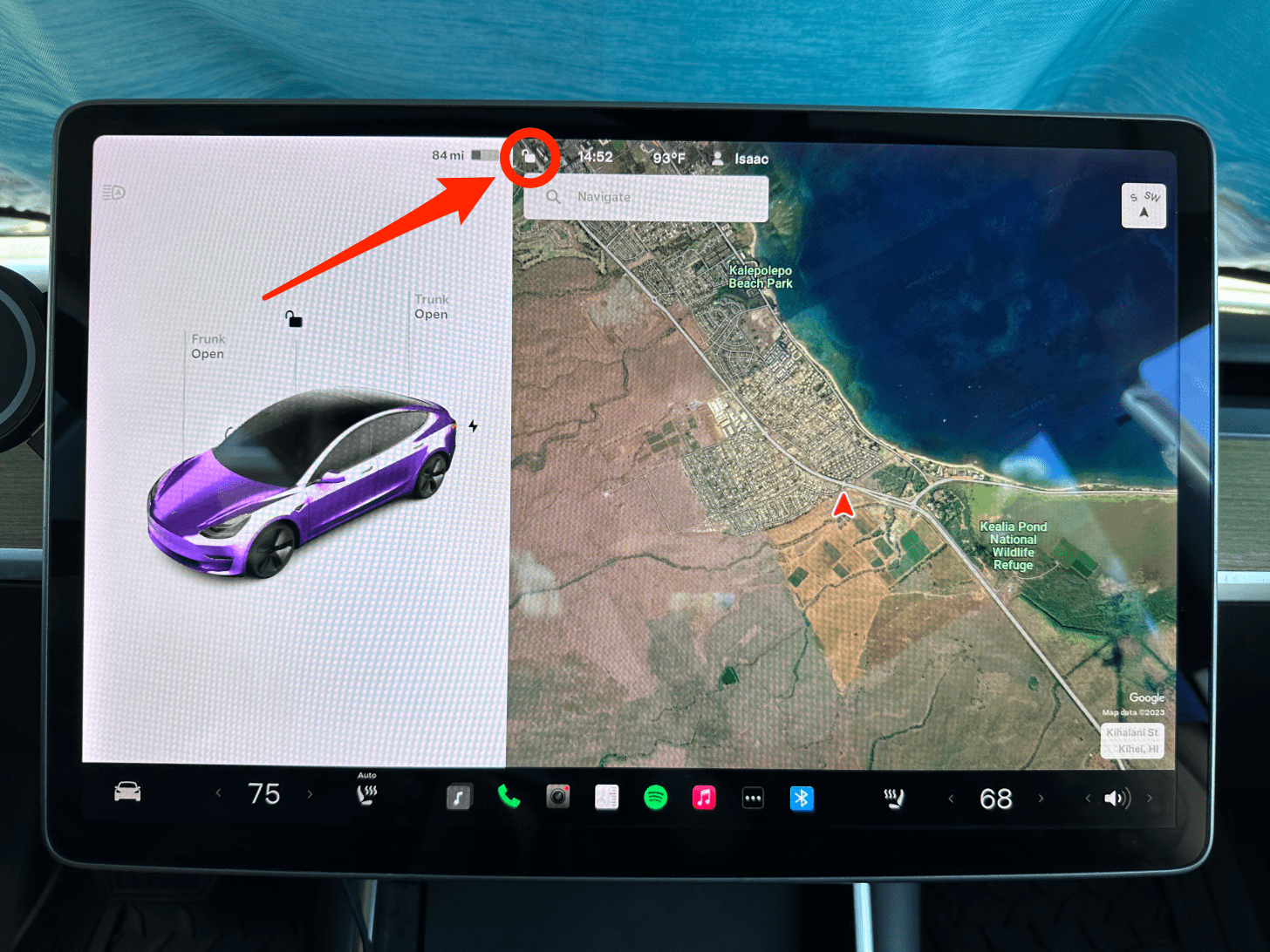 The easiest way to lock your Tesla when you are inside it is by tapping the lock/unlock icon located in the top left corner of your Tesla's display. The icon is easily accessible to the driver and the front-seat passenger. For more tech tips, don't forget to sign up for our free Tip of the Day newsletter.
3. Use your phone as a Tesla key to lock and unlock your car.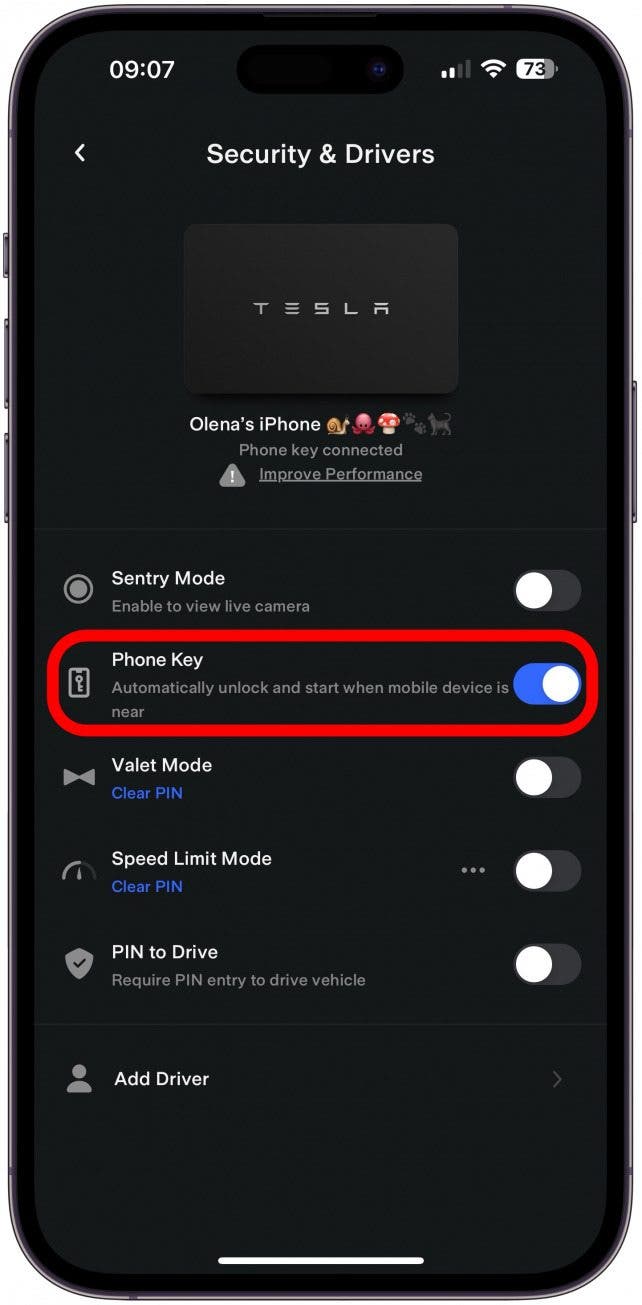 Your phone can be set up to lock and unlock your car automatically. Once you set this up, you just need to bring your phone close enough to the car and as long as your Bluetooth is on, your car will unlock automatically. If you walk away from your car until your phone's Bluetooth is no longer within range, your Tesla will auto lock.
4. Use the Tesla app to lock your car from anywhere.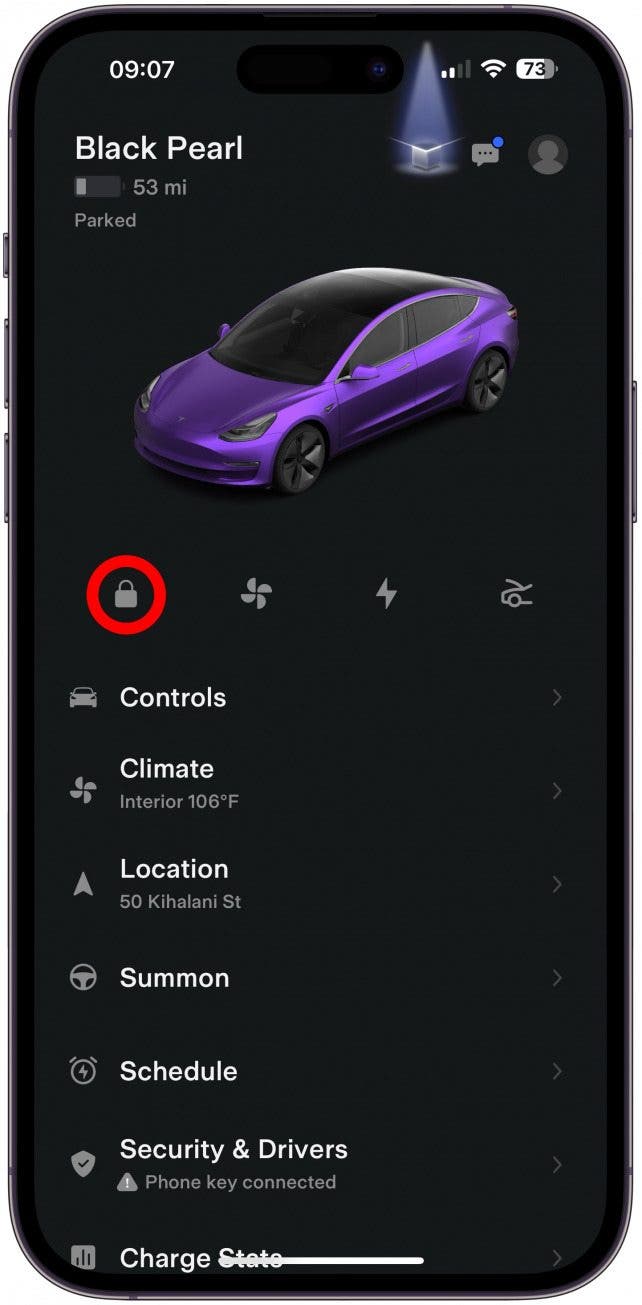 The free Tesla app is super handy because it lets you check if your car is locked, even if you are miles or continents away. As long as your Tesla and your phone are in an area where they can access the internet, you can use the app to lock or unlock your Tesla. Since getting my Tesla Model 3 in 2019, my husband has had to borrow a stranger's phone a handful of times to call me and ask me to unlock the car for him because he got locked out or his phone ran out of battery.
5. Activate voice commands and say, "lock doors."
Photo credit: Tesla owner's manual
There is a lot you can do in the Tesla using just your voice. Activating voice commands is different depending on what model car you have. In a Model 3 and Y, you can activate voice commands by pressing the right scroll button on your steering wheel or tapping the microphone button on the display. In a Model S or X, just tap the voice button on the top right of your steering wheel. The command to lock doors is, "lock doors" or "lock the car." It is possible that other commands and phrasings will also work to lock your Tesla or to unlock it. Check out our comprehensive list of Tesla voice commands to control your car with just your voice.
6. Use a third-party app for Tesla to lock your car.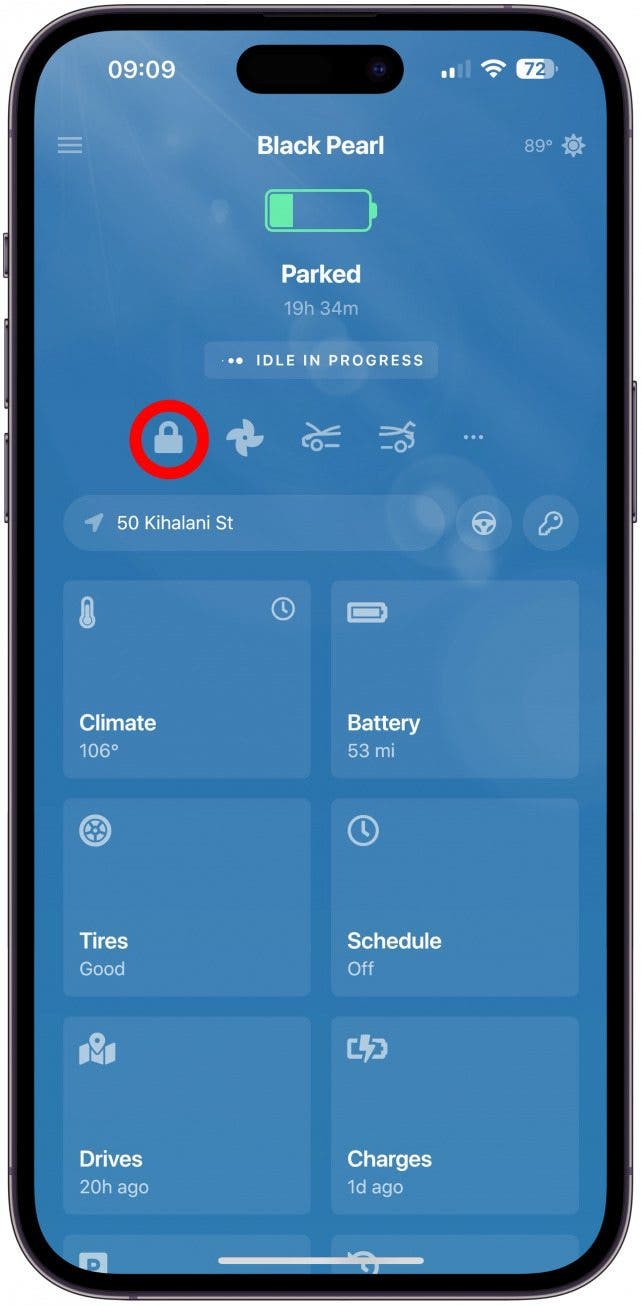 There are many third-party Tesla apps that each have unique features. One thing that most Tesla apps have in common is that they let you lock your car using the app. The exact icon/button depends on the app, but a lock icon usually exists. To discover the best third-party Tesla apps, read this. Some third-party apps will even let you lock and unlock your Tesla using your Apple Watch, iPad, and even your Mac.
7. Lock your Tesla using a third-party key fob.
There are many third-party key fobs that work exactly like a Tesla key to lock and unlock your car. My favorite is the CNICK Tesla ring ($130+), but there are various rings, braces, pendants, keychains, and more that work. You just have to set them up using your key card and then tap the fob on the same card reader that you use to unlock your Tesla with a key card. To discover more third-party Tesla accessories, read this.
Now you know how to lock Tesla Model Y, S, X, and 3! Comment below with your favorite way to lock or unlock your car! Now that you know all these different methods, you won't let your lost Tesla key card stop you from locking or unlocking your car. Next, learn how to turn off your Tesla, which is more complicated than you would expect!
FAQ
How do you unlock Tesla passenger door from the outside? You can use the app to unlock all Tesla doors. However, you need to be inside the car to enable or disable the child lock on one or both of the rear doors.
How do you open a Tesla door from the inside? If you are looking to open the Tesla door rather than just unlock/lock it, you need to pull on the handle to open the door. Some Teslas have doors that can be opened using the app.
How do you open a Tesla door from the outside? To open rather than unlock a Tesla door from the outside, you need to push in the side of the handle closest to the rear of the car and then pull the part of the handle that pops out. Some Teslas have doors that can be opened using the app, even if you are outside the car.