By Leanne Hays updated on 10/21/2019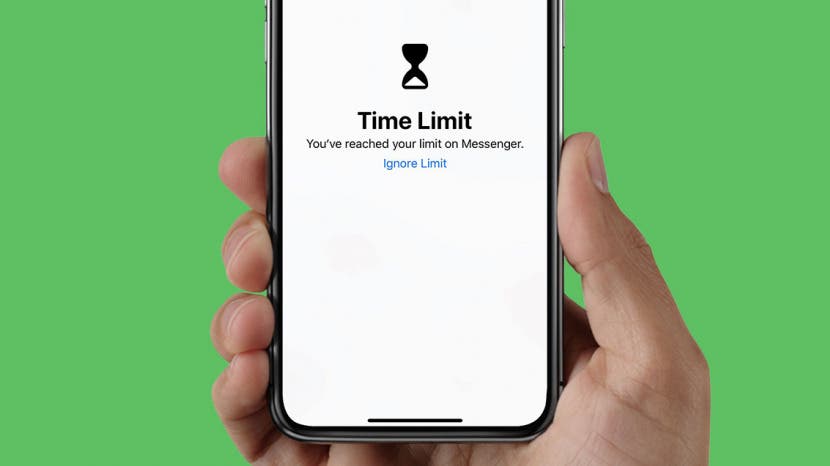 * This post is part of
iPhone Life
's Tip of the Day newsletter.
Sign Up
. *
Tired of wasting time on your iPhone? App Limits can help you combat technology addiction. App Limits are a feature of Screen Time, a set of tools that track and limit how much time you spend on your device in general, as well as on particular activities, sites, and apps. If you've been wanting to spend less time on Facebook, Pinterest, Instagram, or any other addictive app, read on to learn how to use Screen Time to set a daily limit for specific applications on your iPhone. 
Related: How to Set iPhone Parental Controls & Restrictions  
Master your iPhone in one minute a day:
Sign up to iPhone Life's Tip of the Day Newsletter and we'll send you a tip each day to save time and get the most out of your iPhone or iPad.
Open the Settings app.
Scroll down and tap on Screen Time.


 
Tap App Limits.
Tap Add Limit.


 
Tap the categories you'd like to limit, then tap Next.
If you'd like to set limits for specific apps and not others, tap All, instead.


 
All the apps in the category will be checked off; tap any apps that you don't want to be included in the app limits, then tap Next. 
If you want the same amount of time allowed each day, scroll to set the hours and minutes you'd like to allow for the app category, tap Set, then tap Add. This limit covers the total time spent on all apps in the category, not the amount of time allowed for each app. 


 
Once you start scrolling dials, another option will appear; Customize Days. Tap this option if you'd like to set different App Limits for different days.
Tap the day you'd like to set a different limit for, set it, and tap Back once you're finished.


 
Now, you'll see the app limits you've set.
You'll be given a warning before you reach your daily limit, and a notification when you've used up your allotted time. If you want to keep using the app, tap Ignore Limit.


 
Now you'll be given the choice of staying on the app for one more minute, 15 more minutes, or receiving no further reminders for the day. 
Tap Cancel if you decide to stick with the limit.
​

Let me know in the comments how this tip worked for you, and if it's helped to reduce the time spent on your device.