By

Olena Kagui
Updated 02/28/2022
Today there are three models of the Apple Watch for sale and even more Fitbit options. When picking the right device, there are many factors to consider. For example, do you want a smart watch, calorie tracker, or health-monitoring device? Then there's price, battery life, compatibility, and so much more to consider next! Let me help you figure out if an Apple Watch or Fitbit is right for you and which model is best.
What's in This Article:
Quick Choice Guide: Fitbit vs. Apple Watch
Here is a quick, at-a-glance infographic to help you pick the best device based on some major factors. You can also refer to my comparison table below for a more thorough look at a wide variety of factors. This only includes currently sold models on the manufacturers' websites: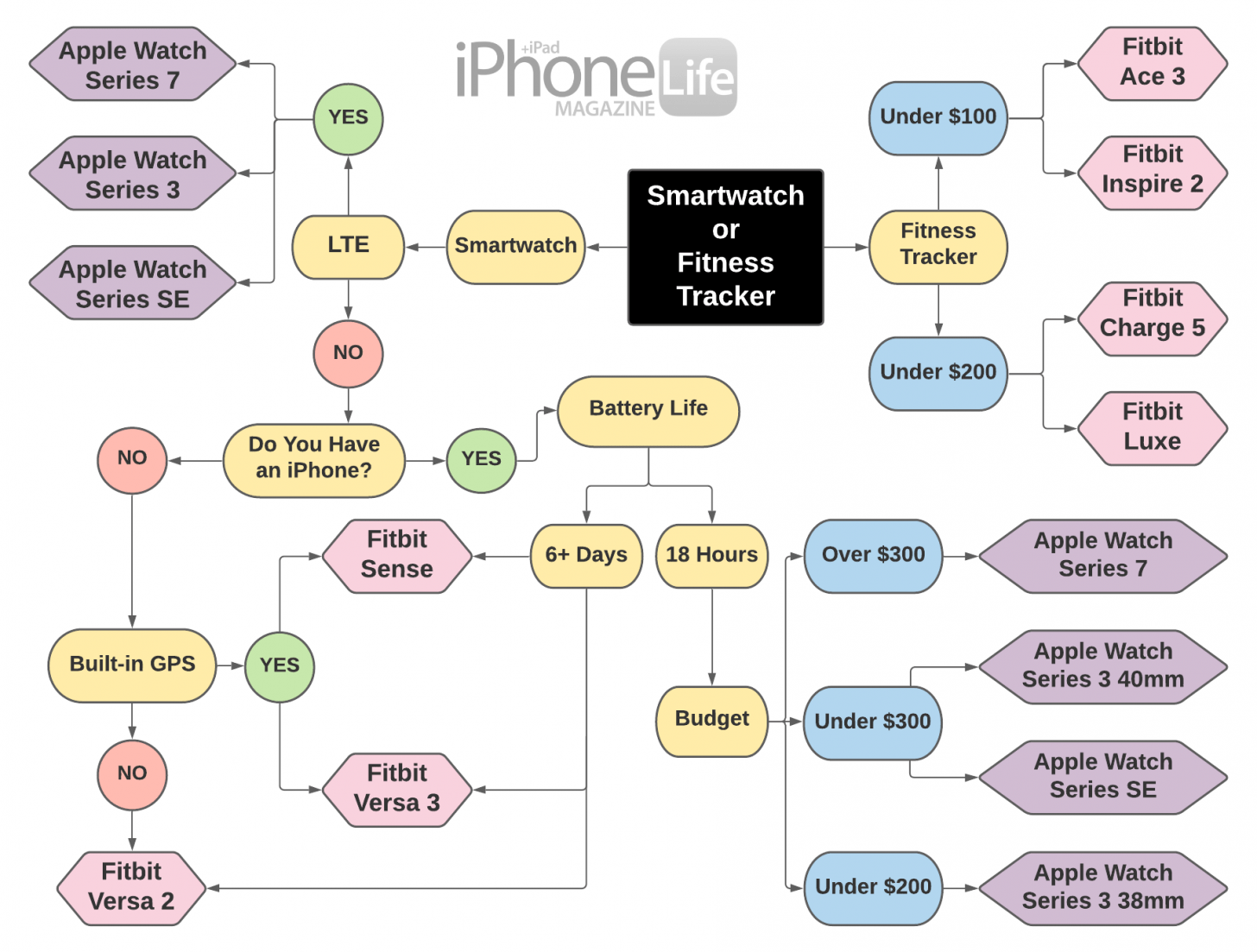 Pro Tip: If you are set on getting an Apple Watch, check out this thorough guide on which Apple Watch is the best one. 

Discover your iPhone's hidden features
Get a daily tip (with screenshots and clear instructions) so you can master your iPhone in just one minute a day.
Cost, Compatibility, & Feature Comparison Table
One of the biggest differences between Apple Watches and Fitbits is compatibility. The Apple Watch is only compatible with iPhones. In fact, you can't use an Apple Watch without an iPhone unless you are part of a Family Sharing group, which is only appropriate for children. 
A Fitbit is universally compatible with any modern smartphone. You can even add Fitbit app to Apple Health if you are an iPhone user. So while iPhone users have a lot more to consider, Android users are limited to Fitbit, although there are many models to pick from! Android users can skip to the Fitbit comparison section, although you may consider switching to iPhone to use an Apple Watch, which is not unheard of.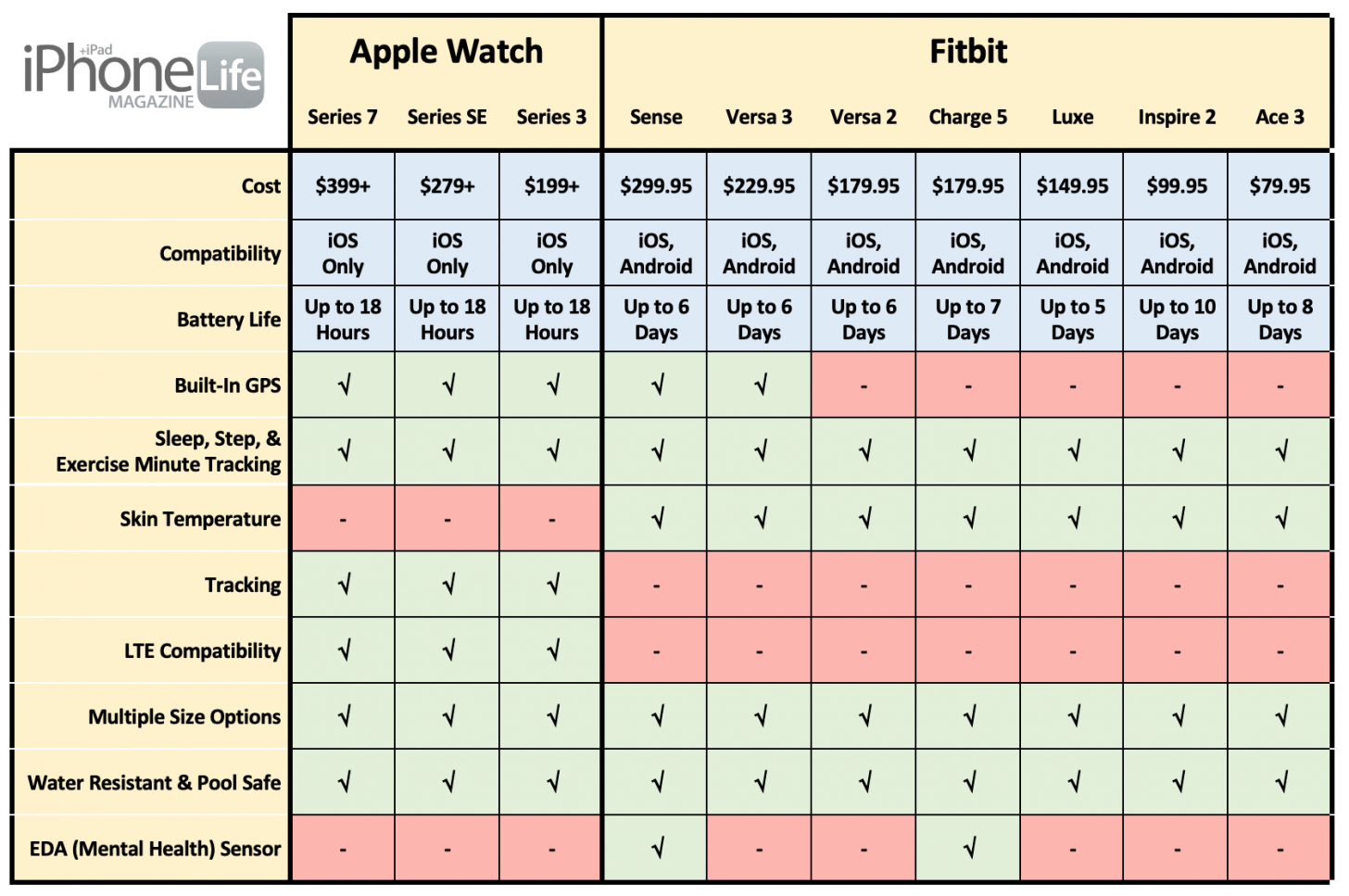 *Prices as of November 2021.
Apple Watch vs. Fitbit Accuracy: Heart Rate, Calories & Steps
Both Apple Watch and Fitbit can track and measure data, but which does it best? An official study compared several trackers, including the Apple Watch 2, Fitbit Alta, and the Fitbit Charge 2. All three watches were released in 2016 and are outdated today. Still, the study concluded that all watches recorded fairly accurate step counts while the Fitbit Charge 2 and Apple Watch 2 had the most accurate heart rate estimation. All watches significantly underestimated moderate-to-vigorous minutes of activity in the free-living setting. We can expect that the newer models are even mode advanced.
Heart Rate Accuracy
Years later, Apple Watch tracks resting heart rate as well as ECG readings. It can even detect atrial fibrillation. But people still ask, "How accurate is my Apple Watch heart rate?" The answer is very. Although it cannot compare to a professional medical device, it is perfect for ordinary people who use it for fitness purposes. There are also ways to make sure it is as accurate as possible.
Although the Apple Watch has impressive heart health features, Fitbit measures Active Zone Minutes. These take your heart rate zones into consideration and award you double the minutes for being in a particular active heart rate zone.
Fitbit exercise heart rate zones are helpful fitness and health metrics that Apple Watch doesn't offer. Both devices can be confusing when it comes to counting exercise minutes. Fitbit may give you extras, while Apple Watch is more stingy. According to a study by the University of Oregon, Apple Watch 3 is slightly more accurate than the Fitbit Charge 2. If you are looking for a wearable that is even more accurate at measuring heart rate than either the Fitbit or Apple Watch, check out the Oura Ring.
Best Step Counter
One of the most significant differences between Fitbits and Apple Watches is the ultimate fitness goal. Fitbits track many metrics, but the main goal of every model is reaching your step goal. When you reach it, you get a notification. The Apple Watch focuses on closing three Activity Rings that track Stand Minutes, Exercise Minutes, and Move Calories. You get notified when you reach each goal and when you reach all three.
Can you calculate steps on Apple Watch? Yes. But people who switch to Apple Watch after using a Fitbit complain because you have to use a third-party app complication to add your step count to your watch face. Both the complication and step count in the Activity app show up with a delay, and you are not notified when you reach your step goal. 
Fitbit vs. Apple Watch Calorie Accuracy
How do smartwatches measure calories anyway? Basically, they have sensors that analyze your body's movement, acceleration, and other factors, including heart rate. Fitness trackers also have information about you, such as your height, weight, and age, and all this is used to calculate your Basal Metabolic Rate in order to measure calories burned. 
Burning calories on Apple Watch is one of the three main fitness goals, which Apple calls the Move goal. How accurate is the Move goal on Apple Watch? If you enter your physical measurements and wear your watch correctly, it is considerably accurate. 
According to a study done by Stanford University in 2017, Apple Watch had the lowest overall error when compared to other trackers, including the Fitbit Surge. Fitbit Surge had a 27% median error, which was better than most other trackers in the study. Plus, it has gotten even better since then!
Stress Management and Skin Temperature
Fitbit offers two features that Apple Watch doesn't: stress management and skin temperature. Even though Apple Watch does have a Mindfulness app, formerly known as Breathe, there is no measured stress metric. 
All Fitbits running on the newest software offer a Stress Management Score feature that calculates how the wearer's body responds to stress using a scale of 1-100. It factors in heart rate, sleep, and activity level data. The Fitbit Charge 5 and Fitbit Sense also have an EDA sensor that measures electrodermal activity, physical signs of stress, and other mental health indicators. 
Most Fitbits can also measure skin temperature. Unfortunately, this doesn't mean that you can check your core temperature using your watch. Instead, it is used to track skin temperature variation each night which helps users alter their environment to improve their sleep.
The Final Verdict
Comparing the Fitbit and Apple Watch is tough. The most notable differences are that the Apple Watch is more expensive, has a much lower battery life, and is only compatible with iPhones. The LTE version can even function almost entirely independently of a phone. Many agree that it is the best smartwatch option, and it happens to be the most popular watch in the world.
The Fitbit creates great smartwatches, but they are better known for their fitness trackers. Higher-end Fitbits track many exciting health parameters and have features that the Apple Watch doesn't offer, such as the EDA and skin temperature sensors that help with stress management and sleep tracking.
Most Apple Watch and Fitbit models are waterproof and can track swimming workouts. They both have changeable bands for personalization, although Apple Watches offer an additional choice of screen size for every model. Both have pros and cons, and the ultimate answer to which is better depends highly on individual needs and preferences.
As an iPhone user, I prefer the Apple Watch because I want a smartwatch fully integrated into my Apple ecosystem. For example, I can use my Apple Watch to find my other Apple devices using Find My, which is incredibly convenient. However, Fitbit does sync to Apple Health and can answer calls when a paired iPhone is near enough. Seeing the extra heath metrics, affordable price, and incomparable battery life of a Fitbit does tempt me to consider a Fitbit in the future. Next, learn how your Apple Watch can track your breathing while you sleep!