By

Olena Kagui
Mon, 02/28/2022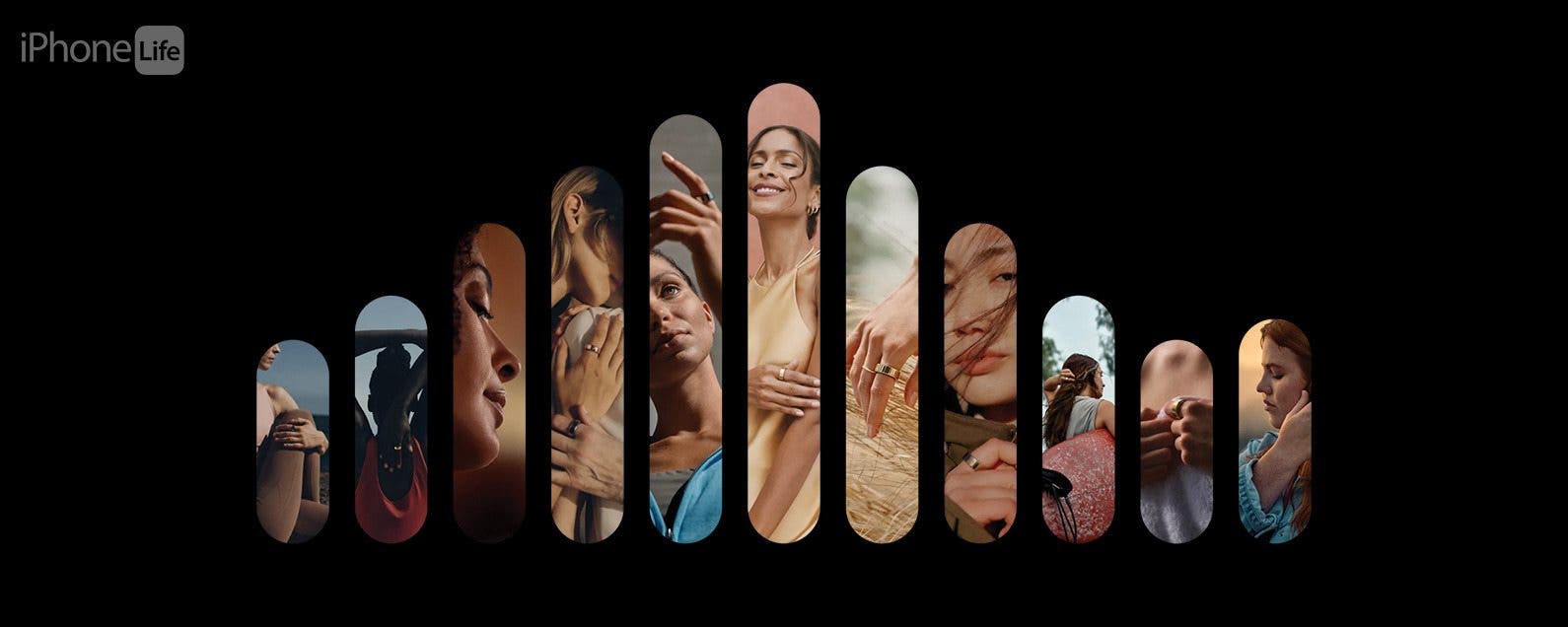 The Oura Ring ($299+) has been making headlines, with celebrities like Prince Harry, Gwyneth Paltrow, and Jennifer Aniston wearing them publicly. This wearable ring tracks sleep, body temperature, activity levels, recovery times, and more. In this Oura review, I will cover all the pros and cons, share my experiences, and do a thorough Oura Ring vs Apple Watch comparison.
What's in This Article:
Is an Oura Ring Right for You?
With so many wearable trackers out there, it can be hard to pick the best one. Here is my quick guide to help you make a decision:
What Can the Oura Ring Track?
The newest model is the Oura Ring Generation 3, also called the Oura Ring 3. Despite being only 2.55 millimeters thick, it can track a surprising amount of health and fitness data. The inside of the ring is lined with sensors that include infrared LEDs, green LEDs, red LEDs, a 3-axis accelerometer, a gyroscope, and a sensor that can track advanced NTC body temperature.

Discover your iPhone's hidden features
Get a daily tip (with screenshots and clear instructions) so you can master your iPhone in just one minute a day.
The main purposes of these sensors are to monitor sleep, keep tabs on body temperature, and track heart rate round the clock. There are individual sensors for tracking 24/7 heart rate, daytime heart rate, and workout heart rate. Plus, the Oura Ring can also detect changes in body temperature, which can help predict periods and menopause.
The third-generation Oura Ring also has a wellness content library that contains audio sessions for meditation, sleep, focus, energy-boosting, and more.
I have been particularly impressed with Oura's sleep tracking, which always seems to accurately detect when I fall asleep and how well I sleep. Anytime I feel tired, even after getting eight hours of sleep, the Oura Ring can help me figure out why. In my case, the culprit is usually too little REM sleep or a slow stabilization of my resting heart rate. 
On top of Oura's ability to tell me what's physically wrong, it also gives me tips on improving in the future. Instead of just showing data, it provides practical advice. For better REM sleep, Oura recommends eating lighter meals before bed and exercising earlier in the day.
Another great feature is that you can add tags to your day to keep track of your workouts, meals, or any unusual events. These unusual events can be weddings, travel, car accidents, full moons, or anything that may have an impact on your mood, activity, or stress levels that day. Over time, you may see a pattern between certain tags and how they impact your daily scores.
Not only can it track nighttime sleeping, but the Oura Ring is incredibly good at detecting even the shortest nap. Even if I'm lying down watching TV and end up falling asleep, my Oura Ring will accurately tell me how long I slept vs. how long I relaxed.
The Oura Difference: A Focus on Overall Wellness
Every wearable has a different approach to health and fitness. Oura is known primarily as a sleep tracker, although it can do much more than that. The main focus of the Oura Ring is to help the wearer be more in tune with their body to make healthier choices on a day-to-day basis. This means that if the ring detects stress, it will automatically lower your activity goals for the day. 
Similar to Apple Watch Activity Rings, Oura has three daily scores: Readiness, Sleep, and Activity. They act as a personal guide for the day ahead. Each score relies on various contributors calculated into a score between 1 and 100. Your Sleep and Activity scores, combined with other factors, impact your overall Readiness score. If you don't take the time to rest, you will not achieve a high Readiness score.
The Sleep score contributors include:
Total sleep time
Percentage of time spent asleep compared to time spent in bed
Restfulness during the sleep
Sleep stages including REM and deep sleep
The timing of your sleep based on your circadian rhythm
The time it takes for you to fall asleep
The Activity score contributors include:
Inactivity hours
Hourly activity
Activity frequency
Training volume
Recovery time
How well you meet your daily goals 
Your daily goals are set automatically by Oura and are determined based on your answers to three questions about your goals, life situation, and personal information such as height, weight, gender, and age.
Finally, your Readiness score contributors include:
Resting heart rate
Heart rate variability (HRV) balance
Body temperature
Recovery index sleep
Sleep balance
Previous day activity
Activity balance
When your Readiness score is high, Oura encourages you to push yourself and work out. If your score is low, Oura lowers your daily goal and advises that you rest. 
One of my favorite things about Oura is that it tracks naps and tells you how they affect your Readiness score. I find it exciting because it shows me how something as small as a 15-minute nap can improve my day, even if I literally woke up on the wrong side of the bed. Being given positive reinforcement for resting has been refreshing and great for my mental health. This approach to putting overall wellbeing above fitness goals highlights a major difference between Oura and Apple Watch. 
Oura Ring vs. Apple Watch Comparison
I have worn an Apple Watch religiously for over three years, and I even wrote the Apple Watch Guide, available exclusively to iPhone Life Insiders. Even though I'm practically an Apple Watch cheerleader, I prefer the Oura Ring in many ways. Although I would never replace my Apple Watch, the Oura Ring is the ideal companion. 
At the same time, some users might find the Oura Ring to be the perfect standalone wearable. My husband gets overwhelmed with his Apple Watch and hates the tan line that comes with the territory. He's been eyeing my Oura Ring, wondering if it's a better solution because it has fewer distractions a and much longer battery life.
Comparison Table: Oura Ring Generation 3 vs Apple Watch 7
This chart can help you see the main differences and similarities at a glance.
Related: Fitbit vs. Apple Watch: The Ultimate Guide
Approach to Fitness vs. Wellbeing
The most significant difference between the Apple Watch and the Oura Ring is that the ring puts overall wellbeing first and fitness goals second. Oura also forgoes the all-or-nothing mentality of the Apple Watch that will end your ring-closing streak over one missed exercise minute or calorie. The Oura Ring considers reaching your calorie burn goal "optimal," but getting close is still labeled "good."
Another difference is goal-setting. The Apple Watch has Activity Rings that the wearer tries to close every day. Although the goals can be set and changed as needed, there is a stigma about lowering them, especially if you are competing against a friend.
The Apple Watch doesn't have a rest-day system and constantly pushes the user to exercise longer, harder, and faster, no matter what. In addition to daily goals, users are assigned monthly goals that can't be changed. These are based on your activity level and aim to challenge. It can be a lot of fun, but getting an unreasonable challenge such as burning 2,000 active calories a day can be demotivating and dangerous. 
Plus, the way the Apple Watch shows your Activity Trends sets you up for failure, because it isn't humanly possible to keep improving indefinitely. I see this as the biggest Apple Watch flaw and why the Oura Ring may be a healthier choice for users who get hung up on streaks and end up getting hurt when they push too hard.
Even though it tracks and encourages activity, the Oura Ring is a lot less intense than the Apple Watch. When you first set up your ring, you are prompted to pick one goal. Out of the six Oura goals, only one has to do with fitness. The options are:
Be more present and focused
Be productive and energetic
Improve my athletic performance
Develop my learning skills and creativity
Manage stress levels
Improve my health
So while a fitness-fanatic may prefer the Apple Watch, the Oura is a valuable tracker for just about anyone. Although, as a goal-oriented person, I find it frustrating when goals can't be measured. Closing Rings on the Apple Watch is exceptionally satisfying and definitive, so you know when you've accomplished a goal. Oura's goals are more wholesome but almost impossible to track and achieve.
Temperature Tracking
Temperature tracking is a handy Oura Ring feature that the Apple Watch doesn't offer. Changes in body temperature can be used to track fertility, sleep quality, anxiety, and more. Oura is currently running a period prediction beta software that uses body temperature to warn a wearer about an upcoming menstrual cycle.
In the summer of 2020, the NBA purchased hundreds of rings for their players, coaches, and staff in an attempt to detect early COVID symptoms. Although this has not been clinically tested or FDA approved, many users in the Oura Ring Reddit and Facebook groups report getting temperature change alerts right before getting sick.  
Heart Rate & Activity Tracking
Both the Apple Watch and Oura Ring track heart rate. Although the newer Apple Watch models, in particular, have proven to be quite accurate, the Oura Ring manages to get its sensors a lot closer to your arteries. For the Apple Watch to measure your heart rate accurately, you need to wear it correctly. I have many different bands for my watch, and I don't always experience the same fit. The Oura Ring sizing kit and the fact that the wearable is a ring help ensure a good fit for consistent heart-rate tracking.
Since I've synced my Apple Watch with my Oura Ring, most of my activity tracking has come from my watch. I'm good at remembering to start a workout on my watch, but I have forgotten in the past. A few weeks ago, I spent around twenty minutes casually swimming while chatting with a friend. My Apple Watch did not register the workout, but my Oura Ring did.
Oura Ring Generation 3 at a Glance: Pros & Cons
Here are some basic pros and cons to consider before buying an Oura Ring. For more specs, check out the comparison table below.
Pros
Minimalist and discreet, indistinguishable from a regular ring
Up to seven days of battery life
Small and lightweight—you'll forget you're wearing it
20 to 80 minutes to full charge
Water-resistant up to 328 feet (100 meters)
Safe for the hot tub, sauna, ice bath, and cryotherapy tank (operating temperatures 14°F – 129°F)
Apple Health and Google Fit compatible
Cons
Paid membership is required to access all data ($5.99/month)
Cost ($299 for Silver and Black, $399 for Stealth and Gold)
No trade-in program for current users to save when buying a new model
Limited workout tracking
Final Verdict
I did not expect to like my Oura Ring as much as I do. Even though the technology is still relatively new, Oura truly is an impressive tracker. But comparing it to an Apple Watch is like comparing apples and orange. One is a smartwatch, while the other is a sleep-tracking ring, and both have impressive health and fitness features with different approaches.
If someone wants a wearable that monitors their overall health and they don't need smartwatch features, a standalone Oura Ring is perfect. It is much smaller, lighter, and more discreet than an Apple Watch, and it looks like a regular ring. It is also low maintenance, staying charged for up to a week.
The biggest setback of the Oura Ring is the price. Not only does it cost almost as much as an Apple Watch, but you need to pay $5.99 per month to access all your data. If you skip the membership, you will only see your daily Oura scores, which aren't that valuable on their own. 
Personally, I find the membership fee reasonable, especially since Oura has been adding more features via software updates, but I understand the frustration. Although I won't be letting go of my Apple Watch anytime soon, I love my Oura Ring, and I plan on wearing it indefinitely alongside my watch.