By

Becca Ludlum
Updated 09/30/2022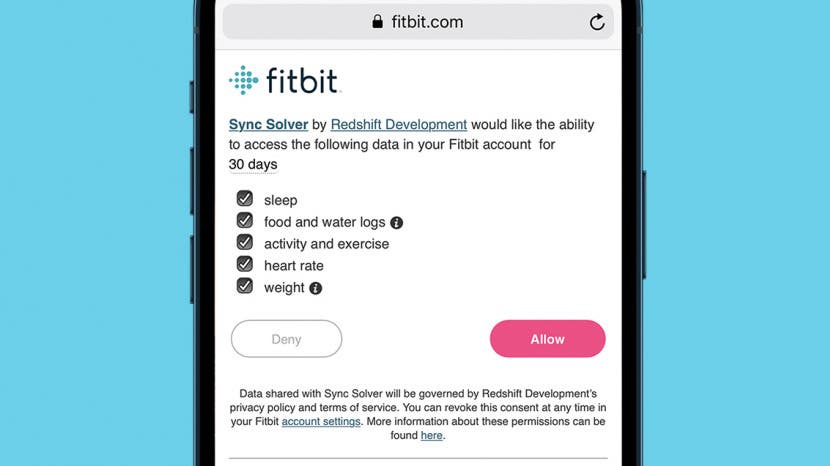 If you're asking, "Can you connect Fitbit to Apple Health?" we've got the answer. Syncing your Fitbit, Garmin, Polar, Withings, or other wearable trackers to Apple's Health app makes it easy to keep all of your comprehensive health information in one place on your iPhone.
What's in This Article:
Can You Link Apple Health to Fitbit, Garmin, Polar, or Withings?
So does Fitbit work with Apple Health? The short answer is yes! Skip to the next section to see how.

Discover your iPhone's hidden features
Get one daily tip each day (with screenshots and clear instructions) so you can master your iPhone in just one minute a day.
Fitness trackers and other health accessories integrate with your Health app information to keep a running log of measurements, nutrition, blood pressure, medical records, and much more. Since wearable fitness monitors can track so much data about exercise, sleep, weight, and even blood pressure, a connection between a wearable tracker to the Health app will show an overall picture in one place on your iPhone.
We'll go over how to sync Fitbit to the Apple Health app below; even though Fitbit doesn't technically work with Apple Health, it's possible to connect your health information anyway using a Fitbit sync app. We'll cover how to connect Apple Health to the most popular fitness trackers below, and when you're finished, be sure to sign up for our free Tip of the Day newsletter for more help with getting the most from your Apple devices.
How to Sync Fitbit to Apple Health on Your iPhone
Fitbit and Apple Health can work together, but they need some help from a third-party app. Until Fitbit is ready to approve direct syncing with Apple Health, third-party apps need to be used to sync the Fitbit app with the Apple Health app. Our favorite app is Sync Solver for Fitbit ($4.99). To connect Fitbit to Apple Health:
From the App Store, download the Sync Solver for Fitbit app.
Open the Sync Solver app and tap Sync Now.



A message will pop up; tap Continue.
Your Health app will open; tap Turn All Categories On. 



Next, the app will redirect you to Fitbit.com.
Log into your account.

Sync Solver will ask permission for info from Fitbit; tap Allow. 


Your iPhone will want to open Sync Solver; tap Open. 

Your Fitbit info will then sync with Sync Solver. 
Any time you want to update your Health app information with your Fitbit's data, return to Sync Solver and tap Sync Now. 

Sync your Fitbit with the Sync Solver app.
Can you sync Fitbit Charge 3 to iPhone? Yes! These steps should work for any model of Fitbit and several others.  
Pro Tip: Syncing your Fitbit and Apple Health is not the same as learning how to pair your Fitbit with your phone. This is done using the Fitbit app by tapping Set Up a Device from the account page.
Fixed: Sync Solver Duplicating Data in Apple Health
One known problem with this third-party setup is that your iPhone could duplicate the data. The developers of the app offer these steps as a fix:
From the Health app, select Browse from the bottom of the screen.


Tap Activity.



Choose Steps.


Scroll to the bottom and tap Data Sources & Access.



Select Edit in the top right corner.


Long-press and drag the three-bar handle next to the Sync Solver data source to move it to the top of the list.



Tap Done in the top right corner to finish.
Moving Sync Solver to the top of your list of data sources will tell your iPhone that Sync Solver is the most important and that the Health app should consider data from it first. Sync Solver also says, "be sure not to sync the same data types as this will result in a data duplication loop."
How to Connect Withings Devices to Apple Health
Withings has a wide variety of products from fitness wearables and blood pressure monitors. The company makes syncing Withings devices to the Apple Health app easy by using its app Withings Health Mate. To connect Withings devices to Apple Health:
Download the Health Mate app by Withings from the App Store.
Log in or create an account.

Tap Profile on the bottom-right corner.


Scroll down and tap on the Health app icon.



You'll get a Health app data request window. Toggle on the categories you want to sync. 


Tap Allow when finished.


How Do I Sync the Health App with a Garmin, Polar Tracker, or another Device or App?
In general, it's smart to check the settings of any app or device app you want to sync with the Apple Health app. The app settings should show something along the lines of Health App Syncing. From there, you should be able to grant permissions to the app or device app. 
When you request permission, you'll be able to select what specific information is synced, or you can choose to sync all available information. Later on, if you decide you no longer want that information shared with the Apple Health app, you can visit the Sources tab in Health and turn off any apps you want to, as well as delete any information from connected devices.
If, for whatever reason, you can't figure out how to sync an app or device to the Health app, make sure you're logged into the app or device app. Then:
Open the iPhone Settings app.
Select Health.



Select Data Access & Devices.


Choose the app you want to give permission to.



Toggle on the permissions you want to give.


Pro tip: Even though we didn't mention it in this article, the Health App is also compatible with the Oura Ring.
Why Use the Apple Health App Instead of 3rd-Party Health Apps?
Health and fitness tracking has come a long way from the days of the little pedometer we would clip on our waistband. We have wearable fitness monitors now that track everything from steps to exercise and even sleep—and now our smartphones can do the same. Health monitors include blood pressure cuffs, thermometers, and scales. 
The Apple Health app is your go-to place for tracking all of it—from exercise and sleep to blood pressure and temperature. You can even export your Health data from the app for sharing with doctors or counselors. The Apple Health app connects with most fitness wearables, and if you take your iPhone (6s and newer) with you everywhere you go, it can act as a fitness tracker by tracking your steps, activity, and even sleep with its motion coprocessor. 
With all fitness trackers to date except for Fitbit, you'll have to download and open the app that comes with the fitness tracker to pair it with Apple's Health app. Having information from all your wearables in one place can help you get a better overall picture of your health.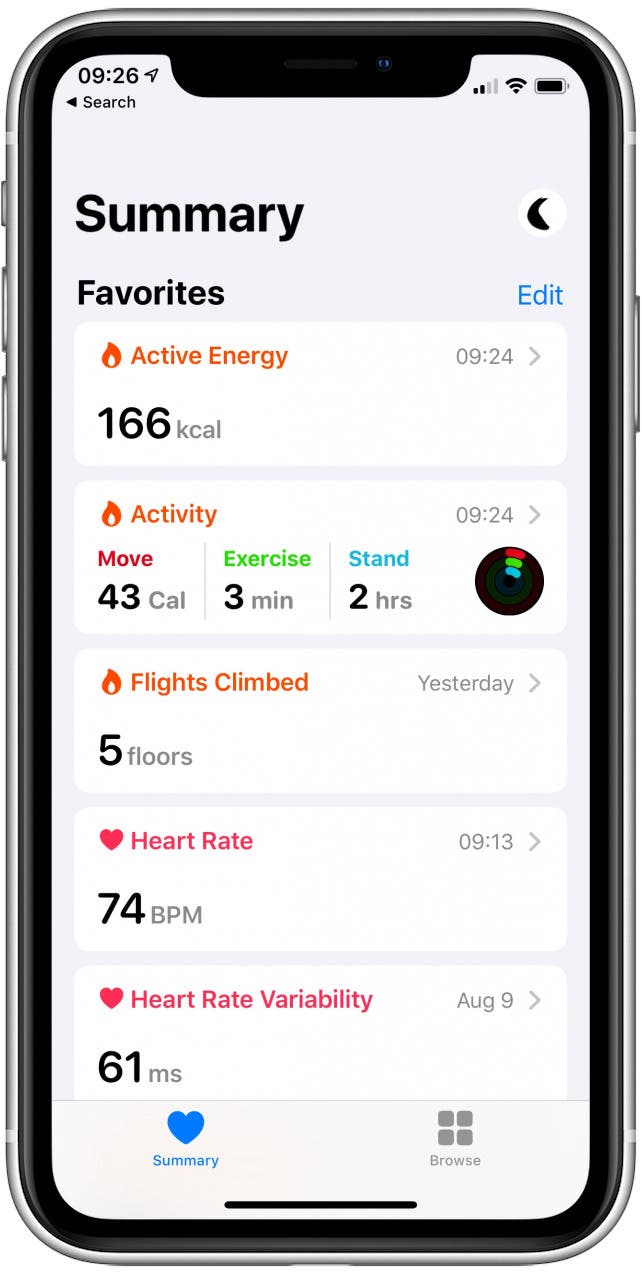 Now you know how to link Fitbit to Apple Health and how to keep it from duplicating data. We've also covered how to sync data from other wearables to keep everything in one place. Whenever you have multiple wearables or apps, make sure to prioritize your most trusted one as the primary source of data. To learn more about Apple Health, including how to track your breathing on Apple Watch, sign up for our free Tip of the Day newsletter.