Up your multitasking game when you learn to add new windows to Stage Manager.
By

Rachel Needell
Updated 11/28/2022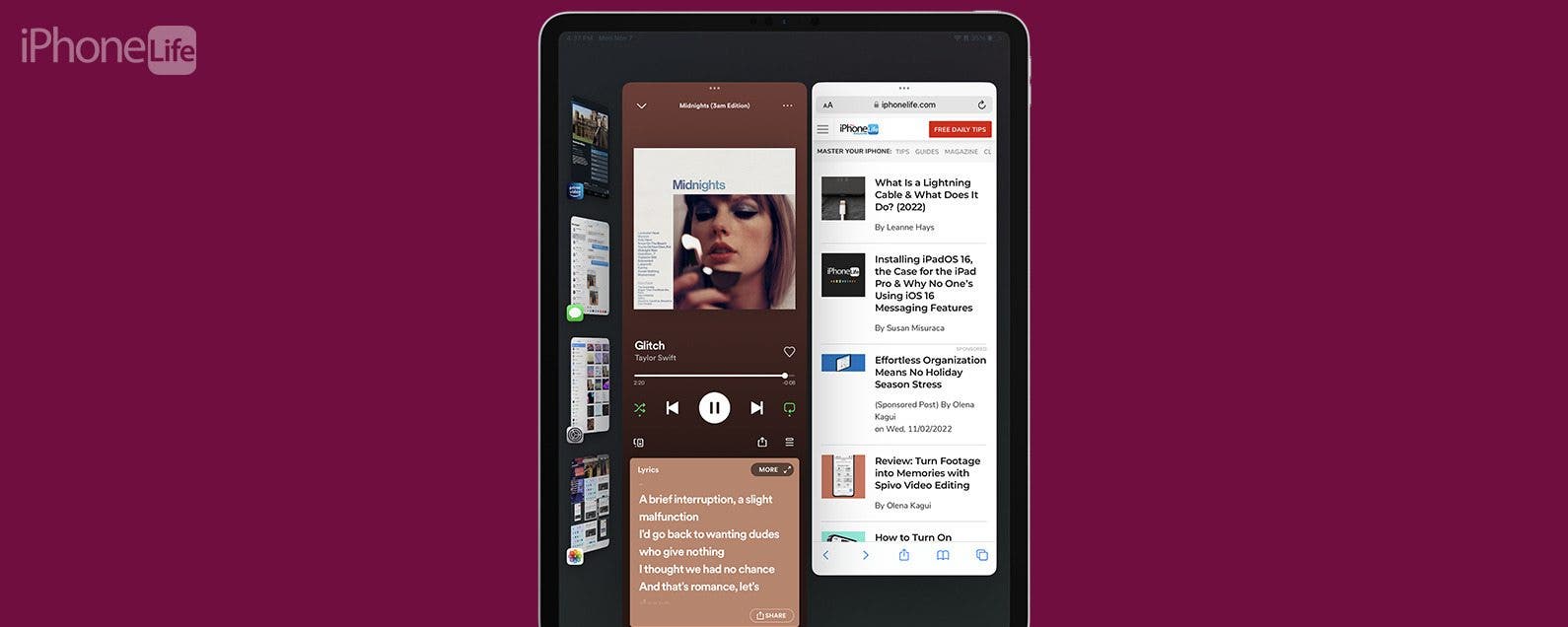 * This post is part of iPhone Life's Tip of the Day newsletter. Sign Up. *
Stage Manager for iPad is Apple's new multitasking solution for iPadOS 16. It allows you to work in multiple open apps at once, similar to how Split View works, but with Stage Manager, you can see more of your open apps and switch between them easily. In this article, we'll show you how to add windows to Stage Manager, even if you don't see them in your sidebar.
Why You'll Love This Tip:
Learn how to add and group windows to do multiple things at once with your iPad.
Select apps from Stage Manager's sidebar or open a new app to work in.
Group windows together and open them all from one sidebar icon.
Related: What Is a Lightning Cable & What Does It Do? (2022)
How to Add More Windows to Stage Manager
If you want to switch between apps or windows that are not currently open in the sidebar, or you'd like to have multiple windows open at once within a group, follow these steps. Before you begin, make sure that you have updated to iPadOS 16 and that you know how to enable Stage Manager on your iPad.
To add another window to your open apps, open any app on your iPad.


Tap and drag the small curved line that will appear in the bottom right corner of the app to resize the window from full screen.


Open the sidebar by swiping from the left side of the screen. If you are using your iPad horizontally, the sidebar will be automatically displayed. (You'll only be able to view the sidebar if you have other apps open.)


From the open apps, tap and drag a window to the main screen.


The other app will automatically make room for it.


However, if the app you'd like to open is not displayed in the sidebar, follow these steps.
From any open app on your iPad, tap the three dots at the top of the window.


Tap Add Another Window.


You will be shown all your most recently used apps. Scroll through them to find the app you'd like to open.


If you'd like to just select an app from your home screen, simply swipe up and tap the app you'd like to open.


Often, the new window will open in full screen. To resize the window, tap and drag the curved line the bottom corner of the app.


Now you can switch between two windows within the same group by tapping on the other app to bring it forward!


These windows will stay grouped if you open the sidebar again and tap on another app. Plus, you can add up to three apps in an app group at a time! Although it's taken me about a month to really master Stage Manager, it truly is such a game changer when it comes to being productive on your iPad. I really feel like there's nothing I can't do on my iPad anymore, which is one of the many reasons the iPad is my favorite Apple device!