Learn how to allow & clear cookies in Safari on your Mac to maintain the balance between privacy & convenience.
By

Leanne Hays
Updated 02/23/2023
What To Know
Cookies are data saved by websites on your hard drive that include your name, login information, and preferred settings.
You should enable cookies if you want to save data like your login information, site preferences, and recently viewed links.
Disable or clear cookies if you dislike targeted ads and want to keep website hosts from tracking which pages you visit.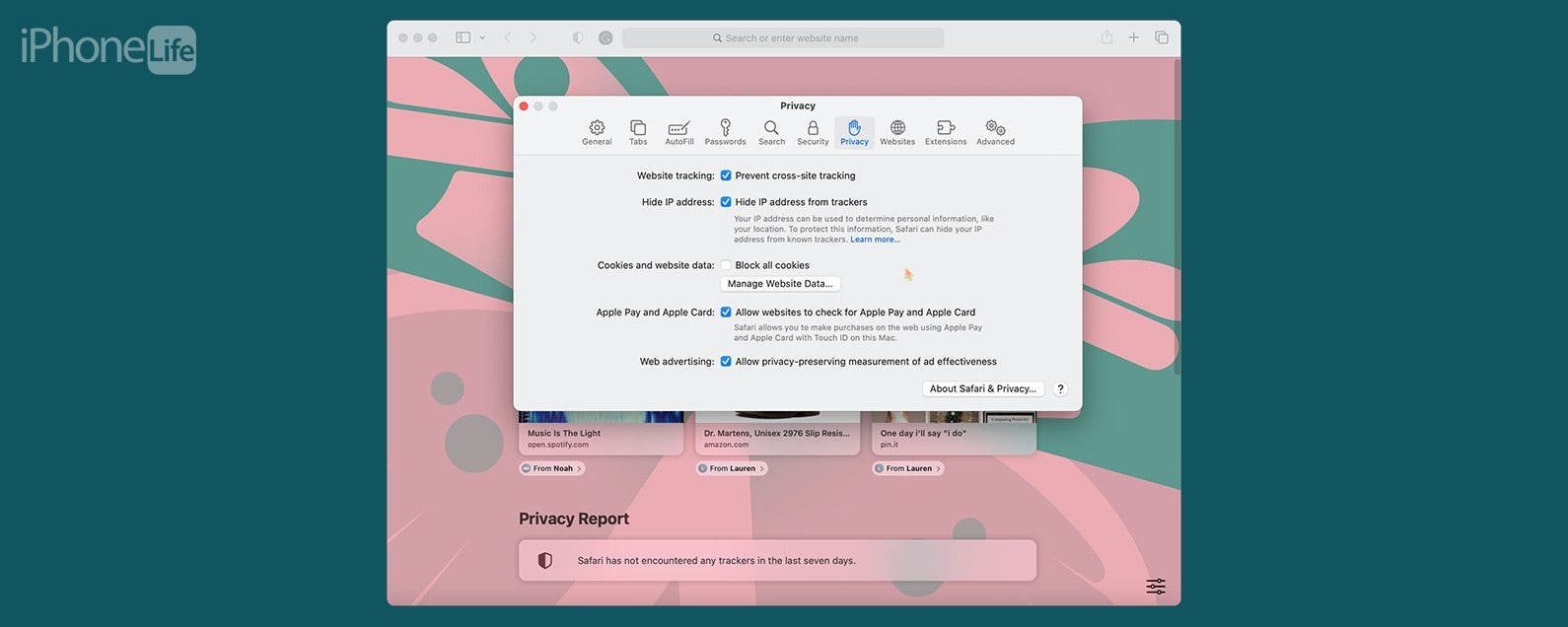 So, what is a cookie anyway? A cookie is a small file of data about your interactions with a website. This packet of data is saved on your computer so that when you re-visit a website, it remembers your preferred settings, login information, and the pages you visited. Cookies can help to create a more convenient browsing experience. The downside? Cookies can also track your interests to show you targeted ads. Let's cover how to enable and clear cookies on your Mac.
How to Enable & Disable Cookies on Your Mac
Personally, I keep cookies enabled on my Mac because I've found the pros outweigh the cons. I like the convenience of having my login information and browsing settings saved, however, the preferred balance between privacy and convenience is different for each person. For now, here's how to allow cookies on your Mac:
To manage your cookie settings, open the Safari app on your Mac.


Open the Safari menu and click Settings.


Click Privacy.


Deselect Block all cookies, so advertisers, websites, and third-party cookies are enabled.


If you change your mind later and want to disable cookies, follow the steps above and enable the "Block all cookies" setting. Also, if you're interested in learning more about your Mac features, check out our free Tip of the Day Newsletter!
How to Clear Cookies on Mac
If you've enabled cookies in your browser, but have been frustrated by targeted ads or have recently visited a shady website, it might be time to clear some or all of those cookies. Here's how to clear cookies in Safari:
Open the Safari app, then open the Safari menu and click Settings.


Click Privacy. 


Click Manage Website Data.


Click to highlight a website in the list, hold the Command key, then click additional sites to highlight more than one. Now click Remove to clear the websites you've highlighted. To delete all cookies, click Remove All.


Now you know how to change cookie settings in Safari on your Mac! You can try disabling and enabling cookies to see which works best for you. If you decide to allow cookies on your Mac, you can always delete all but your most frequently-visited website cookies for a happy medium level of privacy. Clearing cookies isn't just limited to your Mac; you can also learn how to delete cookies on your iPhone and iPad.