By

Olena Kagui
Mon, 06/28/2021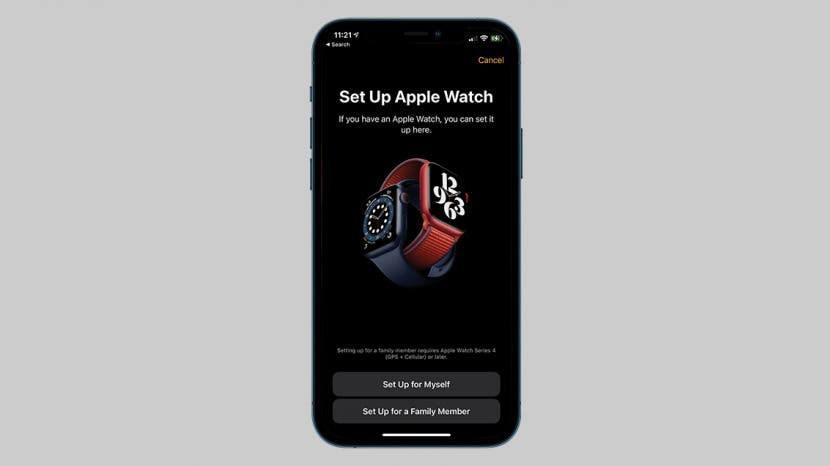 The Apple Watch is the most popular watch in the world. Most users are also iPhone owners because the Apple Watch needs to be paired to an iPhone for all the functions to work. However, there is a limited way to use an Apple Watch without an iPhone!
Related: How to Use Family Sharing to Access Shared App & Music Purchases
Jump To:
Does Apple Watch Work without iPhone?
An Apple Watch needs to be set up using an iPhone. The phone's Watch app is then able to control various functions of the watch. If you have a GPS-only Apple Watch, there won't be too many things you can do when the synced iPhone is not in range.

Discover your iPhone's hidden features
Get a daily tip (with screenshots and clear instructions) so you can master your iPhone in just one minute a day.
Many people primarily use the Apple Watch as a fitness tracker. The good news is that you can still track exercises, steps, calories burned, and standing hours independently of the iPhone. But you won't be able to update the watch without the iPhone. Plus, the iPhone user will be able to see all your fitness data and even track your location without you knowing.
If you have downloaded music or an LTE Apple Watch, you can also listen to music without an iPhone. An LTE Apple Watch will also let you make and receive phone calls and texts and even use Maps without the synced iPhone in range.
That being said, in my opinion, it is not worth the hassle to have or use an Apple Watch without an iPhone. The only exception is if you want to get an Apple Watch for your child or elderly family member without getting them a phone as well. Two Apple Watches can be synced to one iPhone through Apple Watch Family Sharing. To learn more about your Apple Watch, sign up for our free Tip of the Day newsletter.
Getting an Apple Watch for Kids with No iPhone
In order to get an Apple Watch for a family member without an iPhone, you'll need to set up a Family Sharing group. This is a great solution, but it gives the iPhone user access to the Apple Watch wearer's location and health information. If all parties are okay with this, it can work. However, there is an obvious privacy concern.
Can You Use Apple Watch with Android?
Will Apple Watch work with Android? No. Can you use Apple Watch without iPhone? Yes. This means that while Android users cannot sync their Apple Watch to their Android phone, they can have one set up on someone else's iPhone. This can be done through Family Sharing and will result in the Apple Watch having limited functions.
Unfortunately, there aren't many cases when it makes sense for someone to have an Apple Watch but not have an iPhone. Even though an LTE Apple Watch can function independently of an iPhone, it still needs to be set up and synced to one. Family Group sharing is one solution, but it gives the iPhone user access to the Apple Watch wearer's location and information, which could be a privacy concern.