By

Olena Kagui
Updated 08/23/2023
Since every iPhone comes out with a better camera than the last, many of us have ditched those bulky digital cameras and use our smartphones instead. As an iPhone photography and videography enthusiast, I am always looking for gear to take my shots to the next level. 

One of the hardest things about taking videos is capturing motion without ending up with a shaky shot, whether you're filming your child's sports event or your pets playing. Not only is getting a smooth video difficult, but it's also annoying when you focus on capturing the memory with your phone rather than enjoying it at the moment. The Insta360 Flow is my go-to in many scenarios because it does all the hard work and stabilization for me!
The Insta360 Flow Tripod Kit is multifunctional and AI-powered, making it one of the best-valued iPhone photography and videography accessories in my arsenal. I was most excited about the stabilization feature when I first got my Insta360 Flow, because I love to film my surroundings while walking, driving, or flying. I did not expect to be so impressed with the Insta360 app (free) that lets you use the AI tracking feature and is super easy to get the hang of! 

Discover your iPhone's hidden features
Get a daily tip (with screenshots and clear instructions) so you can master your iPhone in just one minute a day.
In just a few steps, you can set your iPhone camera to follow a subject automatically. If you incorporate the tripod as well, you can set and forget your phone and let it film you, your friends, or your pets while you enjoy the moment. Unlike many other smart trackers, the Insta360 Flow doesn't just follow your subject from left to right; it also tilts up or down to capture a wider range of motion! I also love that I don't need to worry about battery life and can rely on this smart stabilizer to last all day, just like my iPhone 14 Pro Max.
Most iPhone photography gear looks drab; so even though it makes your photos and videos look great, the device itself belongs backstage. This could not be less true for the Morf strap and Morf case ($19.99) by FriiDesigns. Available in a wide range of mix-and-matchable colors, the FriiDesigns straps and cases are an accessory as much as a photography tool. My personal favorite color options are the Gentle Purple case with the rainbow-colored Miami strap.
The Morf strap paired with the Morf cafe makes it easy to access your iPhone in seconds while keeping your hands free. But the colorful strap is not just a lanyard! Disguised beneath the pretty design is a built-in mechanism that goes from loose to stiff with a single twist of the ring that doubles as a phone grip.
This means that you can wear your phone around your neck or shoulders, then quickly turn it into a selfie stick, tripod, or even a media stand! No more looking for the ideal rock or branch to get a good selfie or video—just twist the Morf strap to position your iPhone for the perfect shot. I love that I am able to wrap it around a tree branch or my bike's handlebars: the possibilities with the Morf strap and case are endless!
As someone who crafts both recreationally and for my small business, I love being able to film my tabletop. Getting that unique angle that shows my project and both my hands working on it is a game changer, and the Arkon Remarkable Creator Pro Mount makes it easy to achieve! With the adjustable gooseneck arm, this mount allows you to position your iPhone at the right height and distance from the base to capture exactly what you want.
I love to use my mount to take videos of my crafting process, but I also like to set up the shots and use my camera timer to take high-quality photos that would otherwise be impossible without someone else holding my iPhone. In addition to being able to film or photograph your tabletop, the Arkon mount can also hold your phone, iPad, or tablet. This makes it possible to comfortably view an image or read text on one device while recording with the other.
Before trying the Arkon Remarkable Creator Pro Mount, I had struggled with alternative mounts that would topple over and struggle to hold up my large iPhone 14 Pro Max. The weighted base of the Akron mount makes it super sturdy and reliable so that you don't need to worry about your phone falling or changing position mid-video.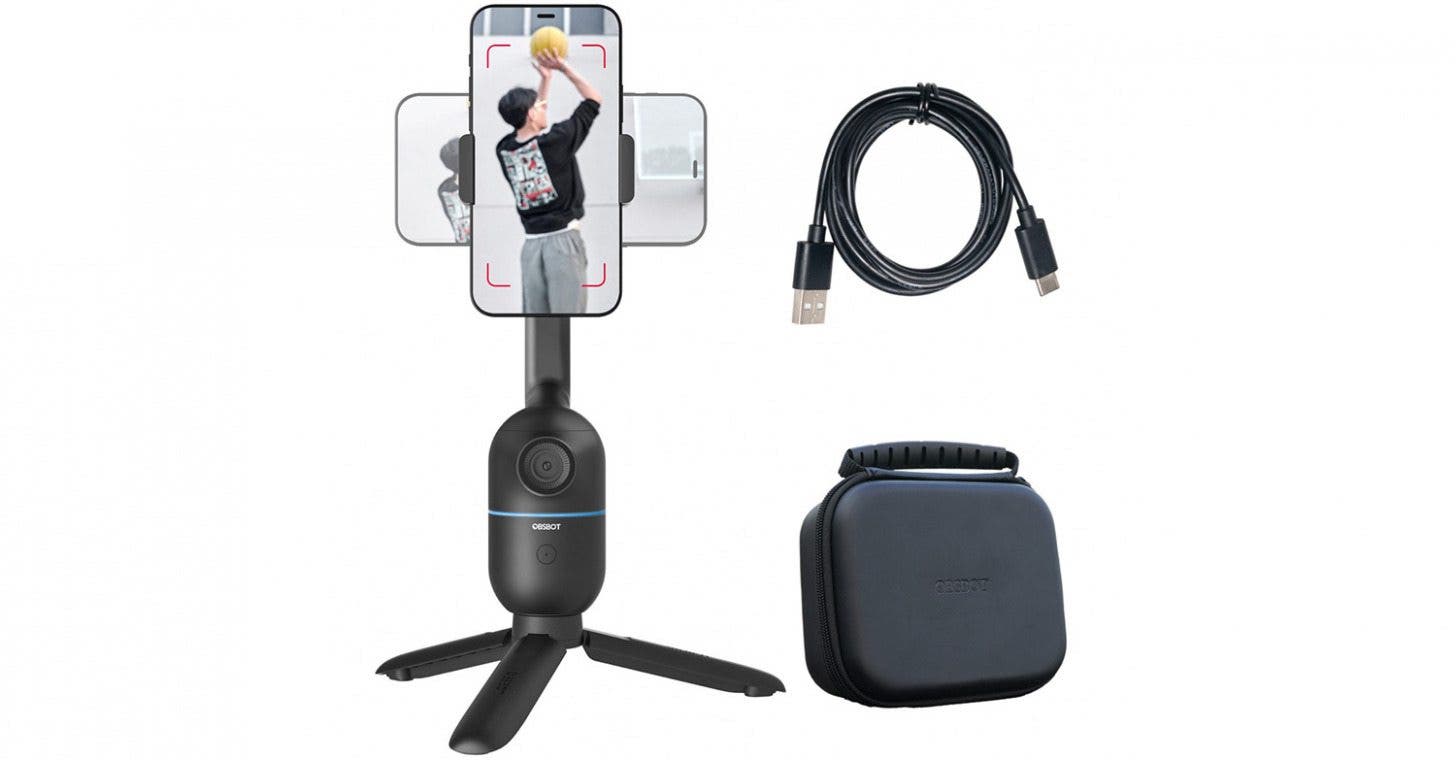 OBSBOT Me is an AI-powered Selfie Phone Mount that can automatically track your movement and doesn't require you to install a new app. I really enjoy the simplicity of turning on the OBSBOT Me and having it start tracking me almost instantly. That way, I can use the regular iPhone Camera or social media app instead of being forced to use a specific third-party app.
The OBSBOT Me is foldable, making it super portable and easy to bring along in your purse or suitcase. It takes just seconds to turn on and start tracking, and you can even control it with gestures. For example, if you are around other people and want the camera to follow only you, raise your hand to lock or unlock the tracking subject.
You can easily attach the OBSBOT Me to a tripod of your choice, so you don't have to buy a new one. It will automatically track any subject that's between 1.5 and 50 feet away from your phone, which makes it ideal for a variety of scenarios. This mount comes in a small hard-covered case that makes it safe and easy to bring along on adventures.
While your iPhone is a powerful photography and videography tool, it can only be enhanced with suitable mounts, tripods, cases, and straps. The best way to find the perfect equipment for your needs is to evaluate what you wish to capture with your iPhone camera. Decide whether you want to primarily shoot yourself or others, including your whole body or just your tabletop, and film in a leveled studio or out in unpredictable natural environments. The digital art you can create with your iPhone is unlimited, as is the supportive gear you can choose from.