By

Becca Ludlum
Updated 11/29/2023
What to Know
The Workout app on your Apple Watch offers a plethora of workout tracking options.

You can create a new workout if yours isn't listed.

Apple Fitness+ is a great resource for workout ideas and fitness tracking.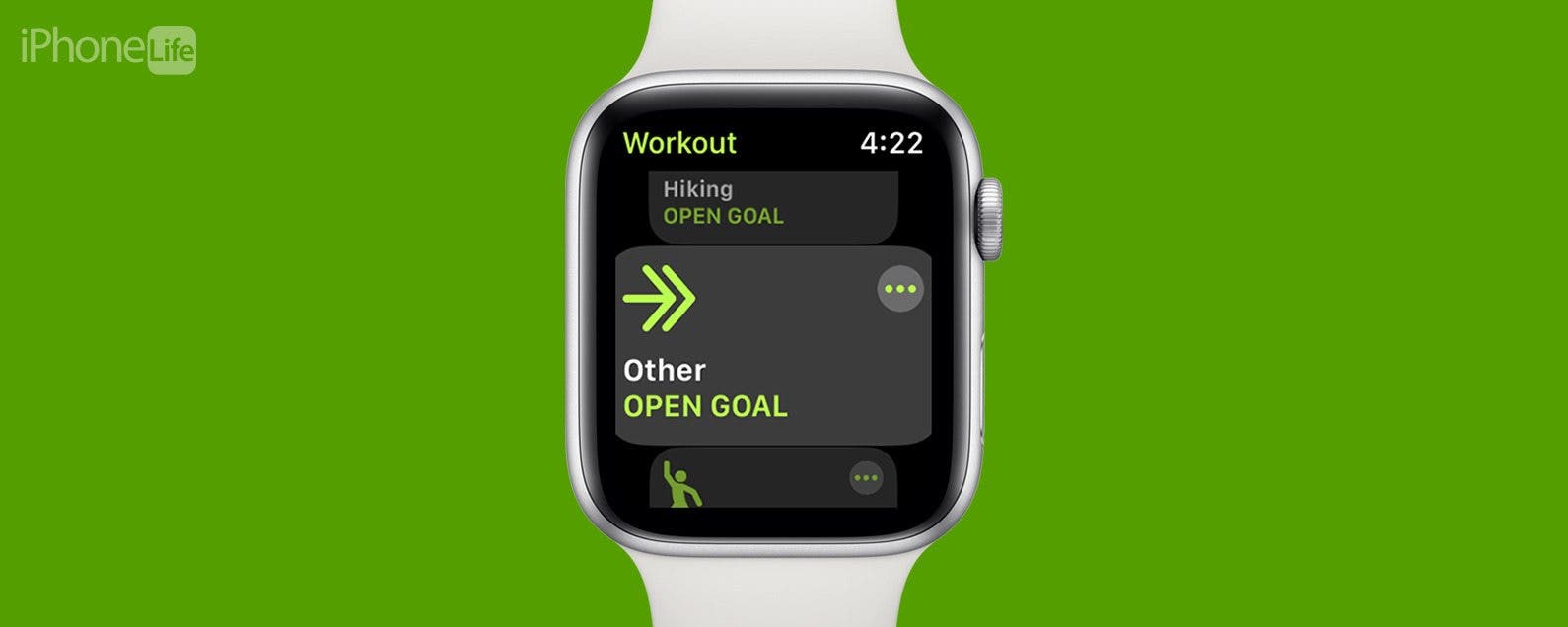 The Apple Watch has many awesome features and useful capabilities. One of the standout features of the Apple Watch is the Apple Watch Workout app. These Apple Watch fitness-tracking tips can help you achieve a better level of physical and mental health by making full use of the Apple Workout app. 
Jump To:
How Does Apple Watch Measure Exercise? Apple Watch Fitness Tracking Basics
Let's start with the basics. You can track most kinds of workouts on the Apple Watch in the Apple Watch Workout app. The list of workout you can choose from is extensive, and if you can't find it, you can add your own, which we'll go over below.
Your Apple Watch measures exercise by your heart rate. Even if you don't start a workout, if your heart rate goes above a certain level, your Apple Watch may count it as exercise. If you're having a hard time getting your Apple Watch exercise minutes to record correctly, you may want to start with troubleshooting that issue before using the features in this article.

Discover your iPhone's hidden features
Get a daily tip (with screenshots and clear instructions) so you can master your iPhone in just one minute a day.
How to Get Exercise Minutes on Apple Watch
1. Track a Workout in the Apple Watch Workout App
Before you can use any of the other tips in this article, you need to know how to start and stop tracking a workout on your Apple Watch. Your Apple Watch will use the info from the type of workout you selected, your heart rate, and other factors to give you a summary of what your body is doing during the workout.
Learn how to start a workout in the Workout app for easy fitness tracking.
Pro Tip: If your heart rate drops or you take a break, your watch might ask you if your workout is over. Here's what to do if that happens.


2. Can't Find the Right Workout? Create a Custom Workout on Apple Watch
With every watchOS update, Apple adds additional workout types to its tracking options. But the list of workout types is still limited. If you still don't see the workout you want, you can track it as Other and then name it. Here's how:
Scroll down to the bottom of your Workout list and tap Add Workout.


Scroll through the additional workout types offered or tap Other.



Tap the three dots to customize your workout goal.


Tap Create Workout.



Choose whether you want to have an open goal, or work toward a time, certain number of calories burned, or a custom goal. For this example, I chose Custom.


If you tap Custom, you can create a whole custom workout, including warmup and cooldown. Tap Warmup to set warmup parameters.



Tap Time, Open, or Skip to decide if you want a time limit, an open-ended warmup, or to skip it altogether. 


Tap Add to add specifics to the middle of your workout.



Tap Work to set a specific time or goal for a workout. Tap Recovery to set the same, but you'll rest during those periods.


Tap Add again, then tap Repeats to set up how many reps you want of the work you set up.



Tap the work you want to repeat.


Set the number of Repeats, then tap Done.



Tap Cooldown to set a cooldown as you did with the warmup, or set it to skip, following step 7.


Tap the Custom Title field to name your workout.



Enter the name, then tap Done.


Tap Create Workout.


You can now select your custom workout under Other in step 2.
3. Add Another Activity to Your Apple Watch Workout
Want to cool off after your run with a relaxing yoga session? Or follow your strength training session with some cardio? The Apple Watch Workout app allows users to add another activity without ending the workout session.
When you are ready to start the next part of your workout session, swipe right from the workout screen and tap the + symbol above New.


Find and start tracking your new workout activity.



When you are finished with the second part of your workout, you can add another activity or end the workout.


4. Lock Your Watch during a Workout
If you're doing a workout that involves water or a lot of arm movement, you can always lock your Apple Watch screen to prevent accidentally tapping or swiping on the screen. If you forget, you can even lock it while doing your workout. (Your watch will automatically lock if you are tracking a swimming workout.)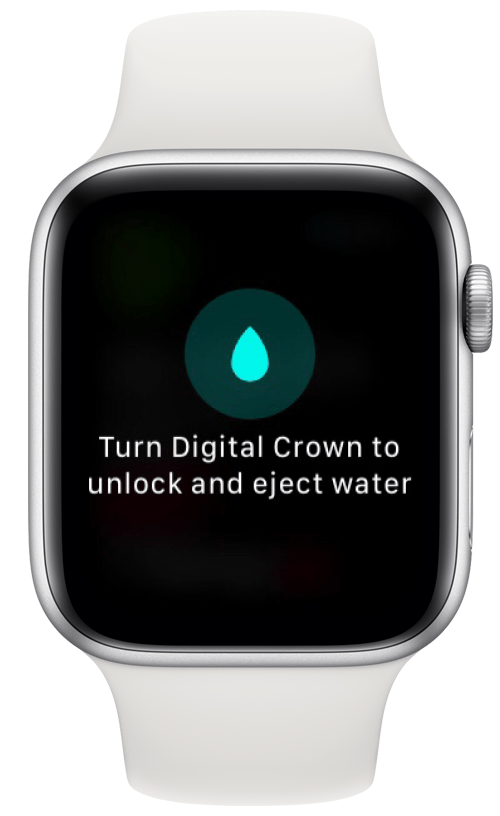 5. Create an Automatic Focus for Your Workout
One of the ways you can get the most out of every workout is by turning off notifications. Different Focus modes allow you to customize your settings, so only certain calls, messages, notifications, and apps are allowed through. To create one to autostart at the beginning of a workout, create a new Focus mode, tap Fitness when prompted (shown below), then set up your preferences. Make sure under the Set a Schedule header, Workout is on. Then, you're good to go!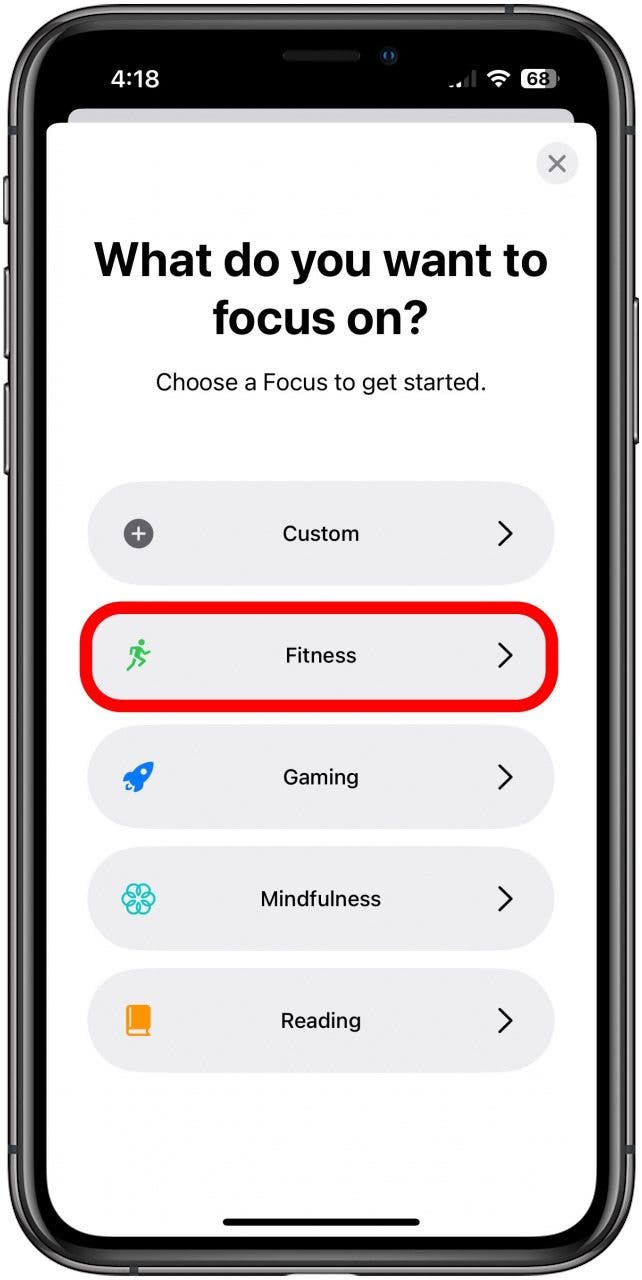 6. Add a Workout Complication to Your Watch Face
If you work out a lot, finding and opening the Apple Watch Workout app every time gets old, fast. Adding a Workout complication to your watch face allows you to open the Workout app right from the watch face. You can do this right from your Apple Watch.


7. Customize the Metrics Shown on the Watch Face for a Specific Workout
One of the best things about the Apple Watch is that you can customize the specific metrics shown on the workout screen for each type of workout you commonly do. You might not want the same metrics shown for each type of workout, and luckily you can customize them individually. Here's how:
Open your Workout app.


Scroll to your workout of choice.



Tap the more icon (it looks like three dots).


Tap the edit button next to one of the suggested goals.



Tap Workout Views.


Tap Edit Views.



From here, you can tap on different metric categories to customize your workout view. Toggle on and off different categories as desired or tap the edit icon to change the types of displays.


Tap Reorder to reorder the metrics display.



Tap Workout View to close and return to your previous screen. Your changes will be saved.


8. Add Pace Alerts to Your Outdoor Running Workout
Once you enable Pace Alerts, your Apple Watch will notify you any time you go above or below your pace goal during your outdoor run. This is valuable for both training and health monitoring if you're trying not to overexert yourself.
When you are ready to start tracking an outdoor run, tap the more icon to the right of Outdoor Run.


Tap the edit icon next to one of your goals.



Tap Alerts.


Tap Pace.



Choose whether you want to be alerted when you hit a target heart rate or a range.


You can turn Pace Alerts off by tapping Off in the Pace menu.


9. Enable or Disable Automatic Workout Detection
Have you ever gotten most of the way through an amazing workout, only to realize you never started tracking it? Or have you ever glanced down at your watch 30 minutes after your workout was over and realized you forgot to end the workout? Well, that should no longer be a problem! The Apple Watch can now remind you to start or stop tracking a workout if it thinks you are exercising or have finished your workout. You can even choose to turn both types of reminders on or off or to keep one on and turn the other off.
Workout detection is available for walking, running, swimming, rowing, and using the elliptical. You can enable or disable this feature right from your Apple Watch. 
Open your watch's Settings app.


Scroll down and tap on Workout.



Here you can toggle Start Workout Reminder and End Workout Reminder on or off, depending on your preference.


10. Sync Your Watch to Your Gym's Workout Equipment
When there is compatible gym equipment within range, you can use Apple Watch GymKit to transfer data both to and from the elliptical, rowing machine, stationary bike, or other equipment that you are using. Before using this feature, you should enable the Detect Gym Equipment setting in your Watch app on your iPhone.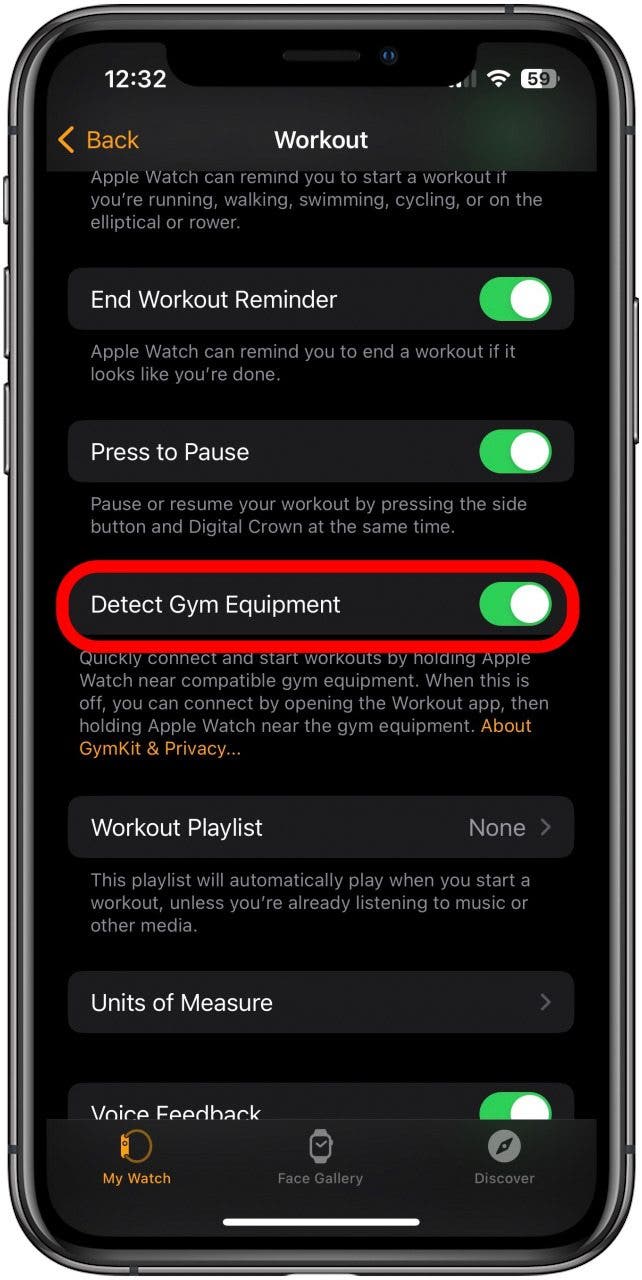 At the gym, if the workout machine is GymKit-compatible, you'll see the words Connects with Apple Watch, and the display should feature a contactless reader. Hold your Apple Watch close to the reader until the watch and machine pair. Start and end your workout using the controls on the equipment. After you end your workout, it will appear in the Activity app on your Apple Watch and iPhone, just like it would if you had tracked it only on your Apple Watch.
11. Share Your Apple Watch Activity with Others
Accountability to someone besides ourselves can be a major motivator in getting fit. If you are looking for a way to include some outside accountability in your workouts or just want to enjoy some friendly competition, follow this process to share your activity with others via the Apple Watch. You can only share activity with friends who also have an Apple Watch.
12. Challenge a Friend to a 7-Day Activity Competition
Once you share your activity with someone, you can challenge them to a seven-day activity competition. Competitions are one-on-one, but you can have multiple competitions going at the same time. You can start a competition from the Apple Watch or the iPhone Activity app.
Your friend will then have 48 hours to accept your invitation, and the competition will start two days after that. Each competitor can earn up to 600 points per day for adding to their activity rings. The person with the most points at the end of the seven days wins.​
Now you're competing!
13. Power Your Workouts with Apple Music
Listening to music or a podcast is a great way to make workouts easier and more effective. Playing audio directly from your Apple Watch means you can work out without the extra bulk of your iPhone.  If you have a cellular-enabled Apple Watch, you can use it to stream music without syncing music to the watch. If you want to avoid using your watch's cellular data or you don't have an Apple Watch with cellular capabilities, you can sync music from your iPhone to your Apple Watch in order to play music from the watch during your workouts. You will need to plan ahead and sync the music from your iPhone when your Apple Watch is charging.
14. Add Podcasts to the Apple Watch
Podcasts are synced to the Apple Watch in much the same way music is synced; choose the podcasts you want to sync, and they will be added to your watch the next time your Apple Watch is charging and near your iPhone.
To choose which podcasts to add:
Open the Watch app on your iPhone, make sure you are in the My Watch tab, and go to Podcasts.


Tap on a show you already have downloaded to select how many episodes you want on your watch.



Tap the number of episodes you want, then tap Podcasts to go back.


Tap Add Shows... to add more shows to your Apple Watch.



Tap the green add button next to the episodes you want to access on your Watch.


When you are ready to listen to a podcast while working out, make sure your headphones are paired to your watch, and open the Podcasts app on the Apple Watch.



Choose a show to listen to and get started!


15. Pair Earbuds with an Apple Watch
Listening to music on your Apple Watch requires pairing your watch with Bluetooth headphones. Then you can listen to music or podcasts directly on your Apple Watch instead of on your iPhone. However, make sure you're not getting your devices mixed up if the headphones are paired to more than one. That's always the first thing to check when troubleshooting!
16. Set a Playlist to Autoplay When You Start an Apple Watch Workout
Next up on our list of Apple Watch tips is all about getting the music flowing without any extra effort on your part.
Open the Watch app on your iPhone and select My Watch at the bottom of the screen.


Tap Workout.



Tap Workout Playlist.


Tap the playlist you want to autoplay when you start a workout.



Tap Workout to return to the previous screen. 


Select either Play from beginning or Shuffle according to your playlist preference.



Now, when you start an Apple Watch workout, this playlist will automatically start to play. You'll need to make sure your Bluetooth headphones are synced with your watch beforehand.


17. Access Audio Playback Controls without Leaving Your Workout App
Audio playback controls are accessible directly within your workout. Just swipe left on your screen during a workout, and you'll get a control panel where you can adjust your volume or skip a song. Then, just swipe right to return to your workout screen.
To maximize your fitness experience with Apple Watch, learn how to get better calorie accuracy. Also, if you enjoyed this article, you might also enjoy these reader stories about how their Apple Watch saved them.