By

Olena Kagui
Updated 04/03/2023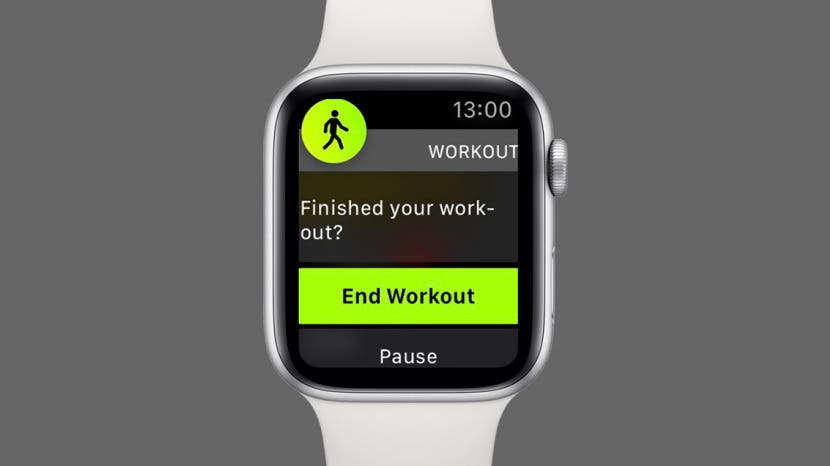 Your Apple Watch fitness tracker is the Santa Claus of exercise. It senses when you're sleeping, it knows when you're awake, and it can tell if you're slacking during a workout. Instead of giving you a lump of coal, your Apple Watch will pause your workout and ask, "Finished your workout?" Learn how to dismiss the reminder, disable the automatic workout detection feature, and calibrate your Apple Watch to optimize your fitness routine and close those Activity Rings.
Related to: The Ultimate Fitness-Tracking Guide: 16 Best Apple Watch Workout Tips
Jump To:
How to Dismiss the "Finished your workout?" Message
If you stop to take a sip of water or tie a shoelace, your Apple Watch might automatically pause your workout. At first glance, you only have two choices when your Apple Watch pauses your exercise. If you don't want to choose Pause or End Workout, you can scroll down to find a third option: Dismiss. If you love working out with your Apple Watch, be sure to check out how to use heart rate zones!

Discover your iPhone's hidden features
Get a daily tip (with screenshots and clear instructions) so you can master your iPhone in just one minute a day.
Swipe up or use the Digital Crown to scroll and reveal more options.


 
Tap Dismiss.


If you accidentally tap Pause, you can always resume the exercise:
Swipe right on the Paused exercise screen.


 
Tap Resume.


It is also possible to pause and resume a workout by pressing the Home button and Side button at the same time. This will also take a screenshot, which you can view and delete from your iPhone. If you find yourself accidentally pressing both buttons by flexing your wrist regularly, consider flipping your Apple Watch orientation.
A Paused Workout Still Tracks Metrics
The biggest worry people have is that the Apple Watch is not tracking activity when the workout is paused. Luckily, you don't need to worry about this. The Apple Watch is constantly tracking your movement. That is why you might track a minute of exercise on a lazy day where your only activity is a semi-clothed sprint to the mailbox and back. As long as your heart rate is up and your Apple Watch band is on correctly, you will still track exercise minutes and calories.
If you are doing an outdoor workout, make sure to check your Apple Watch settings for better fitness tracking. Under Privacy, make sure that Location Services is turned on. Plus, check the apps list to ensure that location is set to While Using under Apple Watch Workout.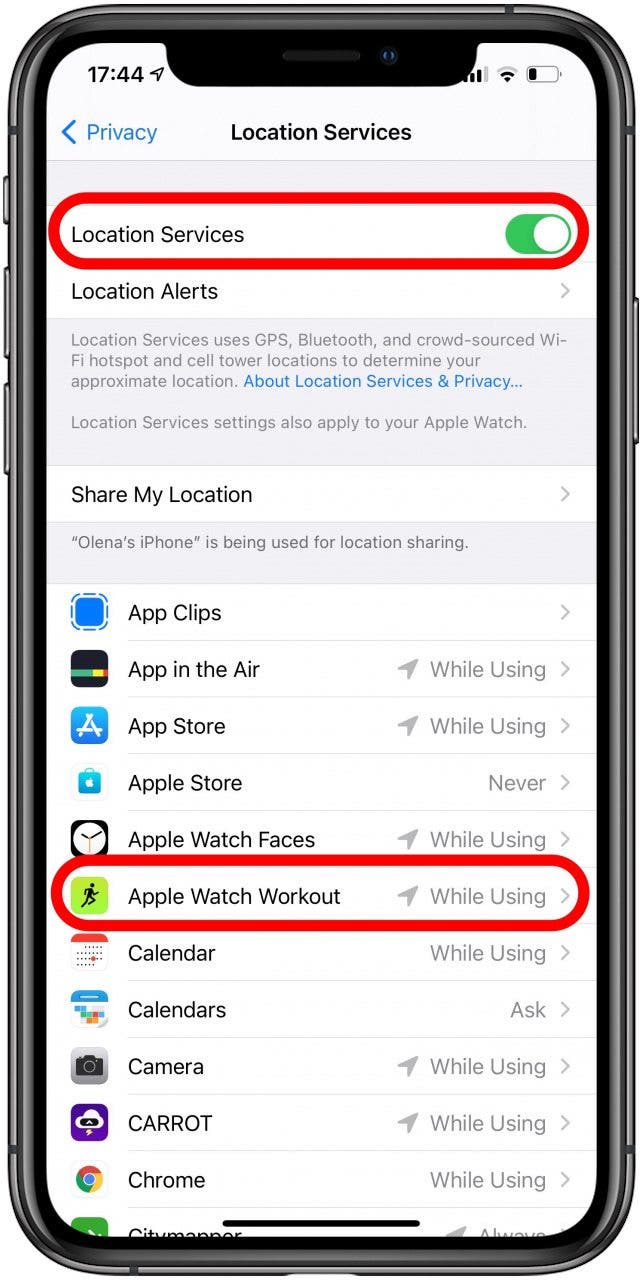 Disable Workout Reminders
The feature on your Apple Watch that automatically detects whether or not you're working out can be helpful if you like interval running, for example. It can automatically pause your workout when you stop and resume it when you're moving again. They are also useful because they can remind you to start a workout if the Apple Watch senses that you've forgotten to start one. If you don't like them, though, you can certainly follow these steps to disable the workout reminders!
Troubleshooting Apple Watch Exercise Minutes
To understand why a paused workout can track metrics, it is essential to know what counts as exercise on your Apple Watch. Heart rate plays a factor when tracking minutes. But how does an Apple Watch track calories? It uses your height, weight, and age in its fitness algorithm to accurately track your activity, which is why it's crucial to keep your personal data up to date.
Some exercises, such as walking, also require you to have a specific pace of over 3.3 mph (5.3 kph) for the entire minute. You may also consider re-calibrating your Apple Watch and tightening your watch band for the best results. Follow these step-by-step instructions to troubleshooting exercise minutes and how to calibrate your Apple Watch.
Wrist Tattoos Can Affect Apple Watch Exercise Tracking
After many people with wrist tattoos reported having some issues tracking their workouts, Apple confirmed that inked skin might interfere with the watch's sensors. Try wearing your watch on your other wrist if it's free of tattoos. Unfortunately, there doesn't seem to be a solution to this at the moment. So if you have full-sleeve tattoos, you may have to reach out to Apple directly.
Speaking of sleeves, a long-sleeved t-shirt may also interfere with your workout if the fabric comes between your watch and your skin. Make sure to roll sleeves up to avoid interference with your Apple Watch for optimized workout tracking. Don't forget to make sure your watch band is tightly secured around your wrist. If your band keeps loosening, consider buying an Apple Watch band that's better suited for sports.
It can be super frustrating if your Apple Watch keeps pausing during workouts. Some people still report getting the message during walking workouts even after turning off the automatic workout detection settings! If the issue keeps persisting, consider reaching out to Apple Support. Also, make sure to keep your watchOS updated in case Apple improves this function and other features.