By

Rachel Needell
Updated 01/12/2023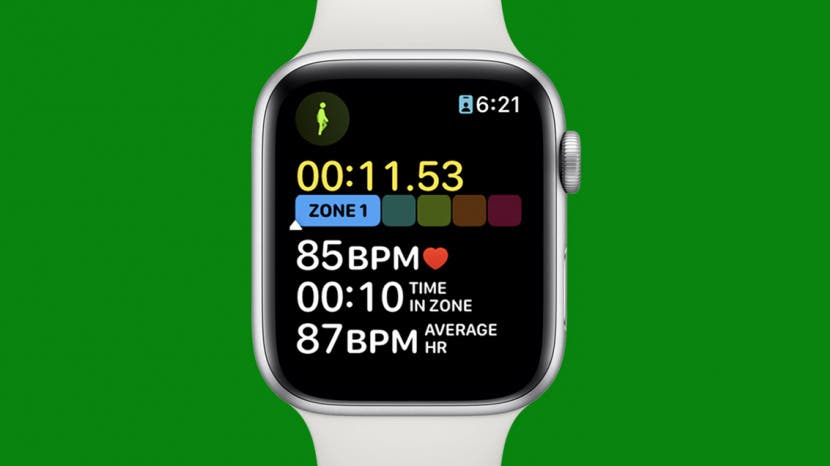 In watchOS 9, the new ability to see and track heart rate zones really takes Apple Watch workouts to the next level. Heart rate zones for exercise are a way to monitor the intensity of your workout. Although this feature won't be available to the public until September, once you have watchOS 9, you can add heart rate zones to any workout. Here's how!
Related: How to Remove a Lock Screen on iPhone in iOS 16
Jump To:
How to Add Apple Watch Heart Rate Zones to a Workout
If you don't want to wait until the fall for the final release version of watchOS 9, you can download the public beta onto your Apple Watch now. But do be prepared for potential bugs that may prevent your device from functioning normally! We definitely understand the sense of urgency and anticipation these new software updates bring with them, and if you like tips about upcoming software releases, be sure to sign up for our free Tip of the Day. 

Discover your iPhone's hidden features
Get a daily tip (with screenshots and clear instructions) so you can master your iPhone in just one minute a day.
Now, let's get into how to add heart rate zones to any workout on your Apple Watch.
Open the Workout app on your Apple Watch.


On a workout you'd like to add heart rate zones to, tap the three dots to the right.



Then, tap the little pencil button to edit.


Tap Workout Views.



Tap Edit Views.


Scroll down to Heart Rate Zones, and toggle Include on. It will be green when enabled.


Now when you start that workout, you will be able to view your heart rate zones. You can also reorder and delete certain workout views that are not relevant or helpful to you. The customization options on the Apple Watch are what make it such an essential piece of technology in my daily life. And it will hopefully help me to stay in shape as well!
How to View Heart Rate Zones during a Workout
Once you have gone into a particular workout's settings and enabled Heart Rate Zones, you may be lost when it comes to actually finding it in the middle of a workout. 
Open the Workout app and begin your chosen workout.


Depending on the order you have it arranged in, swipe up or rotate the Digital Crown to change Workout Views until you find the heart rate zone tracker. 


How to View Heart Rate Data
To analyze and track your heart rate data over time, you'll need to access your iPhone.
On your iPhone, open the Fitness app.


Choose a workout in which you'd like to view your heart rate data or tap Show More to view more workouts. 



Scroll down to Heart Rate and tap Show More. 


From here you will be able to see a graph of your heart rate over the course of that workout.
How to Change Heart Rate Zones on Apple Watch
When you first enable Heart Rate Zones on your Apple Watch, they come with pre-set standards. However, if you are serious about your fitness, you may want to customize your heart rate zones in order to make your goals even more personal to you. For this, you will also need to have your iPhone handy.
Open the Watch app on your iPhone.


Tap Workout. 



Tap Heart Rate Zones.


Select Manual. 



Tap the Heart Rate Zone you want to change.


Then, enter in a new number.


And now, you can have an even more personalized workout experience! All the new features coming to watchOS 9 seem to be gearing up to make the Apple Watch even more competitive among fitness gadgets. I've been tracking all the rumors swirling about the next Apple Watch release, so if you're as excited as we are, be sure to check out our Apple Watch Series 8 rumor roundup, updated weekly to reflect the most recent insider buzz.