Experience watchOS 8 features early by installing the public Apple Watch beta. Here's what you need to know!
By

Olena Kagui
Updated 07/06/2021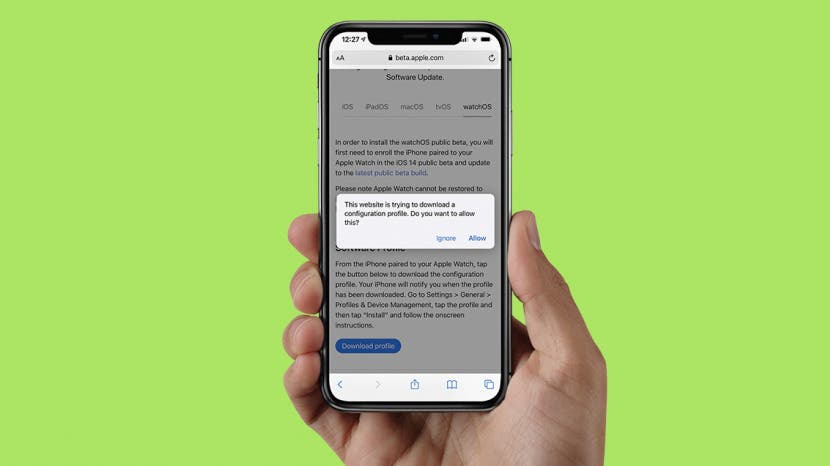 If you don't want to wait to experience the exciting features coming with the Apple Watch software update this fall, you can download the new watchOS beta. I will teach you how to get the watchOS 8 beta download free. However, keep in mind that you won't be able to downgrade back to the latest shipping watchOS version.
Related: How to Uninstall & Remove iOS 15 Beta from Your iPhone
Jump To:
WatchOS 8: Who Can Participate in the Apple Beta Software Program? 
You can download and run watchOS 8 if you have the Apple Watch Series 3 or later paired with an iPhone 6 or later, running iOS 15. Find out which Apple Watch model you have here. To learn more about your Apple Watch, sign up for our free Tip of the Day newsletter.
Is the watchOS 8 Beta Download Safe?
Apple lets people download and test the beta software before the official release. This means that you will get to explore the new features showcased during the recent WWDC keynote event. Since it isn't officially released yet, the beta program comes with bugs and other issues that will be resolved before watchOS 8 is publicly released this fall. 
Pros:
The reason most people get the beta is to enjoy new features early. This year, we can't wait for the new workouts, watch faces, the Mindfulness app, and so much more. You can read about everything to expect on watchOS 8 here. When you install the beta, you will also get a Feedback app on your device. You can use the app to report any issues directly to Apple.
Cons:
The public beta is released to help Apple work out software bugs and other issues. It will not run perfectly and may interfere with features that you use regularly. Apple Watch betas are particularly tricky because they do not let you downgrade to the previously-released OS versions once the beta is installed. You will also have to install the iOS beta to use the watchOS beta.
Before You Install the Apple Watch Public Beta
Many people use a secondary device to install the beta to keep their primary device running as usual. If you decide to install the beta on your primary device, make sure to create a backup to protect your data. Learn how to back up your Apple Watch here.
How to Sign Up for Public Beta Testing & Install watchOS 8
Developers who enrolled as an Apple Developer ($99/year) had first dibs on downloading watchOS 8. However, the public beta for watchOS 8 is now available to anyone who wants it! This is free to download for anyone registered for the Apple Beta Software Program. 
To enroll and download the beta software, use the following steps. Please keep in mind that you cannot downgrade from the beta to a previously released OS version once the beta is installed. You will, however, be able to update to the official update once it is released this fall.
If you haven't already registered for the Apple Beta Software Program, you'll need to do it first. Tap sign up. If you already registered in the past, tap sign in.


 
Enter your Apple ID and password. You may need to perform a Two-Factor Authentication.


 
Make sure to read the Agreement so that you are aware of any potential issues that might occur. Tap Accept.


 
You'll be taken to a Guide for Public Betas. If you haven't downloaded a public beta before, you will have to enroll your devices in the Apple Beta Software Program. Before you can enroll your Apple Watch, you will need to enroll your iPhone. Once your iPhone is enrolled, use this link or tap watchOS on the Apple Beta Software Program page.


 
Under the first step, tap Download profile. Until the public beta for watchOS 8 is available just yet, this will download the watchOS 7 beta.


 
Tap Allow.


 
You'll be taken to Install Profile. Tap Install.


 
Make sure to read the Consent Agreement, tap Install.
Tap Install again to confirm.
You will be prompted to restart your iPhone. Tap Restart.
After the reboot, open the Watch app on your iPhone.


 
Tap General.


 
Tap Software Update.


 
Tap Download and Install.
You can have so much fun with the Apple Watch beta update. However, keep in mind that you will be stuck with the beta until the new software is officially released. During this time, you may experience bugs and may lose access to valuable features and apps.