By

Olena Kagui
Updated 07/26/2023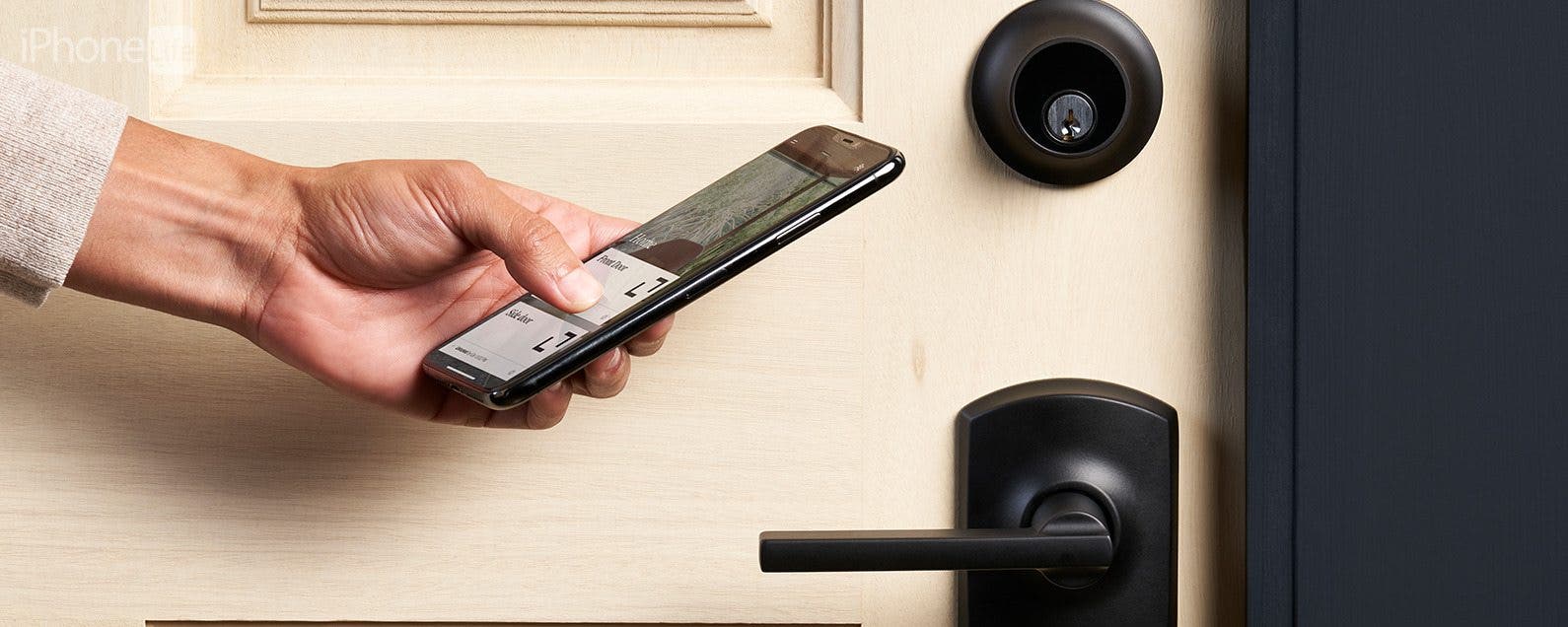 Have you ever misplaced or forgotten your keys? Gotten all comfy in bed just to wonder, anxiously, if you locked the door? Wished you could let your friend or neighbor into your home while you're at work? The Level Lock+ makes all these concerns a thing of the past! This smart lock is Apple HomeKit compatible and comes with Apple Home Keys, giving you dozens of quick and easy ways to lock and unlock your door, even if you're continents away.
Reasons to Get a Smart Lock for Your Home
There are many reasons why adding a smart lock to your home is a good idea, especially if you pick the Level Lock+ ($329). While Level's locks are compatible with both Android phones and iPhones, the Level Lock+ is specifically designed to work with the Apple HomeKit. It is also the first smart lock to come with Apple Home Keys. These are two key cards, like you'd use at a hotel, that can be used physically or added to our Apple Wallet so that you can easily access them on your Apple Watch, iPhone, or iPad. This makes unlocking your door as easy as making an Apple Pay payment! 
What I love about having the physical cards, plus a set of keys, is that your guests have the option of using whatever suits them best. If they don't have an iPhone, they can simply use a physical card or a key. This is also a good option if you run a rental property or an Airbnb, so you don't have to worry about them having access once they leave. Of course, I get a notification any time the door is locked or unlocked so I can keep track of who is coming and going, even if I'm away from home.

Discover your iPhone's hidden features
Get one daily tip each day (with screenshots and clear instructions) so you can master your iPhone in just one minute a day.
If using your Apple Wallet or physical cards or keys to open your door isn't ideal, that's fine too. Anyone with a smartphone can get the Level Home app (free) and get smart access to their home, allowing them to unlock or lock the door. The app lets you grant others permanent or even temporary access, see the history of when the door is locked or unlocked, and whether it was accessed manually, automatically, by touch, or via HomeKit. This can be useful for security purposes and to keep track of who enters your home and how.
Another exciting feature of the Level Home app is that it allows you to set up automatic locking and unlocking. For example, you can set the door to lock after it's been unlocked for a certain amount of time. This is one of my favorite features because it makes me feel safe knowing that the door will lock itself no matter what. It can also be set to auto-unlock! This happens once you enter your home boundary and are within Bluetooth range. For safety reasons, you have to first leave your home boundary for auto-unlock to work.
Finally, my favorite way to control my Level Lock+ is with Apple HomeKit. You can easily add it as an accessory, making it possible to lock and unlock your door using just your voice! I just activate Siri and ask it to lock or unlock the door. If you have HomePods in your home, this lets anyone inside use the smart lock! The Level Lock+ has been a great addition to my Apple ecosystem and smart home.
Pros:
You can unlock and lock your door using the physical keys and card, your Apple Wallet, or any Siri-compatible device.
The auto-lock and auto-unlock features make it extra safe and easy to come and go.
A smart lock makes it much harder to lock yourself out.
Guests can be granted temporary access to your home.
Level Lock+ integrates seamlessly with your Apple ecosystem.
You can check that your door is locked from bed, work, or even a trip abroad.
You can add a smart keypad to your Level Lock+ if you wish to add an extra way to unlock your home.
Cons:
Unlocking with Siri isn't instantaneous and can take a few seconds.
If you try to open the door before it is done unlocking, it may jam temporarily and take a longer time to open.
The Level Lock+ is on the pricey side, although the features make it worth the cost.
Final Verdict
I have nothing but good things to say about this smart lock. So far, having the Level Lock+ has brought me so much peace of mind by automatically locking itself and making it possible for me to enter my home without carrying keys. It has also saved me a lot of time searching for missing keys and even resulted in fewer marital disputes over who misplaced the key or left it in the car after a long trip. I have also enjoyed being able to unlock the door for friends and neighbors, even when away from home. I love knowing that I can let people in to let out my dogs or get all the animals out in case of an emergency. The Level Lock+ with Apple Home Keys has truly upgraded my home, and it could be a great addition to yours too!