By

Kenya Smith
Updated 01/10/2023
What to Know
Using the Ring/Silent switch is the quickest way to silence notifications. 
You can choose to disable notifications on an app-by-app basis.  
Do Not Disturb and other Focus modes can disable notifications during work, studying, or other activities.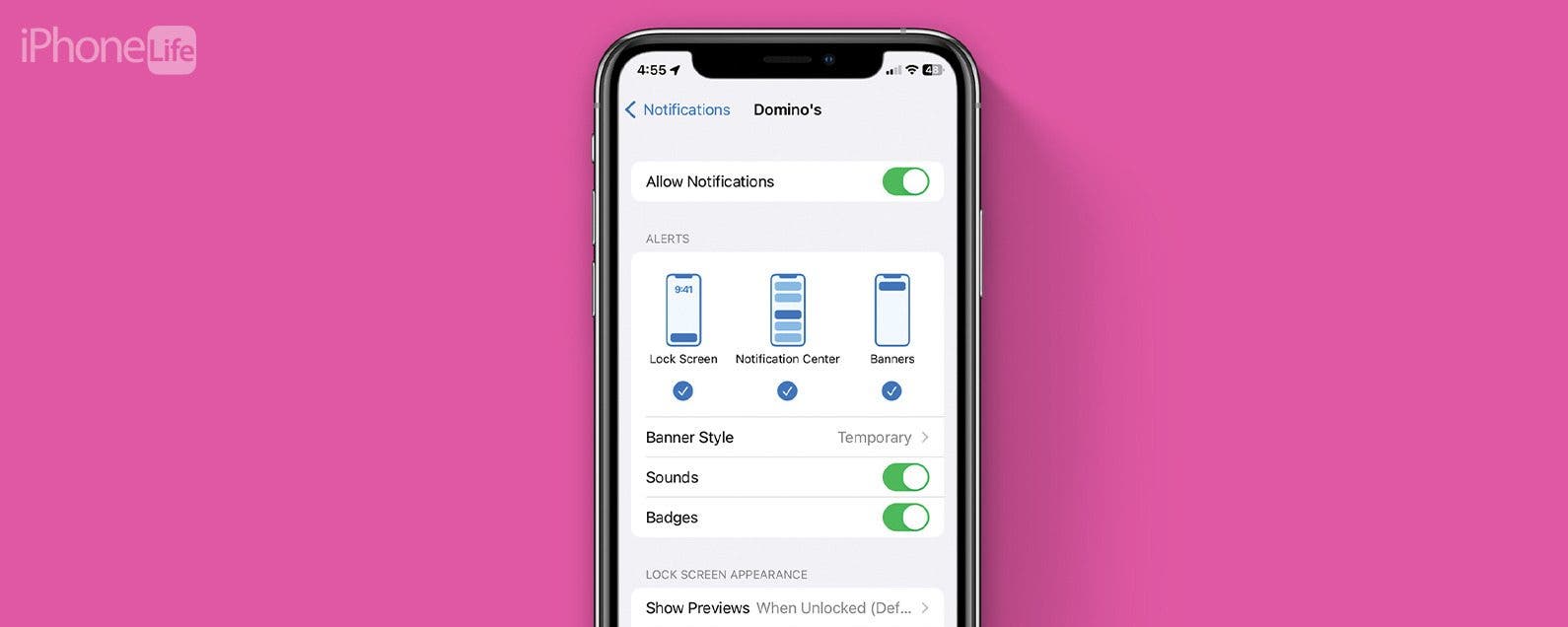 The notifications on your iPhone help keep you informed. However, receiving multiple notifications while you're sleeping, relaxing, working, or studying can be annoying. Fortunately, there are three ways to turn off notifications on your iPhone. Here's how to do each method.
How to Disable Notifications on iPhone with the Ring/Silent Switch
The quickest way to disable all audible notifications on your iPhone is to use the Ring/Silent switch. The switch is located on the left side of your iPhone and is used for muting all alerts and notifications. Please check out our article on how to use the Ring/Silent switch to completely silence notifications from all apps and people. Keep in mind that flipping your Ring/Silent switch to silent will prevent your iPhone from making noise but will not stop notifications from appearing on your screen. 
If you want to disable both audible and visual notifications from certain apps or contacts, continue to the next section. Be sure to subscribe to our free Tip of the Day newsletter for more notification tips.  
How to Disable Notifications on iPhone for Specific Apps
If you want to keep receiving texts from your friends or family, but don't want to be distracted by Facebook comments, you can turn off notifications only for Facebook. The same can be applied to any app. Here's how to limit notifications from certain apps:
Open Settings.


Tap Notifications.



Choose an app with notifications you want to disable.


Tap the Allow Notifications toggle to turn it off. The toggle will turn gray when disabled.



You can determine where notifications can appear by choosing Lock Screen, Notification Center, or Banners. You can choose as many as you want. 


Here, you can tap on Banner Style.



Choose whether you want the banner style to be Temporary or Persistent.

 
If you don't want audible notifications, you can turn off the Sounds toggle.



If you don't want an app to show badges, you can turn off the Badges toggle.

 
Now you know how to turn off the notifications for specific apps.
How to Silence Notifications with Do Not Disturb on iPhone
If you want to prevent distractions from notifications while you're working or studying, then using the Do Not Disturb feature is a great way to block notifications and phone calls. The great thing about using Focus modes like Do Not Disturb is you can customize each one to allow notifications from certain people and apps so that you can silence and allow different types of notifications. You can learn more by reading our article on how to customize Focus modes for silencing notifications.