By

Cullen Thomas
Updated 08/22/2023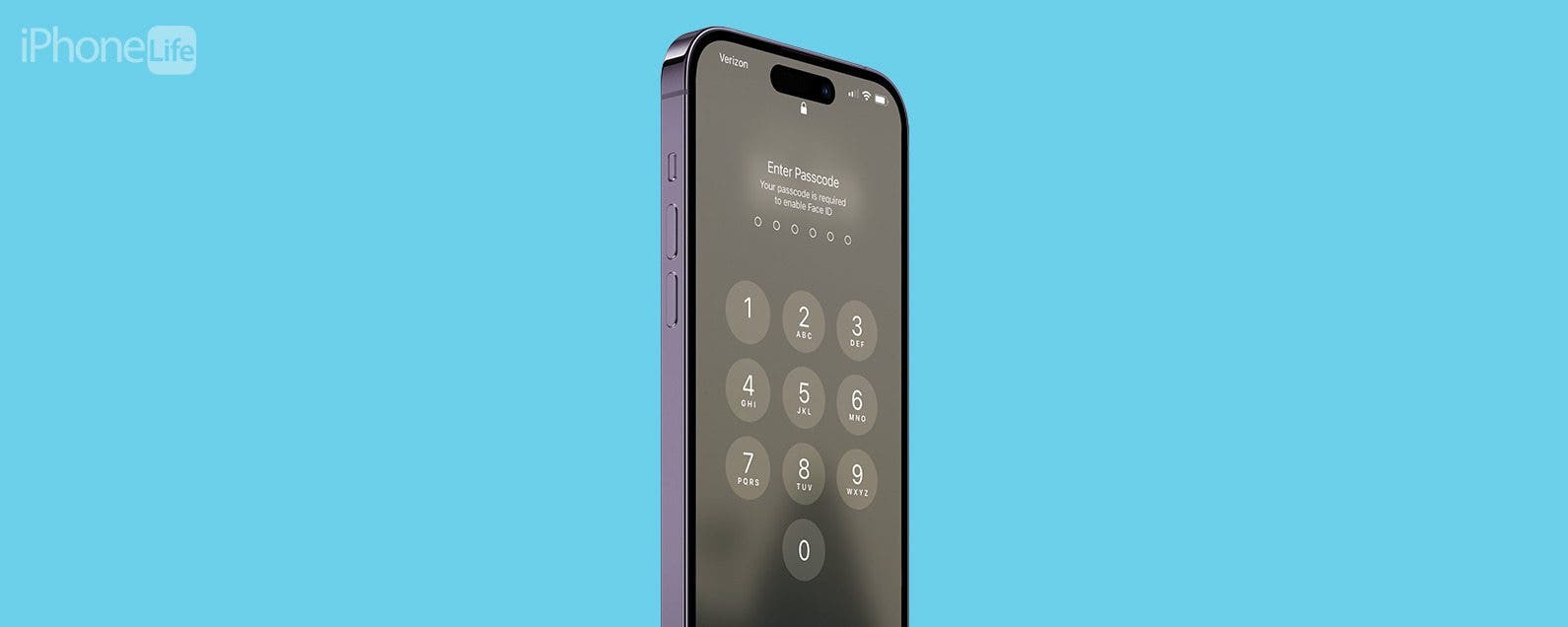 With hacking making the news every few weeks, it's high time to take a moment and tighten our digital defenses. Apple makes tons of privacy and security tools available, but it's up to you to make the most of them.
1. Use a Strong & Unique iPhone Passcode
Your passcode is the entry point to your digital security; with the keys to the gate, an attacker can walk right past the walls. With only your iPhone (and the passwords it saves), you can log in to most of your online accounts, so don't make it easy! Make sure your iPhone has a passcode on it and use a 6-digit code rather than 4. To set your iPhone passcode, go to Settings > Face ID & Passcode (or Touch ID & Passcode) > Turn Passcode On. You can also change your passcode on that same screen if you'd like to set a stronger one. For more iPhone security advice, be sure to check out our free Tip of the Day newsletter.
2. Protect Your Passcode
One of the most consistent threats to your very-modern digital property is the oldest one on earth: thieves. Crooks sometimes sneakily film you entering your passcode before they snatch your iPhone. If they succeed, they can use your passcode to get into your stolen iPhone, and then away they go helping themselves to whatever they want from the device, including bank accounts, credit cards, and more. Make sure that you use Face ID or Touch ID to cut back on how often you have to enter your passcode in public, and if you do have to enter your passcode in public, then hold your phone where only you can see. To turn on Face ID or Touch ID, go to Settings > Face ID & Passcode, toggle it on, and walk through the setup.

Discover your iPhone's hidden features
Get one daily tip each day (with screenshots and clear instructions) so you can master your iPhone in just one minute a day.
3. Turn On Find My for All Your Devices
Find My is Apple's built-in app for tracking lost and stolen devices. Apple's security systems are designed so that Apple can't track you: they don't have access to your Apple ID passwords or Find My. That means they can't help you if your iPhone is lost: you have to do it yourself. You can turn on Find My in Settings > Your Apple ID > Find My > toggle on Find My iPhone. Then go and turn it on in the same place on your Mac and iPad. This doesn't just help you find a misplaced iPhone hiding under your car seat, it also lets you remotely disable and lock your iPhone if it's ever stolen.
4. Use a Strong Unique Password for Your Apple ID
With just your Apple ID password, a crook can log in to iCloud.com and register your iPhone as stolen, locking you out of your own device (even if it isn't actually stolen). If you've been using the same password in multiple places, your Apple ID is the first one you should change to something unique! Go to the Settings app > Apple ID > Password & Security and then tap on Change Password to set a new unique password. Remember: longer is better than weirder. Use four random words, randomly generated, to get a nice long password that's easy for you to remember and hard for computers to guess. While you're there in the Password & Security menu, make sure that Two Factor Authentication is turned on (it's on by default with newer Apple IDs). Final tip: use a password manager like iCloud Keychain or third-party options like Bitwarden, 1Password, or Dashlane to store the login credentials of all the accounts you've set up online, including your Apple ID!
5. Set Up an Account Recovery Contact
Losing access to your Apple ID account would be a real nightmare, as it stores your photos, contacts, app purchases, the locations of your devices, and even your passwords for other accounts (if you use iCloud Keychain to save your passwords). Protect yourself by designating an Account Recovery Contact. Go to Settings > Apple ID > Password & Security > Account Recovery and tap the button labeled Add Recovery Contact. Your phone will let you designate a contact who will receive a special code you can use to securely recover your account if you're ever locked out.