By

Rachel Needell
Updated 08/29/2022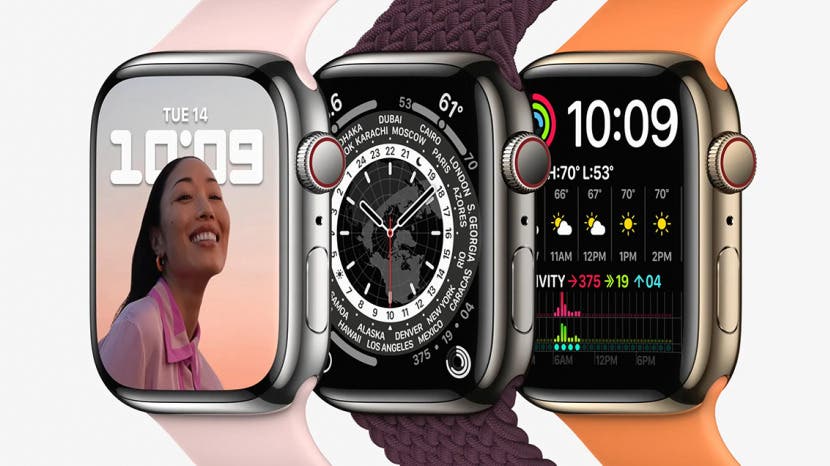 Apple just sent out the invites for its September 7th, 2022 "Far Out" event where they are anticipated to announce a round of all-new Apple devices. We're dying to see Apple's next smartwatch, but while we wait impatiently, let's check out all the rumors surrounding what the next Apple Watch will look like and what features it will and won't have. Here's all the rumors we've heard thus far. 
Related: iPadOS 16 Rumors: Everything We're Expecting for the iPad's New Operating System
Jump To:
The Apple Watch Series 4 made some big design changes that have stayed consistent through the Series 5, Series 6, and SE models. While the overall design of the watch has remained basically unchanged, it has continued to increase in screen size and decrease the size of its footprint. Until the addition of the 41mm and 45mm option of the Series 7, the Apple Watch has remained quite loyal to its original iteration. However, the long-rumored flat design may be coming at least partially; Mark Gurman in his PowerOn newsletter claims that while we may see a more flattened display, we won't be getting the flat edges. 

Discover your iPhone's hidden features
Get a daily tip (with screenshots and clear instructions) so you can master your iPhone in just one minute a day.
However, this could potentially change with the release of the Series 8. Multiple rumors have suggested that Apple is working on a redesign of the watch to feature flat edges similar to the newly released iPad Air and iPad Pro, as well as the newer iPhones. According to display analyst Ross Young, the design will be five percent larger, specifically 1.99 inches diagonally, slightly larger than the 1.901-inch diagonal size of the 45mm ‌Apple Watch Series 7‌. While these rumors are not new—they've been floating around the internet since before the release of the Series 7—this most recent round of reporting suggests we may actually get these larger displays in the fall. However, the Twitter account LeaksApplePro says that the only expected design change for Apple Watch Series 8 will be a redesigned speaker.
S8 Chip
Along with a whole host of other chips, Gurman also reported that the Apple Watch will be getting an updated S8 chip. However, for the most part it will have basically the same performance and functionality as the S7, so don't expect any major improvements. 
Image Courtesy of Apple
Some of the most exciting rumors about this upcoming Apple Watch drop surround the fact that Apple may bring us three new models in 2022. These models would include the Apple Watch Series 8, an updated Apple Watch SE, and a new entry in its smartwatch lineup in the form of a rugged Apple Watch geared towards extreme sports. Apple Journalist Mark Gurman claims that the three new models could make this year "the biggest in the history of the Apple Watch since the original model."
Rugged Apple Watch
According to Bloomberg, Apple has apparently been working on a version of the Apple Watch with a "rugged" casing. This watch design is aimed at athletes and hikers who may be using their Apple Watches in more extreme conditions. It will supposedly feature most of the same functionality as the original but will receive improved impact resistance and protection. There is definitely a market for an improved watch designed specifically for the outdoors, as hikers and climbers find the Apple Watch lacking in comparison with Garmin watches. But it still remains unclear if these changes will be enough to reel that market back in.
Apple Watch SE
Some expect Apple to release a long-awaited second-generation model of the SE, and rumors predict that this will be a pretty big upgrade from the original SE Series 1. After not announcing a new SE model in the fall of 2021, rumors suggest that the next generation will adopt the larger display and more-curved design we saw with the Series 7, as well as a few other features we saw released in the Series 7 like its S7 battery and processor, the Always-On display, and fast charging technology. Additionally, if you expect the Series 8 will be a bit too pricey, a very recent Apple Watch SE 2 rumor is predicting that the SE will be a pretty comparable, less expensive alternative with a lot of the new features available 
Image Courtesy of Apple
Boosted Battery Life
Apple Watch enthusiasts (myself included) have long been awaiting a Low Power Mode option, and this rumor is hinting that it may finally be coming on the Apple Watch Series 8. Apple insider Mark Gurman claims this will likely be a new hardware-exclusive feature, which means you won't be able to get Low Power Mode through a software update. Of course, this is brilliant for Apple because it means if we want this feature, we have to ditch our old watches to buy the newest version. However, the feature has been long-desired and some Apple Watch lovers may feel understandably motivated to make the upgrade.
Image Courtesy of Apple
Doubts About Body Temp Sensor 
Last month, Mark Gurman predicted the potential of a new Body Temperature sensor. This would be the first new health sensor added to the Apple Watch since the Series 6. However, recently, Apple analyst Ming Chi Kuo cast doubt on the new technology. Apparently, Apple has been experiencing issues with their algorithm's accuracy and has already pushed the sensor back from being released with the Series 7. Most of these issues stem from the wrist being a particularly inconvenient place to take a body's temperature. Ultimately, I don't have a lot of faith that the sensor will be ready by Series 8, but hopefully Apple will continue to make progress and we can see this feature added soon. 
Image Courtesy of Apple
Final Thoughts
Ultimately, some of these features could be introduced in the Apple Watch Series 8 along with things like sleep updates, new fitness options, and medication management. The Apple Watch is arguably the company's most science-fiction-esque technology, and it seems the plans for the watch continue to feed the imaginations of consumers and Apple engineers alike. Stay tuned and we'll keep you updated about what's to come.