By

Leanne Hays
Tue, 10/10/2023
What to Know
Apple introduced the People & Pets album with iOS 17, iPadOS 17, and macOS Sonoma.
If you can't find your People & Pets album, make sure you have a device that's updated to one of the above operating systems.
Your iPhone, iPad, or Mac has to index your photo library and find animal and pet images after updating before your People & Pets album will appear.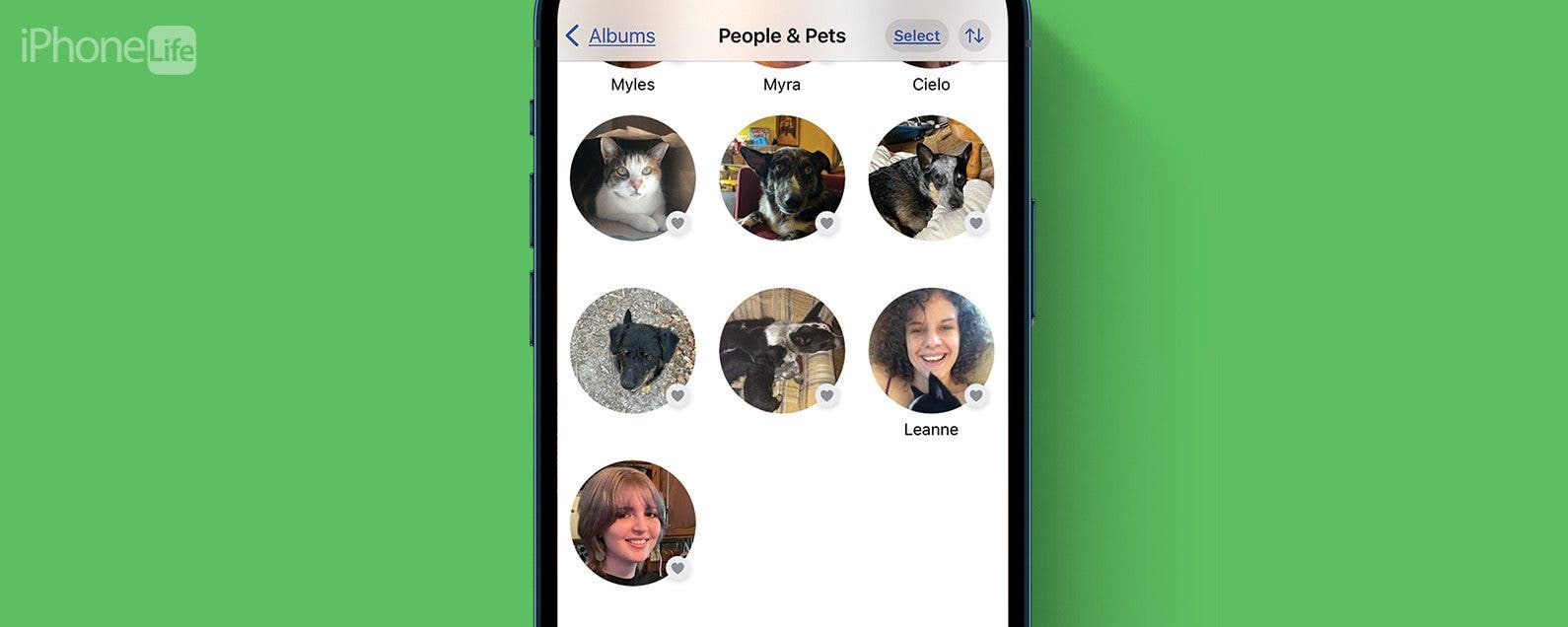 The People & Pets album in the Photos app is an exciting new iOS 17 feature that lots of pet owners are excited about. But, many of our readers can't find the People & Pets album, or don't see their pets in the album, and are wondering what's gone wrong. Here's how to find the Pets & People album. 
Jump To:
People & Pets Album Not Showing Up on iPhone in iOS 17
Animal lovers have been waiting for Apple to offer individual albums for their dogs and cats in the Photos app, just like it does for people. So, many of us have been frustrated that the People & Pets album is not showing up after updating to iOS 17. For more fun Photos app tutorials, check out our free Tip of the Day!
Leave Your iPhone or iPad Plugged In & Connected to Wi-Fi
My iPhone indexed pets before people!
The first thing to do if the People & Pets album isn't in your Photos app yet is to leave your iPhone or iPad plugged in to power overnight, locked, and connected to Wi-Fi. Apple says this is because your device has to first complete the following steps for your photos and videos of your pets to appear in this album: 

Discover your iPhone's hidden features
Get a daily tip (with screenshots and clear instructions) so you can master your iPhone in just one minute a day.
Index your photo library.
Find pet images.
Your iPhone or iPad must be locked and connected to power during the detection process.
I've heard from several iPhone Life Insiders that this process can take two or more nights, depending on the size of their Photo Library. 
Reboot Your iPhone or iPad
We've also found that rebooting your iPhone or iPad each morning can help the People & Pets album appear as it's supposed to. 
Reset People & Pet Suggestions
If the above two fixes haven't worked, you can reset your People & Pets album. This will start the indexing process over again, so you'll need to start waiting all over again. But, if something went wrong during the first indexing attempt, this should solve the problem. 
Open the Settings app.


Tap Photos.



Tap Reset People & Pet Suggestions.


Tap Reset again. 


FAQ
Does Apple Photos recognize pets? Yes! The Photos app started to recognize dogs and cats a few years ago, but with iOS 17, the app can recognize individual pets and sort them into their own albums. 
How do I tag animals in iPhone photos? You can tag cats and dogs just as you would individual people, and even favorite certain pets.
By now, you should have the People & Pets album in the Photos app on your iPhone or iPad. Be sure to check back with iPhone Life for any other Photos app or iOS 17 glitches!