By

Rhett Intriago
Updated 03/14/2023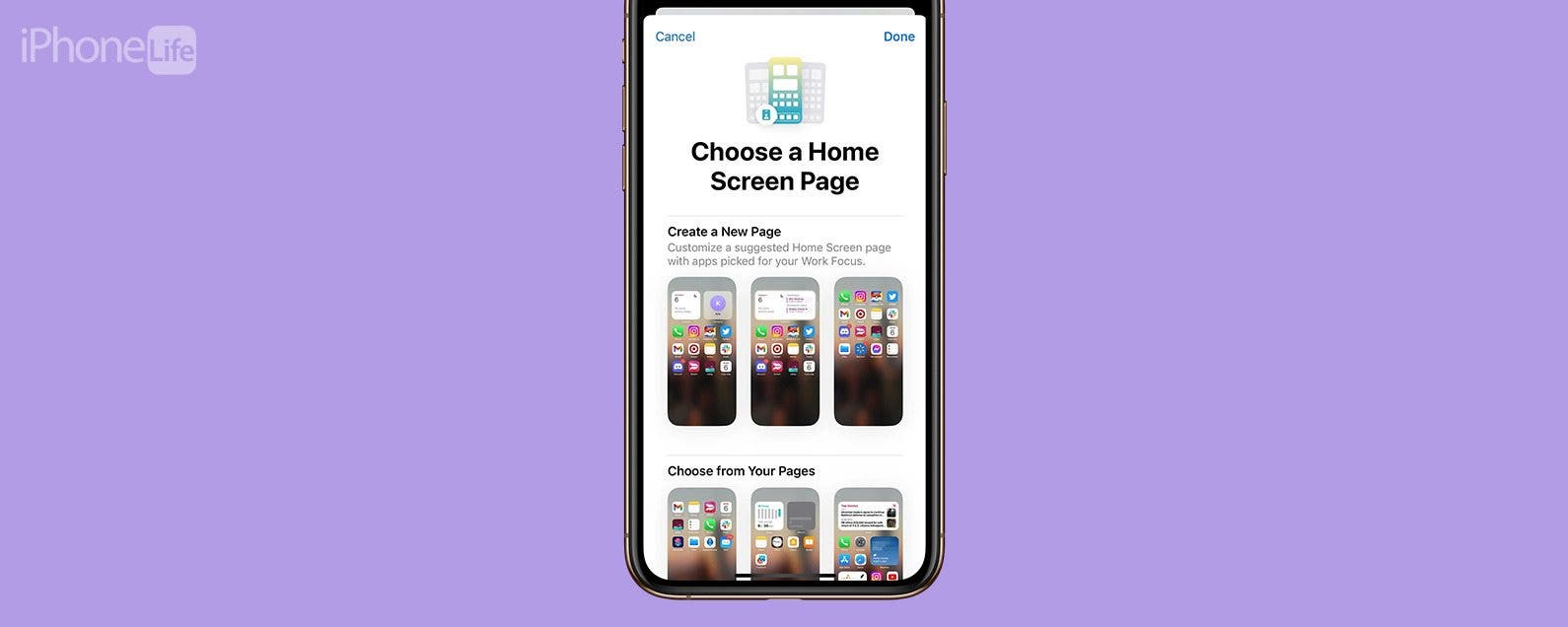 * This post is part of iPhone Life's Tip of the Day newsletter. Sign Up. *
If you want to crack down on the way you use your iPhone while you're at work, this tip about how to ensure productivity might be perfectly suited to your habits. With a Work Focus, you can customize your Home Screen to ensure you have fewer distractions throughout the day. Let's go over how to set a different iPhone Home Screen layout while at work!
Why You'll Love This Tip
Stay productive and on-task at work by minimizing Home Screen distractions.
Switch to an entirely different Home Screen automatically upon arriving at your office.
Change Home Screen on iPhone When You Arrive at Work
You can set a Focus to automatically shift depending on your location or the time of day. And because you're really serious about staying productive, setting the Focus mode to automatically turn on when you've entered the office ensures you won't sit down at your desk and immediately open social media. For more Focus mode tricks, be sure to sign up for our free Tip of the Day newsletter. Now, here's how to automatically change your Home Screen on your iPhone when you arrive at work:

Discover your iPhone's hidden features
Get one daily tip each day (with screenshots and clear instructions) so you can master your iPhone in just one minute a day.
Open Settings on your iPhone, and tap Focus.


Since this tip is work-related, tap Work, or, if you don't see the Work Focus, tap the Plus icon, and add the Work Focus.



Scroll down to Customize Screens, and tap Edit or Choose under the Home Screen icon (depending on if you've customized this Focus before).


Tap a Home Screen under Create a New Page.



Tap Edit Apps.


Pick and choose the apps you want to appear on your Home Screen while you are in this Focus mode. Then, tap Done when finished.



Tap Add.


Then, tap Edit under the new Home Screen again.



Uncheck all other Home Screens you do not want access to when you're in this Focus, and tap Done.


Next, scroll down to Set a Schedule, and tap Add Schedule.



Tap Location.


Enter the address you want to trigger the Focus mode with.



Tap Done.


With your Work Focus set up, your iPhone will automatically shift into a less distracting Home Screen the minute you arrive at work. And the best part is, you don't even need to change the settings yourself! Now, every time you look at your iPhone, you won't be tempted by the Facebook app staring back at you, with notifications waiting to be read. Additionally, you can follow the steps above to make these edits to any preset or custom Focus mode depending on your needs. Lastly, don't forget to customize your Focus Lock Screen, as well.