By

Rhett Intriago
Updated 04/13/2023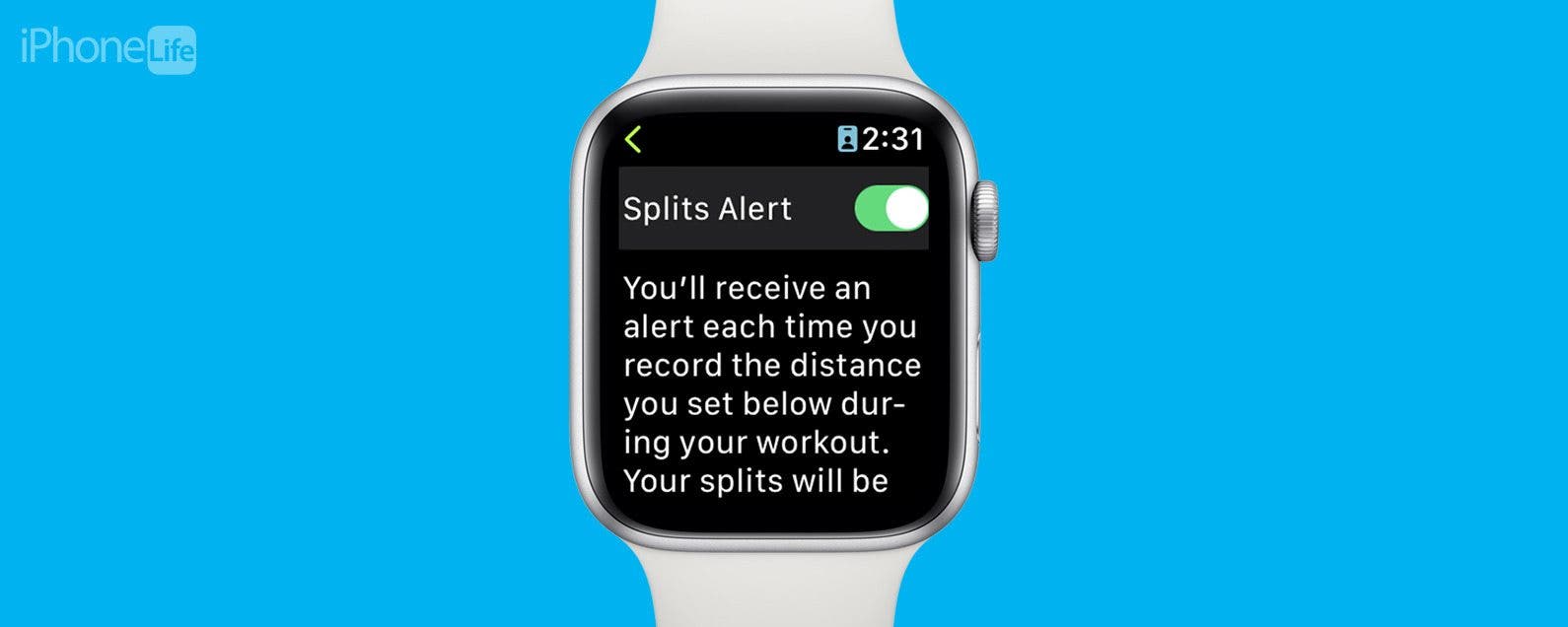 One of the Apple Watch's many workout features is that it will notify you at every mile interval you reach while on a walk or a run. This can be annoying as you might be expecting a notification from another app, but it's just the Workout app letting you know you've reached a mile. So how do you stop Apple Watch notifications during a workout? We'll go over the best ways to prevent alerts while working out.
Jump To:
Why Does the Apple Watch Vibrate during Workouts?
As stated previously, if you are recording a distance-based workout, the Apple Watch will notify you at every mile interval you reach. However, your Apple Watch might also vibrate to let you know that you've closed one of your three activity rings or to tell you that it's time to stand, even if you're already standing. Additionally, it could be a notification from any number of apps that you have on your iPhone.

Discover your iPhone's hidden features
Get one daily tip each day (with screenshots and clear instructions) so you can master your iPhone in just one minute a day.
To reduce the number of notifications you receive on your Apple Watch, it might be a good idea to turn off some of them. It's important to note that turning off notifications for your Apple Watch does not turn them off on your iPhone. To learn more about your Apple Watch, be sure to sign up for our Tip of the Day newsletter. Now, here's how to turn off notifications on Apple Watch:
On your iPhone, open the Watch app.


Tap Notifications.



Scroll down to the Mirror iPhone Alerts From section. Here, you can scroll through your app list and tap the toggle next to any app until it's gray to switch off notifications.


By turning off unnecessary notifications, you can make sure your Apple Watch vibrates less frequently and that you only receive the notifications that you need. If you still find yourself being bombarded by notifications, you may want to consider enabling Silent Mode instead.
Turn Off Distance-Based Apple Watch Notifications
If you're tired of your Apple Watch sending you distance notifications during a workout, there is an easy way to turn them off.
On your Apple Watch, open the Workout app.


Tap the three dots next to a workout.



Tap the pencil icon to edit your workout.


Tap Alerts.



Scroll down and tap Splits.


Tap the toggle next to Split Alerts so that it turns gray to turn off the alerts.



Tap the back icon in the upper left. Repeat the steps for turning off Splits Alert to turn off any other alerts that may be enabled.


Tap the back icon again.



Tap Start Workout to begin your workout.


By turning off split alerts, you will no longer receive notifications for every mile you reach while working out. Be aware that you will need to repeat this process for each type of distance workout, as split alerts are turned on by default.
Use Apple Watch Do Not Disturb Mode
Another alternative that you could try is creating a Workout Focus (also known as Do Not Disturb).
On your iPhone, open the Settings app.


Tap Focus.



Tap the plus icon in the top right.


Tap Fitness.



Tap Customize Focus.


You can customize this focus to allow notifications from specific contacts and apps, as well as personalize the Lock Screen, Home Screen, and Watch Face that appear when this Focus is active.



Under Set a Schedule, you'll see that the Focus is already set to activate automatically when you start a workout.


While this Focus is active, you will only receive notifications from your selected contacts and apps during workouts. This makes it easier to distinguish why your Apple Watch might be vibrating during your workout. If you have all notifications turned off in this Focus, then you know that any vibration you feel is likely the Workout app notifying you of another mile interval or that you've closed your Activity rings. If you don't want your contacts to see when your Focus is active, find out how to turn off Share Focus Status.
Use a Different Workout App
While the Workout app is useful for logging your regular fitness routine, you are not required to use it. If your Apple Watch vibrating during a workout is too much of an annoyance and you don't want to have to turn off split alerts for every workout, you can simply opt to use a third-party workout app or not use any app at all. The Apple Watch logs exercise minutes as long as it detects that you are moving faster than a brisk walk. This means that if your goal is to close your Exercise ring, you can still accomplish that goal without using the Workout app. If you exercise without the Workout app, you can also manually log it in the app if you wish. Next, find out what to do if your Apple Watch keeps pausing during a workout.