Apple Fitness+ promises a customize workout experience through your Apple Watch.
By

Amy Spitzfaden–Both
Updated 06/22/2022
During Apple's September event, Apple announced its new fitness subscription service: Fitness+. Apple says Fitness+ will create comprehensive, personalized workouts that include music, metrics, and instructors for all lifestyles and fitness levels. This is a logical offering in a time when many gyms are closed and many people are looking for safe and solitary ways to stay fit, but with so many free fitness programs out there, how will Fitness+ differentiate itself and justify the monthly price tag? One unique feature is that this is the first digital fitness program to synchronize with the Apple Watch, so tracking your activity, heart rate, calories, and more will be easier and more in-depth than if you were using a different program, and workout suggestions promise new levels of personalization. Users will play a workout on their iPhone, iPad, or Apple TV while their Apple Watch tracks and records their activity. And even though the Apple Watch will be collecting and analyzing more data than ever before, Apple promises that all the information, from instructors to calories, will be kept private.
Fitness+ at a Glance
Price:
$9.99/month
$79.99/year
Free three-month trial with the purchase of an Apple Watch, current Apple Watch owners get a free one-month trial. Best Buy is offering an exclusive six-month free trial to anyone who buys an Apple Watch
Included in the Premier Apple One plan, which is $29.95/month
Compatibility:
Apple Fitness+ runs on the Apple Watch 3 and later, but you can play the videos on an iPhone, iPad, or Apple TV. When you update to iOS 14.5, you can also stream your workout to a compatible, non-Apple TV using AirPlay 2.
Availability:
Apple Fitness+ is available now. You need iOS 14.3, iPadOS 14.3, or TVOS 14.3 to run Apple Fitness+.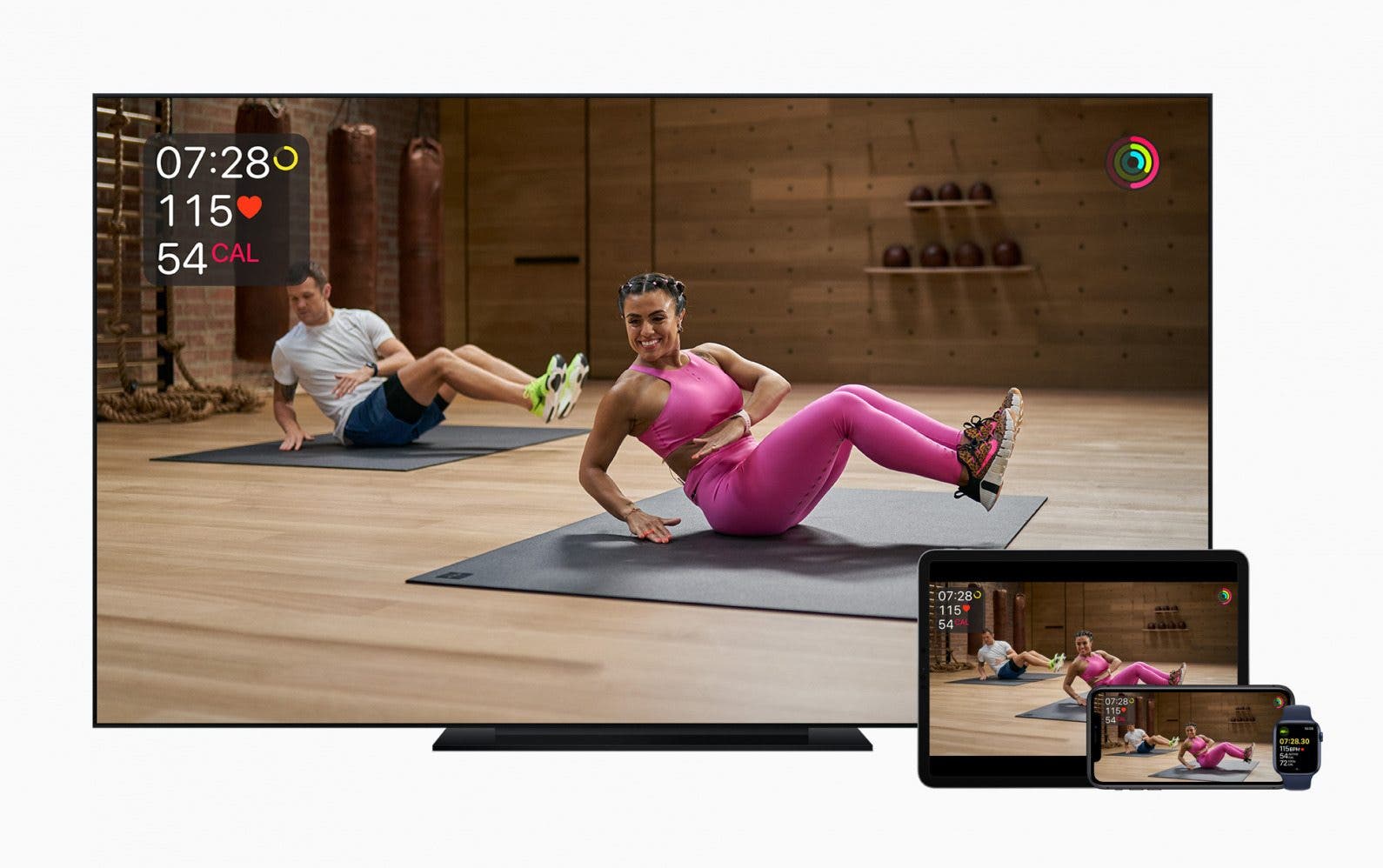 How to Get Fitness+
Once you update to 14.3 you'll find Fitness+ in the Fitness app. When you go to the tab it'll detect if you have a new watch and are eligible for free 3 months, and should do the same if you have a previous Apple Watch and are eligible for a free one-month trial.
Fitness+ Features
Smart Suggestions
While many of us already have digital fitness programs we follow, Apple Fitness+ is the first that fully integrates with your Apple Watch. Apple says this means your Watch will know exactly what workout you are doing. Because of this, it may offer more accuracy in its readings, data, and suggestions than with other fitness programs which may not have the same comprehensive metrics built-in. Whether or not this will add to a workout routine in any sort of meaningful way remains to be see, but a promising feature is that the program will be able to see if there is any part of a complete fitness routine that you are missing, and suggest ways to fill in the gaps. The intensity ranges all the way from cardio, HIIT, and strength workouts to Mindful Cooldown. 
Music
What's a workout without music? Apple Fitness+ provides playlists aplenty, a solid offering for those who do not already have their own workout playlists curated. However only Apple Music subscribers will be able to download playlists from Fitness+ to enjoy at other times.
Time to Walk
If you're into a more low-key workout, Apple Fitness+ has you covered. Time to Walk is a new addition to the subscription that lets you listen to inspiring stories on your walks. Enjoy the soothing voices of Shawn Mendes, Ibram X. Kendi, Dolly Parton, and many others on your next hike or walk around the block.
Pro Tip: Even newer is Time to Run! This feature provides you with a personal running coach as you run along some of the most famous routes.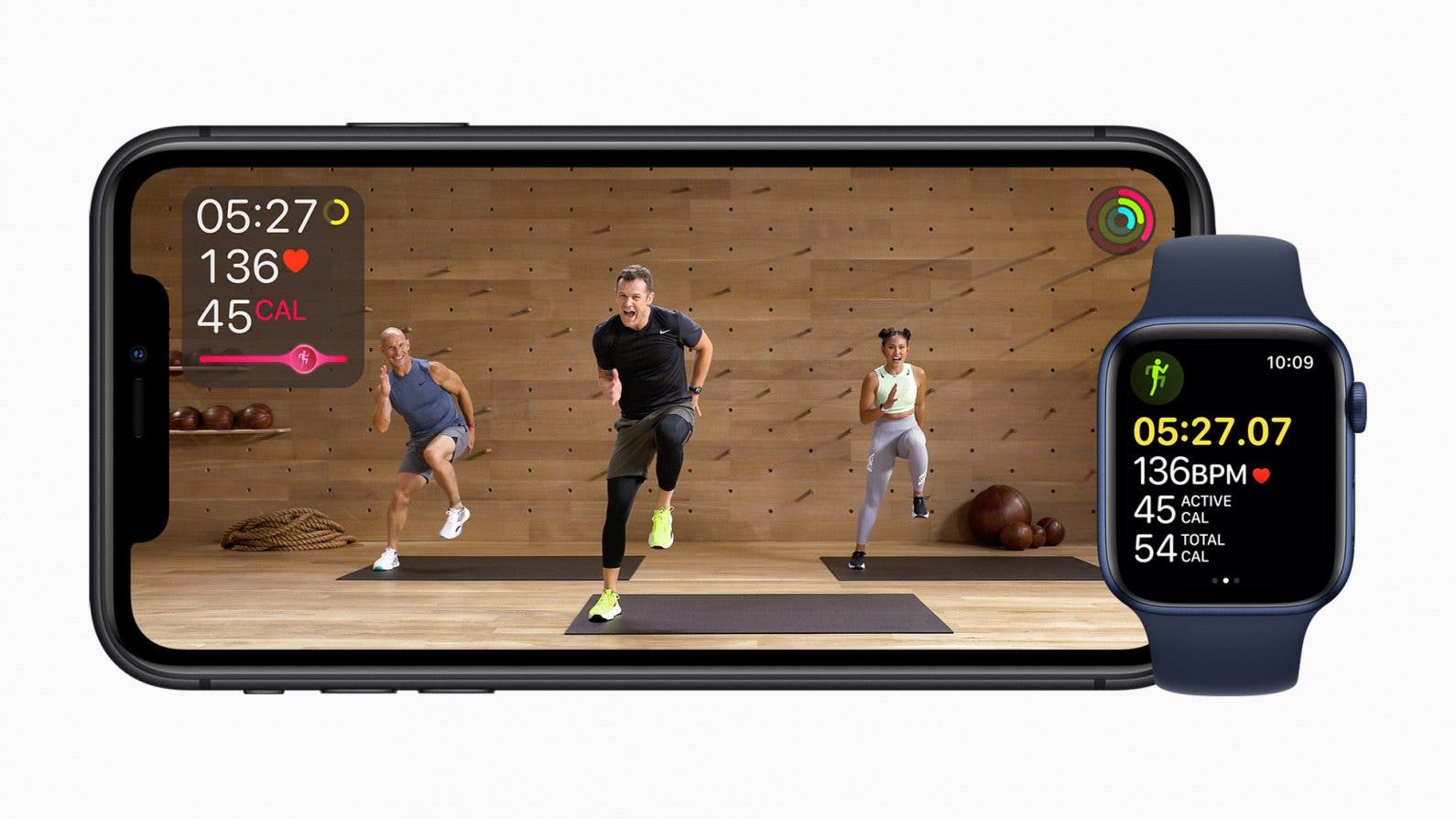 Qualified Trainers
In a world where free virtual fitness classes are abundant, it's increasingly important to be careful about who is instructing you. Poor form can lead to injury and lasting problems, so finding top-notch trainers is not only a bonus, but a safety must. Apple says that their team of trainers are all specialists in their own field, providing safe, effective, high-quality workouts you might not get by browsing YouTube.
iPhone Life team member Erin Smith, a personal trainer, is especially happy to see this attention on quality.
"The coronavirus pandemic has made working out from home not only more common, but also sometimes a requirement, so of course Apple rose to the occasion," she said, when I asked her for her thoughts on Fitness+. "As a personal fitness trainer, my biggest concern with those working out from home has always been a lack of health guidance from a professional who knows how to give cues for form and other safety needs. This is another area where Apple could distinguish itself. They announced Apple Fitness+ with specific mention of the caliber of the featured fitness professionals, so it's highly likely we'll see more than just cheerleading from the fitness pros, especially with Apple's increased holistic focus on health and safety."
Usability
Of course, one of the things Apple does best is take high-level tech offerings and make it easy to use. Fitness+ looks promising in this area. While we'll have to wait until its release to be sure, it is likely that intuitive design and high usability will be among some of the strongest features of this program. As the cold weather closes in and most people are still avoiding the gym, a thorough, safe, usable custom program is just what we need. Here's hoping it lives up to the hype.
The Reviews Are In
Early reviews of Apple Fitness+ are, overall, favorable. Of course it's not a perfect program that magically solves every individual person's workout needs and desired style of instructor, but most fitness enthusiasts so far enjoy its usability, seamless integration with the Apple Watch, and variety of instructors and workouts. Most important, perhaps, is the fact that overall it seems to already be pulling level with its biggest competitor, Peloton. None of the review I read solidly favored one over the other, but rather highlighted differences, such as Peloton offers stricter instructors and overall more challening workouts compared with Apple Fitness+ beginner-friendly vibe, while Fitness+ pulls ahead in terms of equipment needed because, in many cases, it's none. We'll have to keep an eye out as it expands and adds programs and instructors, but so far this seems to be a promising start.
Next, learn what to do if your workout keeps pausing on your Apple Watch. Plus, learn how to use Fitness Trends on your Apple Watch to see your progress over time. Or, make fitness a group activity by challenging your friends and using these tips to win Apple Watch competitions every time!