Use Apple AirPlay 2 to project your Apple Fitness Plus workouts onto compatible TVs.
By

Elisabeth Garry
Updated 07/15/2021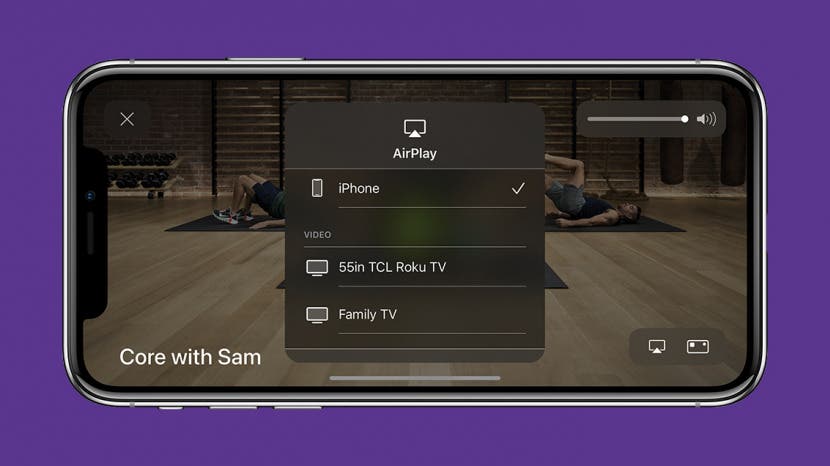 AirPlay 2 support is now included in the Apple Fitness Plus app, so you'll be able to stream your workout from your iPhone to any AirPlay 2-compatible TV. This means that, for the first time ever, you don't need an Apple TV set-top box to project your workout to your television! We'll show you how, and discuss which features will be limited.
Related: Apple Fitness Plus Review: Who Will Love It & Who May Not
Who Will Love This Tip
Smart TV users who don't have an Apple TV but still want to see their Apple Fitness Plus workouts on a larger screen.
AirPlay 2-compatible TV owners who want to share workouts with others who don't have Apple Fitness Plus.
How to Use Apple Fitness Plus on a Non-Apple TV
Before you begin, make sure the TV you'd like to stream your workout to is AirPlay 2-compatible, and that the TV is turned on. To learn more about AirPlay 2 and Apple Fitness Plus, check out our Tip of the Day newsletter.
Open the Fitness app.


 
Tap on the Fitness+ tab at the bottom.


 
Find the workout you'd like to do, and tap on the video thumbnail.


 
Tap Let's Go.


 
Tap the AirPlay icon.


 
Find and select your TV from the list of AirPlay options.


 
Your TV will probably give you a code to enter on your iPhone. If so, enter the code and tap OK.


 
Certain workouts may also give you a message to approve on your Apple Watch. If this happens, scroll through the Apple Watch message and tap OK to continue.


 
Your iPhone should show that you're now AirPlaying to your TV, represented by a check mark next to your TV in the AirPlay list.


 
Tap outside the AirPlay list on your iPhone to go back to the workout screen.
Tap the play icon either on your Apple Watch or your iPhone to begin.


Your workout will now begin! When completing a workout on an AirPlay 2-compatible TV and not on an Apple TV, you will not see your workout stats on the screen,a nd you won't be able to seen the Burn Bar. Your workout will still record as usual on your Apple Watch, so you can always go back and see your workout after it's completed.