By

Olena Kagui
Updated 03/01/2022
Walking workouts meet inspirational audiobooks in Time to Walk, a new Apple Fitness+ release. But what does Time to Walk really do? This Apple Watch fitness feature allows you to complete a walking workout while listening to a famous motivational figure. Enjoy Uzo Aduba, Shawn Mendes, Ibram X. Kendi, Dolly Parton, and Draymond Green as your virtual walking companion. Check out this new feature and discover how it can upgrade your Apple Watch workout experience.
Related: Apple Fitness Plus Review: Who Will Love It & Who May Not
Jump to:
In order to enjoy the Apple Watch Time to Walk feature, you need an Apple Fitness Plus subscription. You also need to have the right software as well as hardware. 

Discover your iPhone's hidden features
Get one daily tip each day (with screenshots and clear instructions) so you can master your iPhone in just one minute a day.
An Apple Watch Series 3 or higher with WatchOS 7.2 or newer


 
The latest version of iOS on your iPhone (14.3 or newer)


 

AirPods or other Bluetooth headphones or speakers


It is not possible to listen to the episodes on your iPhone, so you will need to pair your watch to Bluetooth headphones. AirPods, as well as third party wireless headphones, can be used. Bluetooth speakers also work and are great if you're listening with friends or at home while on a treadmill. To learn more about taking selfies with an iPhone, sign up for our free Tip of the Day newsletter.
These walking workouts are basically walking motivation podcast episodes that feature celebrities. They share stories about their personal lives and the moments that paved their paths to success. All episodes combine storytelling with music to motivate users to complete their workouts. The first batch of Time to Walk episodes came out on January 25. Apple has confirmed that there will be a new episode released every Monday. There is an even newer Time to Run feature available in the same place!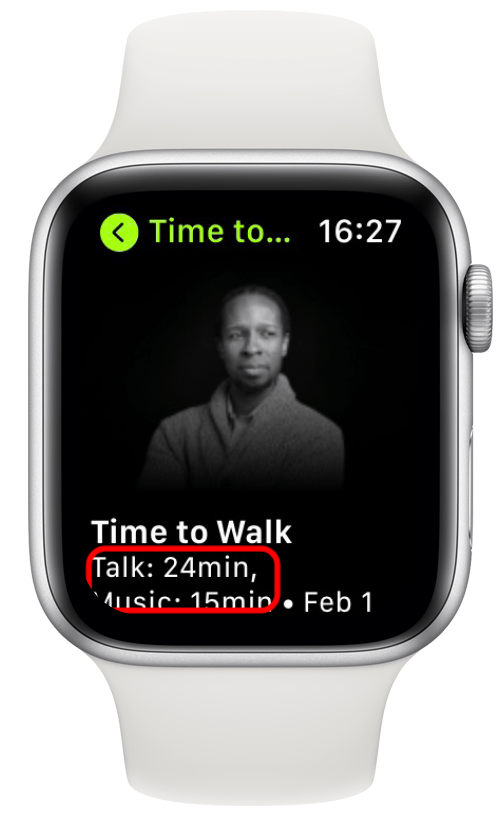 The talking parts of Time to Walk were specially recorded while the speakers were on walks to provide an authentic virtual walking companion. The episodes also contain select images relevant to the speeches. Your watch will vibrate to alert you to look at the pictures that the speaker is referring to. The time of the workouts ranges from 25 to 45 minutes.
After ensuring that your iPhone and Apple Watch are up to date, all you need to do is sign up for Apple Fitness Plus. After the free one-month trial, it costs $9.99/month or $79.99/year. The monthly subscription can be canceled at any time, no questions asked. Once you've subscribed, the Time to Walk episodes should automatically appear on your Apple Watch. Allow a moment for everything to sync.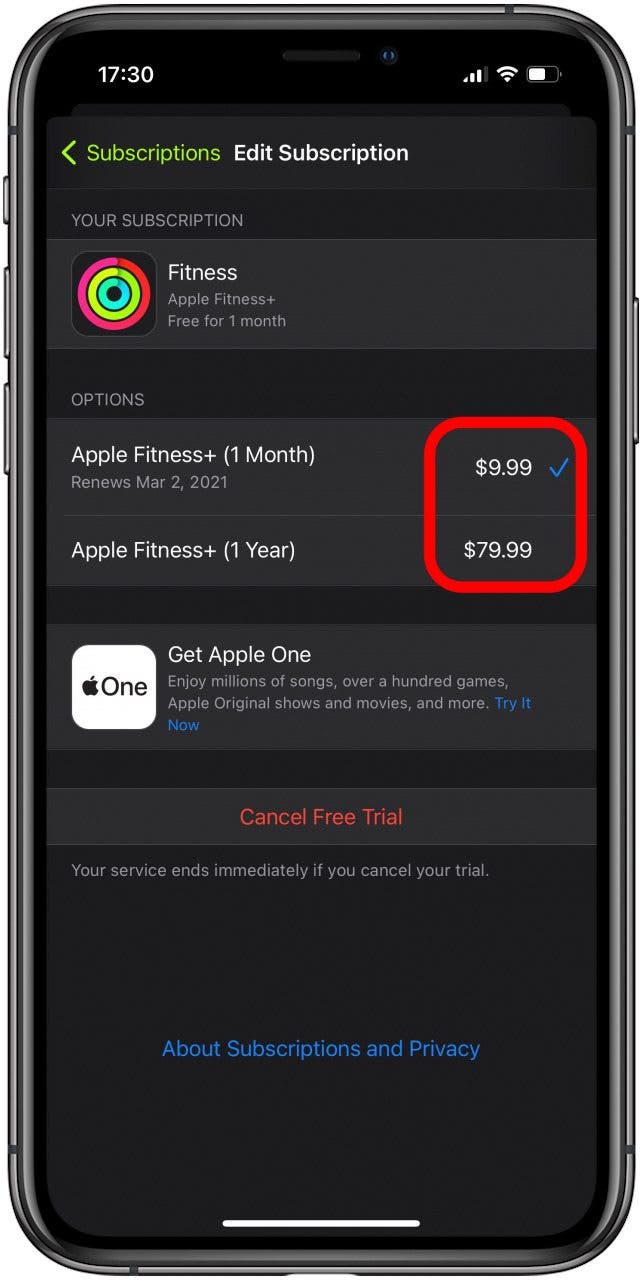 On Apple Watches with GPS + LTE, it is possible to stream the episodes directly. However, for watches with GPS only, the episodes can be downloaded via Wi-Fi. The five latest episodes will download automatically if you are an Apple Fitness+ subscriber. Newly released episodes will also download automatically. The downloads occur while the Apple Watch is charging and connected to Wi-Fi. Once you have listened to the episode, it will be removed automatically. 
Tap the workout icon on your Apple Watch.


 
Time to Walk episodes should appear at the top of the list of exercises.


 

Tap the icon in the top right corner to see new releases. 


 
Here you can browse through episodes.


To find out more about each episode, tap the i icon in the top right corner. This will give you some information about the celebrity. You will also see the date the episode was added, talk and music times as well as a list of songs that are included in the music section. Musicians will often include their own songs in the playlists while other celebrities will have songs by a variety of artists.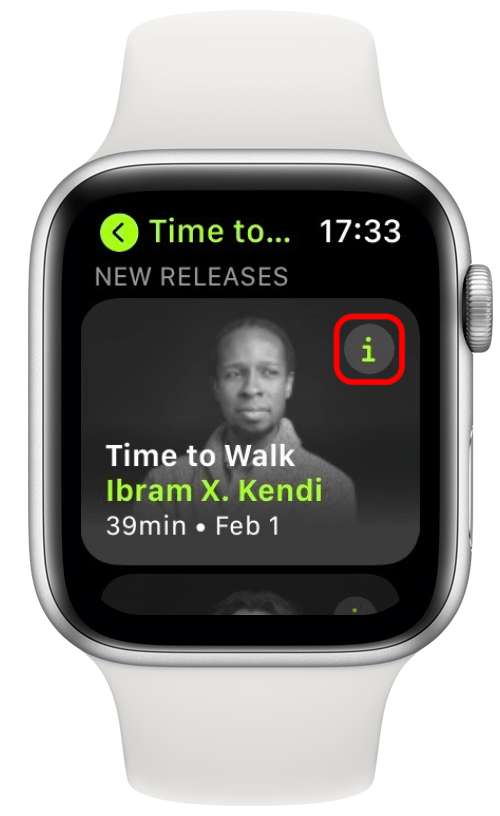 This nifty feature can get in the way of more serious athletes as it is pinned at the top of the workout options on your Apple Watch. To remove it, simply swipe left in the workout menu and tap the red x. You can always add it again by tapping Add Workouts.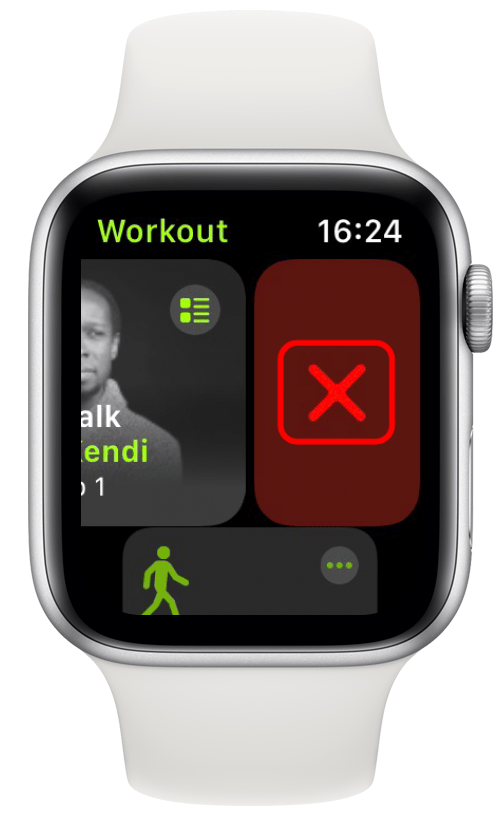 To keep your Apple Watch from overloading its internal storage, you may consider disabling automatic downloads of new episodes. This can be done in your iPhone Watch app settings.
Launch Watch app.


 
Scroll down to Workout then select it.


 

At the bottom under Time to Walk, toggle to enable to disable the automatic download of the newest workouts to watch.


If you disable automatic episode downloads or remove Time to Walk from your Apple Watch, you may need to manually add episodes.
Launch the Fitness app.


 
Tap Fitness+ at the bottom of the screen.


 

Under Time to Walk, tap Show All.


 
Tap Add/Remove to add or remove the episodes as needed.


Pro Tip: Like any workout on Apple Watch, it is possible that Time to Walk will pause if you take a break or slow down. Here's what to do if Apple Watch keeps pausing during workouts.
Time to Walk requires WatchOS 7.2 or newer to function.
If you remove it from your workouts and cannot find it in the dropdown menu, make sure your watch is up to date.

If the watch isn't sufficiently charged, episodes may not update automatically. Keep it plugged in until it charged at 50% or more and try again.

Time to Walk is a cool new Apple Watch Workout feature. It offers podcast episodes combining storytelling and music by celebrities who act as a virtual walking companion. Enjoy the soothing voices of accomplished individuals with unique stories during your next workout. All you need is an updated iPhone, updated Apple Watch Series 3 or newer, and a subscription to Apple Fitness+. Next, read how to invite friends to Apple Watch competitions and win them every time!