By

Olena Kagui
Updated 04/16/2023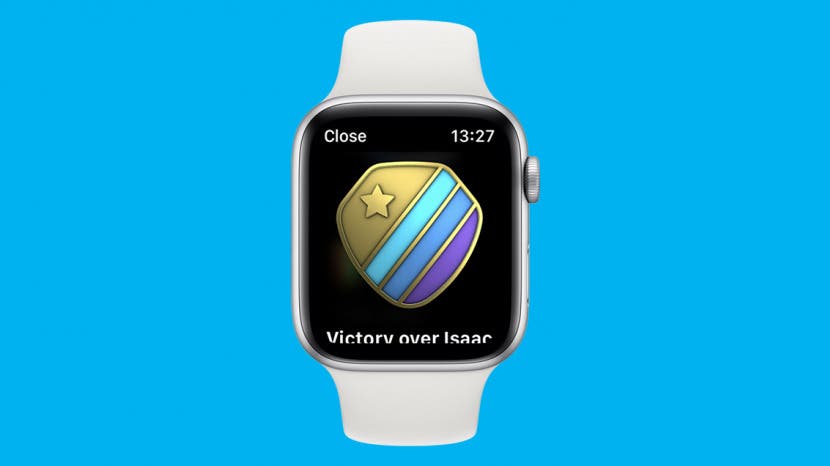 When entering a competition on Apple Watch, the rules and points can be confusing. In this article, we will teach you how to win monthly fitness challenges against your friends and family! These tips will teach you how to win Apple activity competitions.
Related: 10 Best Apple Watch Faces Apps
The Best Tips for How to Win an Apple Watch Competition
There are many silly ways to cheat and get extra exercise minutes and active calories burned on your Apple Watch, like putting your watch on your dog. However, understanding how the point system works and using a few simple strategies can help you win fair and square. Don't forget that the main goal of an Apple Watch fitness competition is to move more and have some fun! For more Apple Watch tips, sign up for our free Tip of the Day newsletter.

Discover your iPhone's hidden features
Get a daily tip (with screenshots and clear instructions) so you can master your iPhone in just one minute a day.
Familiarize yourself with the rules. The competitions last seven days, and you can earn up to 600 points a day. To get 600 points, you need to close your rings, so the first step is to set an achievable goal. Here's how to change goals on Apple Watch.


 
When selecting people to compete with, make sure your opponents have higher goals than you. If they have lower goals and close their rings 200% every day, you don't stand a chance of winning. You can select up to 40 friends to compete with.


 

Make the most of every activity. If you are working out, make sure to use the Workout app and start a workout. 


 
If you are doing something physically challenging that isn't listed as a workout, use Other. The Other workout will track whatever activity you do as a brisk walk, but you will get exercise minutes and move calories that you might have otherwise lost. People frequently use the Other workout while clearing their home, mowing the lawn, shoveling snow, painting the walls, etc.


 

Sleep in your watch, especially if you often get up to use the bathroom. Take advantage of nature calling and get those stand hours. Just make sure to charge your watch before you go to bed: I recommend charging it in short bursts while you shower, have your morning coffee, or sit down to answer emails.
 
If you realize you won't be able to close your rings, you can always change your goals before the day is over. This is considered unsportsmanlike and is borderline cheating, but it is a surefire way to win an Apple Watch competition unless your competitor backs out after seeing you do this.


With the exception of changing your goals at the end of the day and using the Other workout when you aren't actually being active, all these tips are a surefire way to win. You can check who has won the most challenges in the Sharing tab by tapping on your competitor's name.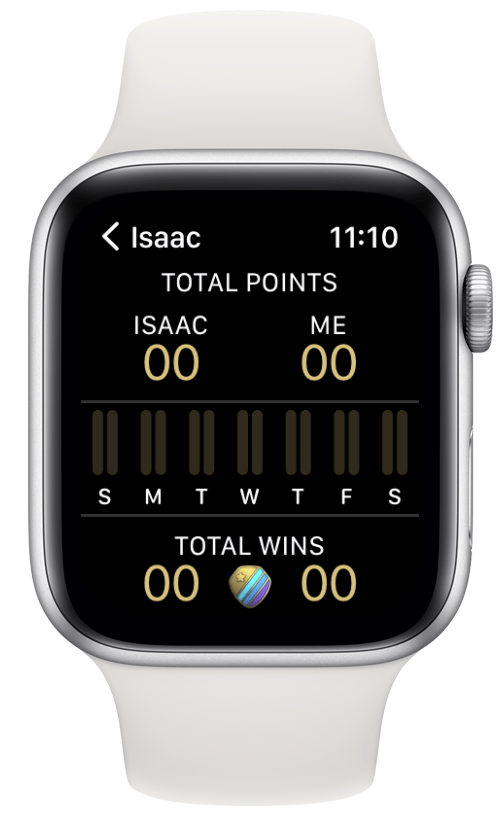 Pro Tip: Although it can be easy to get obsessed with winning, it is important to keep in mind that these competitions are supposed to be a fun way to stay in touch with friends and motivate each other. For this reason, I don't recommend making your goals low just for the sake of winning or picking less-active friends to invite and win against.
Now you know how to compete with friends on Apple Watch! In addition to competing with friends, there are many fun monthly challenges within the Apple Fitness app. The badges you get from competing with friends and other exercise challenges can be found in your Activity app on your Apple Watch and the Fitness app on your iPhone. Next, find out the answer to your burning question: how accurate are Apple Watch calories?