By

Amy Spitzfaden Both
Updated 05/04/2023
What to Know
Apple's annual Worldwide Developers Conference will be held June 5–9, with the keynote being delivered June 5 at 10:00 a.m. PDT.
We can expect to get details on iOS 17, iPadOS 17, macOS 14, and watchOS 10, with beta versions of all released shortly after the event.
Apple may announce a new AR/VR headset, a new Mac Pro, and a 15-inch MacBook Air.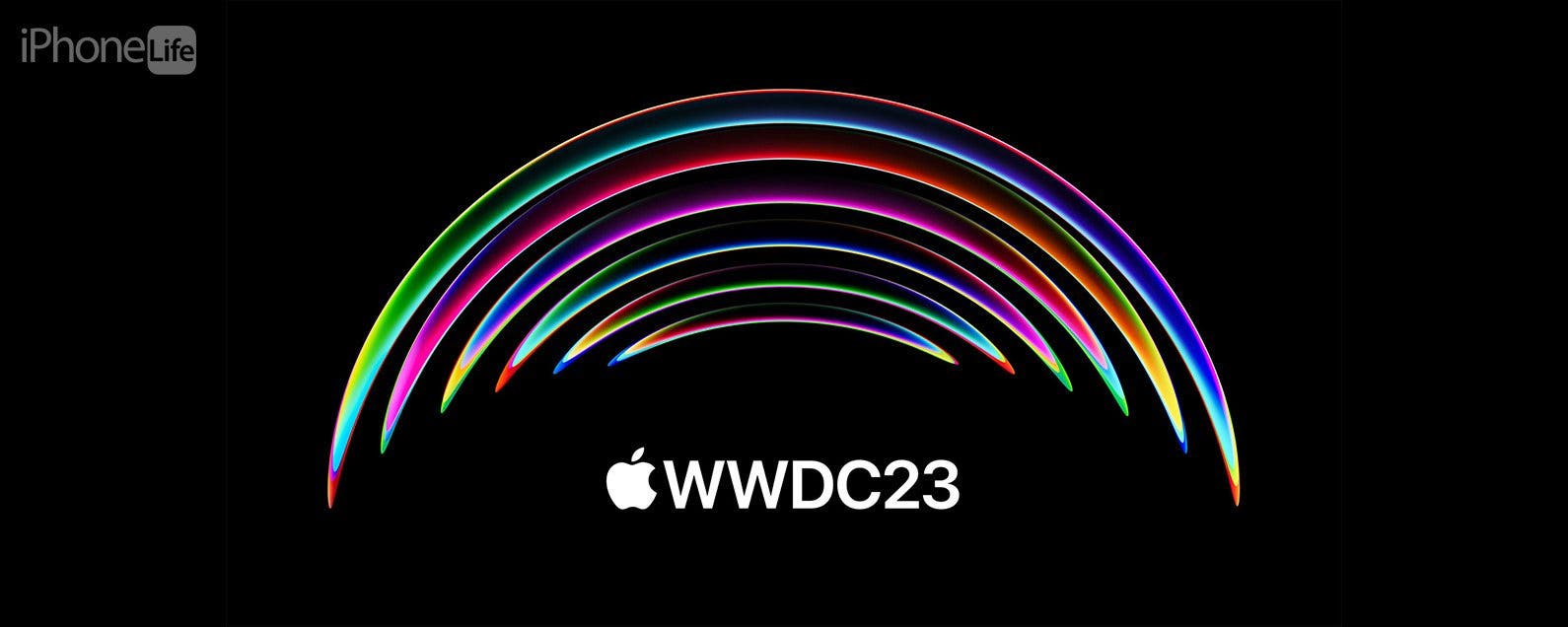 Apple announced that its annual Worldwide Developers Conference will be held June 5–9 this year, with the keynote address being delivered on June 5 at 10:00 a.m. PDT. We can expect to hear about iOS 17, iPadOS 17, macOS 14, and watchOS 10 at the keynote, but there are sometimes other surprises in store, and this year it looks like we might be hearing about Apple's new AR/VR headset. Let's go over everything we know about WWDC 2023.
WWDC 2023: When & How to Watch
The WWDC 2023 keynote will be given at 10:00 a.m. PDT on June 5. This year the conference will include in-person events, but as always, the keynote will be streamed so anyone who wants to can watch it live. Here are your options for how to watch WWDC 2023:
On Mac:
On PC:
On Apple TV, iPhone, or iPad:
Live Coverage:
iOS 17
If there's one thing we can be sure of, it's that Apple will announce iOS 17 at its WWDC keynote. Leading the pack of iOS 17 rumors is the theory that it will drop support for iPhone models through the iPhone X. This rumor comes from an anonymous Twitter user, so take it with an entire block of salt, but there is solid reasoning behind the potential move: devices powered by the A11 chip and earlier have a bootram security vulnerability that Apple is unable to patch. Dropping for support for these devices might make sense in light of this, but we'll have to see what Apple decides to do.

Discover your iPhone's hidden features
Get a daily tip (with screenshots and clear instructions) so you can master your iPhone in just one minute a day.
As for what the new iOS will include, we're starting to get some pretty exciting possible new features. Apple analyst Mark Gurman said in a recent tweet that Apple originally planned to release a "tuneup release," meaning it was focused on fixing bugs, performance issues, and security risks rather than having any banner features to focus on like iOS 16 did with its Lock Screen customizations but now plans on implementing some "nice to have" features that users have been requesting. As more rumors come out, we're getting a better idea of what those might be:
We don't have any specifics on the iOS 17 release date yet, but we can expect it this fall if Apple keeps to its usual timeline. The iOS 17 public beta release date is likely to be soon after WWDC, so those of us who would like to get started early might be able to as soon as June or July.
iPadOS 17
We could very well see some of the Lock Screen customization options we saw in iOS 16 come to the iPad. Apple frequently releases a feature first on iOS and then later on iPadOS, as seen with the App Library and Home Screen widgets. As Apple seems to be focusing the iPad more on professionals, we might see expanded multitasking capabilities and updates to Freeform. We might also see expanded Apple Pencil support, but no major redesigns seem to be expected this time around.
We also might see an iPad Health app. This is one that seems so expected it surprised me it doesn't already exist. The iPad does not currently have a Health app, and Gurman expects to see one launched with iOS 17. The larger format could be very beneficial to the ones who want to use the health app the most (those with limited vision, mobility, or other disabilities) so I hope this does indeed come out this year. Gurman is also expecting mood tracking, and vision condition tracking to be added to the Health app, both of which would be beneficial to many users.
watchOS 10
If you own an Apple Watch, watchOS 10 might be where we see some big changes. Gurman claimed we'd see a "fairly extensive upgrade" this time around. First and foremost, he expects us to see widgets return with a bang and integrate fully with the interface. This could include widget stacks and new ways of activity tracking. According to Gurman, this will be the main functionality change we see this year which makes sense; we already saw some headline features like crash detection and the Apple Watch Ultra last year, so it tracks for this year to be a bit of a routine upgrade, but I'd be excited to see some flashy new functionality.
macOS 14
Gurman doesn't expect a big overhaul to macOS 14, but we will likely see some steady performance upgrades. The macOS updates we see each year are always named after a California landmark, though there haven't been any guesses so far as to what this year will be. As with iOS 17 and iPadOS 17, we'll likely see a public beta go live sometime after WWDC and a full release in the fall.
AR/VR Headset
This WWDC, we are finally expecting Apple to unveil its Mixed Reality headset. It's expected to have a blend of Augmented Reality and Virtual Reality features and have wireless integration with the iPhone. We might only get an announcement rather than the actual headset this year, or it's possible we might see a headset aimed toward developers so they can work on developing apps, with a commercial version coming later. No matter what we end up getting, this is exciting news.
New Macs
Apple is always working on upping its Mac game, and this time around, we could get a new Mac Pro powered by an Apple Silicon chip. Apple analyst Ross Young shared that Apple is working on a new 15-inch MacBook Air that we could see at this event. We might even see the M3 series chip, bringing even more processing power to the Mac.
What are you hoping to see at this year's WWDC? Comment below!