The new iCloud Plus Private Relay is not a VPN, but it does continue Apple's trend of ramping up privacy options for its users.
By

Elisabeth Garry
Updated 09/15/2021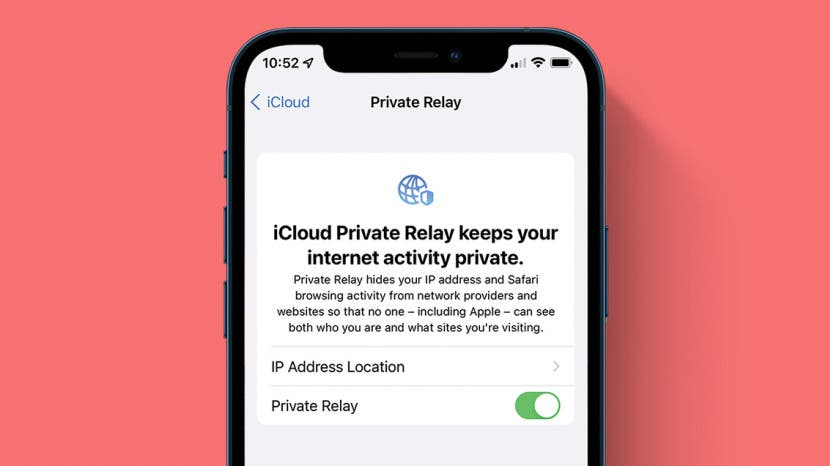 Earlier this year, Apple caused a big splash by introducing App Tracking Transparency, a new feature that requires app developers to announce their intentions to track their users and allow users the opportunity to opt out of tracking. With iCloud Plus Private Relay, a new iOS 15 feature for paid iCloud users, Apple is doubling down on giving users the power to protect their own data. But what is iCloud Plus Private Relay? Is it a VPN? How does it work? How can you use it? In this article, we'll cover all your burning questions about the new service.
Related: 13 Ways to Save Battery on Your iPhone
Jump To:
What Is iCloud Plus Private Relay?
iCloud Private Relay is a new privacy feature that anonymizes your browsing activity and helps prevent websites from collecting your private data. Private Relay encrypts your data and sends it through two separate relays, one operated by Apple and the other operated by a partner. When Apple passes your traffic along, it assigns a different IP address that corresponds to your approximate geographic location, and the partner sends you along to your final destination. What this means is that Apple knows who you are, and the partner knows where you're going, but neither knows both. Once you arrive at your final destination, the website will only be able to identify you by this anonymized IP address and thus will be unable to collect your actual data, and your browsing activity will be kept secret from your internet service provider as well. In practice, this means that you can browse privately without fear of being tracked by websites or your own ISP. Since the anonymized IP address you'll be browsing with still matches your rough location, you'll still receive relevant local information from sites, but your personally identifying information will be masked.
What Private Relay is definitively not is a VPN. VPNs—or virtual private networks—are famous for doing things like making it appear that you are in a completely different geographic region than you're really in. Many people use this to do things like gain access to a different country's Netflix library (and really, what's one supposed to do when Netflix cruelly denies Americans the right to watch Brooklyn Nine-Nine except pretend to be Australian?) or just to keep their browsing habits private. While Private Relay can certainly help with the latter, the former is still beyond its capabilities.
Another thing that reputable VPNs have over Private Relay is their ability to convincingly mask the use of proxy servers. Many school and business networks will not work with a proxy server. According to Macworld, Private Relay does not attempt to disguise its use of proxy servers, so you may have trouble conducting important business while using Private Relay.
You may also be out of luck as far as Private Relay goes depending on where you are in the world. If you are in Belarus, China, Colombia, Egypt, Kazakhstan, Saudi Arabia, South Africa, Turkmenistan, Uganda, or the Philippines, Private Relay will not be available to you, as Reuters reports.
As with many Apple services, Private Relay aims to keep users within the Apple ecosystem, and as such, it only works with Safari. This may be a drawback if you have Chrome or Firefox set up just the way you like it.
Private Relay works on iOS 15, iPadOS 15, and macOS Monterey. To learn about more new Apple operating system features, check out our Tip of the Day newsletter.
How to Use iCloud Plus Private Relay
Looking for how to hide your IP address on your iPhone? Now that you know what iCloud Private Relay is, it's time to try it out. Before you turn Private Relay on, make sure your device is updated to iOS 15, iPadOS 15, or macOS Monterey. You'll also need to be a paid iCloud subscriber; if you're not, you can upgrade easily before beginning.
Open the Settings app.


 
Tap your profile.


 
Tap iCloud.


 
Tap Private Relay.


 
Toggle Private Relay on.


And that's all you have to do! Private Relay requires no additional setup or configuration, so as soon as you toggle it on, you're ready to start browsing—privately. Just make sure to use Safari, or Private Relay won't work. You can learn about the other features of iCloud+ here!