Wondering if private browsing mode for your iPhone is truly effective?
By

Kenya Smith
Mon, 05/16/2022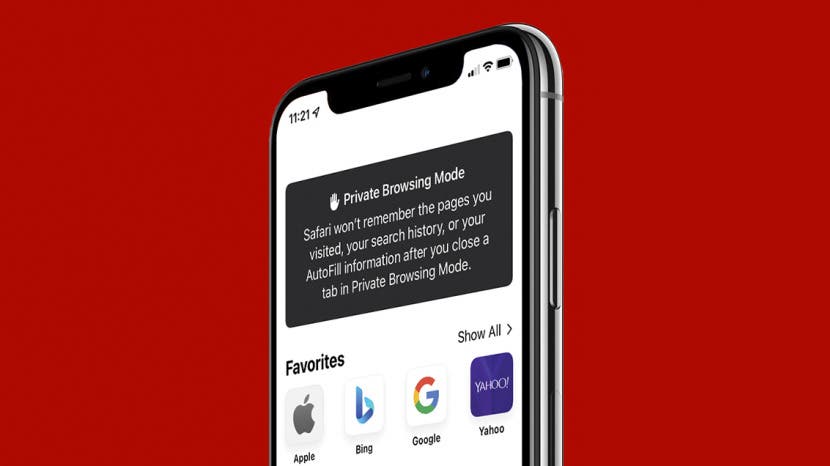 When you use private browsing on the iPhone, Safari doesn't store private data such as your browsing history, search history, or autofill information. While private browsing is more private than normal browsing, you might be wondering if private browsing is truly private. We will explain what is private and what isn't when you use private browsing and show you how to use private browsing on iPhone effectively.
 Related Article: How to Solve iOS 15 Safari Browsing Issues by Disabling Private Relay
Jump To:
Is Private Browsing Truly Private?
The quick answer is no. Private Browsing only prevents your iPhone from storing information, such as search history, browsing history, and passwords. The information also won't be synced with any of your other Apple devices. Your internet service provider, cellular provider, network administrators, the websites you visit, and government agencies might be able to trace your online activity even when you browse in private mode, including your iPhone's IP address, traffic-related information, location, time zone, language, device specifications, and bookmarks. Here are some suggestions that will help you fully browse in private on your iPhone.  
How to Increase Privacy When Browsing the Web
Clear Browsing History on iPhone
It would be wise to clear your browsing history on your iPhone before proceeding to the following methods. Check out our article on how to clear your iPhone's browsing history. 
Use Private Mode in Safari on iPhone
Make sure that you have your iPhone updated to the latest iOS 15 software and read our tip on how to use private mode in Safari.
Hide IP Address
Safari has an option to hide your IP address on your iPhone. While websites can still see your IP address, using the setting will hide your IP address from trackers, such as cookies, that store information about your web browsing.
Go to the Settings app.


Tap Safari.


Tap Hide IP Address.


Select From Trackers.


Use iCloud Plus Private Relay
iCloud Plus Private Relay is an iOS 15 feature that gives you the power to protect your own data while browsing the internet. It basically anonymizes your browsing activity and prevents websites from collecting your data. Keep in mind that the feature is not the same as a VPN since VPNs are known for making it appear that you're from another location, which can help you gain access to things that aren't available in your country. Private Relay also isn't able to disguise its use of proxy servers and it's unavailable in certain countries. Read our article about Private Relay to learn more details and to know how to use the feature.   
Use DuckDuckGo as the Default Search Engine
DuckDuckGo is a search engine that centers around making sure that you can search the web in private. It doesn't collect information about you, not even your IP address, or use trackers. And it doesn't share your search history or personal information with the sites that you visit. You won't have to worry about receiving advertisements related to your searches, but this also means you won't get the personalized search results you get when you use Google. You will get the same search results as everyone else.  
If you want to make DuckDuckGo your primary search engine, please read our article on how to change the default search engine on your iPhone or iPad. 
Use a VPN Service
A VPN service safeguards your browsing on private or normal browsing mode by first encrypting your data and sending it through secure channels. Read our article on how VPNs work to learn more about how they work and what information they keep private. However, it is not a good idea to use VPN services that are free because they are able to sell your data to third-party services. Choose a VPN service such as NordVPN or ExpressVPN because they can encode your data with military-level encryption and transmit it through secure channels and split tunneling.