Learn about everything that iCloud+ includes and how much it costs.
By

Olena Kagui
Updated 08/20/2022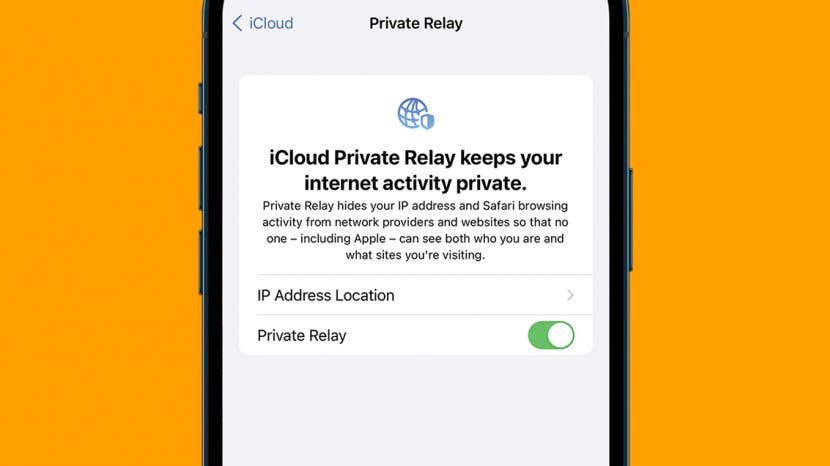 iCloud, Apple's storage and cloud computing service, enables users to back up data and sync it between all their devices. iCloud Plus is an upgraded version that offers more features to existing subscriptions at no extra cost. Let's get into what iCloud Plus is, what's included in the different iCloud plans, and iCloud Plus pricing.
Related: Everything Apple Announced at the WWDC 2021 Keynote
Jump To:
iCloud Plus Basics: When, Where & How Much?
In 2021, Apple added a lot of new features to iCloud and renamed this upgraded version iCloud Plus. iCloud Plus works with your iPhone, iPad, iPod touch, Mac, Apple TV, and Apple Watch; plus, it is PC compatible. It's available to iCloud subscribers (meaning you already have to be paying for the iCloud service) free of additional charge.
Most features of iCloud Plus are available worldwide; however, Private Relay isn't available in China, Belarus, Colombia, Egypt, Kazakhstan, Saudi Arabia, South Africa, Turkmenistan, Uganda, and the Philippines. You can find out more about iCloud pricing here.
How to Check if You Have iCloud+ 
Anyone with a paid iCloud subscription will get the iCloud+ upgrade automatically if they have the latest version of iOS or iPadOS. 
To check if you have an iCloud Plus subscription:
Open the App store on your phone.


Tap your photo, Memoji or initials in the top right corner.


Tap Subscription.


If you see iCloud under Active, you have a paid iCloud subscription. 


If you have Apple One, your iCloud subscription will be included as part of that subscription.


To view which plan you have, tap iCloud or Apple One to see the Plan Details.


If you want to sign up for iCloud Plus, follow these instructions. To learn more about iCloud, sign up for our free Tip of the Day newsletter.
How to Get iCloud Plus
If you have the latest version of iOS or iPadOS, you can follow these steps to get iCloud+:
Open Settings.


Tap your name at the very top.


Tap iCloud.


Tap Manage Storage.


Tap Change Storage Plan.


Select the plan you want. 


Tap Buy and follow any on-screen directions to complete the purchase.


If you have Apple One, you can change your iCloud storage by tapping Change Apple One Plan.


The iCloud+ Features
Private Relay
One of the biggest upgrades that comes with iCloud Plus is Private Relay. This is Apple's VPN-like service that helps protect your internet tracking, but it isn't as full-featured as an actual VPN. VPN stands for virtual private network, which can be used to encrypt your data, mask your IP address, and let you bypass country-specific internet restrictions by making it look like you are located somewhere else. 
What Private Relay does is a little different because it routes your internet traffic through two relays rather than one. This keeps information such as who is browsing and where the data is coming from private. Using a second relay prevents even Apple from seeing your browsing history, which means you'll experience fewer targeted ads and other privacy benefits.
Pro tip: Private Relay will only be available on Apple's Safari browser. For complete protection, you will need a real VPN for iPhone and iPad.
Hide My Email for Less Spam
Spam email is a problem that we all struggle with, and Hide My Email is a great solution to keep less relevant emails from your inbox. This is basically a burner email feature that automatically generates single-use email addresses that will forward to your existing account. 
This is useful when you don't trust a website and want to protect it from spamming you. Sign In With Apple already does something similar, but this puts even more control into your hands.
With the new iOS 16 and iPadOS 16 (expected to be released in the fall), the Hide My Email and custom email domain features will become more useful. Since Hide My Email is integrated directly into QuickType keyboard suggestions, you will be able to access it through third-party apps. Plus, you will be able to share your custom domain with people outside of your Family Sharing group. The new operating systems will also allow you to buy a new domain or enable catch-all aliases from iCloud Mail Settings. If you have already downloaded the betas for iOS 16 or iPadOS 16, you can currently experience the upgrade for Hide My Email.  
Unlimited HomeKit-Enabled Video
HomeKit allows you to set up and manage a smart home. However, sorting and storing footage from home security cameras can be tricky, especially with higher-quality cameras. The iCloud+ upgrade allows you to store unlimited videos from your security cameras. These videos will be stored on the cloud, and they won't take away from the storage you pay for.
The downside to this is that the tiers of your iCloud storage make a difference. If you have the highest 2 TB plan, you can connect an unlimited number of cameras. If you have 200 GB, you can only connect up to five. If you have the 50 GB plan, you can only connect one. 
Digital Legacy: A Will for Your Digital Data
Do you know what will happen to all your data after you pass? The Digital Legacy program is the iCloud Plus feature that will help you rest in peace. It lets you arrange for your friends or family to access the security codes and files after you die. Plus, trusted contacts will be able to help you access your lost device in an emergency. Learn how to set up Apple Digital Legacy here.
iCloud Plus aims to keep user data safe, private, and easier to manage. It also makes having a smart home easier to manage by offering unlimited storage to HomeKit-enabled security cameras. The best part is that it doesn't increase iCloud storage fees! Next, read this to learn how to fix the Storage Almost Full error experienced by some iPhone users.