The Fall 2021 iOS 15 release promises big FaceTime improvements, beefed-up privacy, and better cross-platform support.
By

Sarah Kingsbury
Updated 09/15/2021
Apple covered a lot of ground in its preview of iOS 15, watchOS 8, macOS 12, and iPadOS 15 during the second virtual WWDC keynote. The announcement was a bit scattered, as presenters covered an unwieldy range of topics from exciting FaceTime improvements, a contextual way to manage notifications and Do Not Disturb called Focus, and beefed-up privacy protections for everything from iCloud and Health to Siri and Safari. Some of the changes were expected, such as widgets for the iPad Home screen, while others, such as the ability to FaceTime with Android users, were not. Here's everything Apple announced today.
iOS 15: Focus, SharePlay & Live Text, Plus Improvements to Notifications, Safari & More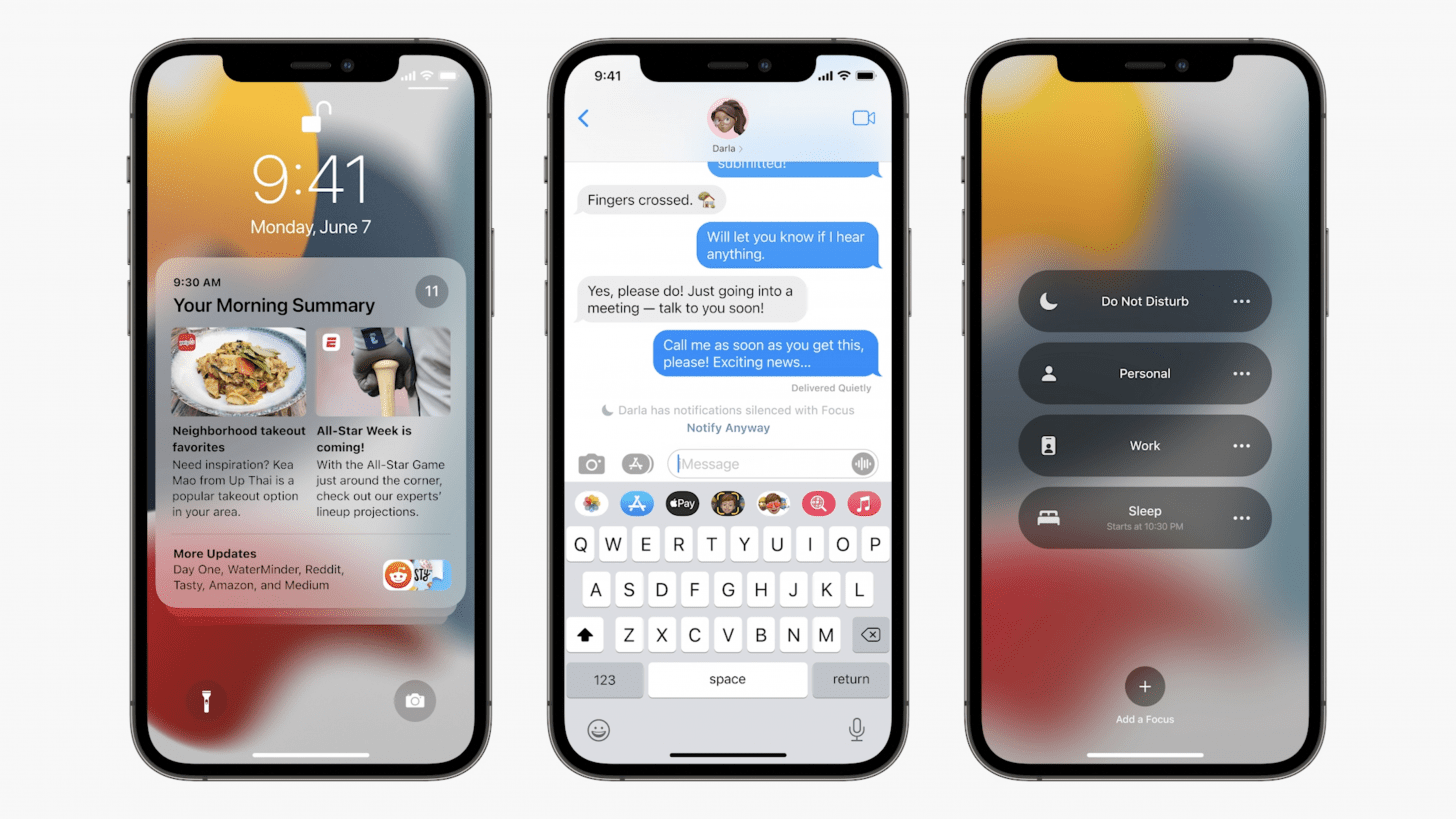 Availability: The shipping version of iOS 15 will be released in the fall. A beta version of iOS 15 will be available to the public in July at beta.apple.com.
Compatibility: iOS 15 will work with the iPhone 6s and later, but full features are limited to the iPhone XS and later. 
Apple just announced iOS 15, and the latest iPhone software update integrates apps, features, and services more seamlessly than ever before. In a time when many of us are still working from home or navigating the uncertain transition from COVID-19 precautions back to our former routines, Apple revealed new features that make it easier to communicate both professionally and socially. The new SharePlay feature within FaceTime allows users to enjoy a screen-in-screen experience, listen to music or watch movies together, and share their screen throughout their FaceTime call. Spatial Audio, Grid View, and Portrait Mode further improve digital interactions, and rival the functionalities of work-from-home essentials Zoom and Slack. 
New notification features help iPhone owners avoid distractions at work by pausing social notifications. This new Focus feature matches apps and notifications to the task at hand, including work, home, sleep, or even a custom Focus filter. Your Focus status will be displayed in the Messages app as an auto-reply, but you'll still be reachable in an emergency. Other new features include Live Text, which recognizes text in images and can use that data to send emails, make calls, get directions, and even translate from seven different languages. iOS 15 users can tap the info button or swipe up on photos to enable Visual Look Up. The feature then gives more information about the item or location. Shared with You collects the news stories, photos, songs, and more that contacts share with you in their respective apps, so you're reminded to view the content when you next visit each app. Safari for iPhone has received a major update that Apple promises will make the browser more customizable and easier to navigate with one hand. The upgrade offers a tab bar that appears and disappears with a tap and includes a smart search field, and a customizable start page and tab groups sync across devices. Apple Maps also got some cool upgrades, among them the ability to navigate by car, mass transit, or on foot with more detailed and enhanced three-dimensional maps and route information. 
iPadOS 15 Gets Improved Multitasking, Home Screen Widgets, App Library & Quick Notes
Availability: The shipping version of iPadOS 15 will be released in the fall. A beta version of iPadOS 15 will be available to the public in July at beta.apple.com.
Compatibility: iPadOS 15 is compatible with iPad mini 4 and later, iPad Air 2 and later, iPad 5th generation and later, and all iPad Pro models.
iPadOS 15 brings with it improved multitasking, a redesigned Home screen with integrated widgets, the App Library for iPad, intelligent note-taking functions, and more. Probably the most exciting improvements in iPadOS 15 are those related to multitasking. Now, apps come with a Multitasking menu, making it easier to switch to Split View or Slide Over. Users can also open new windows from Split View and swipe down to minimize these windows to the shelf—a new menu that shows all open windows. Apple is also adding new keyboard shortcuts for iPadOS to help users with an external keyboard multitask even more efficiently.
Continuing its focus on multitasking and productivity, iPadOS 15 broadens the use of the Notes app with Quick Notes. No matter what app you have open, you can bring up Quick Note to quickly jot down a note with your Apple Pencil, type one in, or copy links from Safari. With iPadOS 15, users can also add widgets to the Home Screen and customize where they appear. These iPad widgets will be bigger and more functional than the ones designed for iPhones, and are designed to take full advantage of the iPad's screen size. iPadOS 15 will also integrate the now-familiar (if not always popular) App Library from iOS. The iPad App Library will be located in the Dock, making accessing it easier and more convenient. iPadOS 15 will also benefit from improvements made to FaceTime, Safari, and Photos and will feature Universal Control to expedite working between iPads and Macs, and new privacy features across the Apple ecosystem.
New macOS Monterey: Work on iPad & Mac Simultaneously, AirPlay to Mac, Navigate with Safari Tab Groups
Availability: The shipping version of macOS Monterey will be released in the fall. A beta version will be available to the public in July at beta.apple.com.
Compatibility: macOS Monterey is compatible with:

Late 2015 and later iMac
2017 and later iMac Pro
Early 2015 and later MacBook Air
Early 2015 and later MacBook Pro
Late 2013 and later Mac Pro
Late 2014 and later Mac Mini
Early 2016 and later MacBook
The new macOS Monterey promises intriguing features that will further blur the line between your Mac and your iPad. The new Universal Control feature will allow you to work on a Mac and iPad simultaneously, so you'll be able to drag images from one device to the other without complicated transfer options, use one mouse and keyboard to navigate both devices, and even still use touchpad gestures on the iPad while it functions as a partnered device—not an external monitor—to your Mac. While this is a very exciting option for designers and others who regularly switch between Mac and iPad, it makes you wonder if Apple is setting itself up for a battle between the two devices; a battle only one can win. After all, if the devices become too similar, what's the point of having them both? Still, we haven't reached that point yet. The iPad is still not a full-fledged competitor for a laptop, and MacBooks don't currently offer the portability, camera, or touchscreen options we love about the iPad.
In addition to these new hybrid workspace options, Monterey will include some of the newest features coming to iOS and iPadOS in their latest updates, including potentially game-changing FaceTime features, SharePlay, Focus, and updates to Quick Note and Notes. This is also the update where we'll finally see AirPlay come to Mac, giving us options to use our Macs as TVs if we want to stream movies or shows, and to play music with our computer speakers instead of our iPhones. Last but not least, Safari is stepping up its game and offering redesigned tabs and new Tab Groups, which allow you to sort tabs into different categories and keep them hidden from your screen while they are not in use. This development could be perfect for those of us who are constantly working on a million different things, but don't always want to be reminded of it. On the other hand, with so many Safari updates at once, users may be in for a steep learning curve.
Updates to watchOS 8 Focus on Health, Plus New Watch Faces, Better Texting Functionality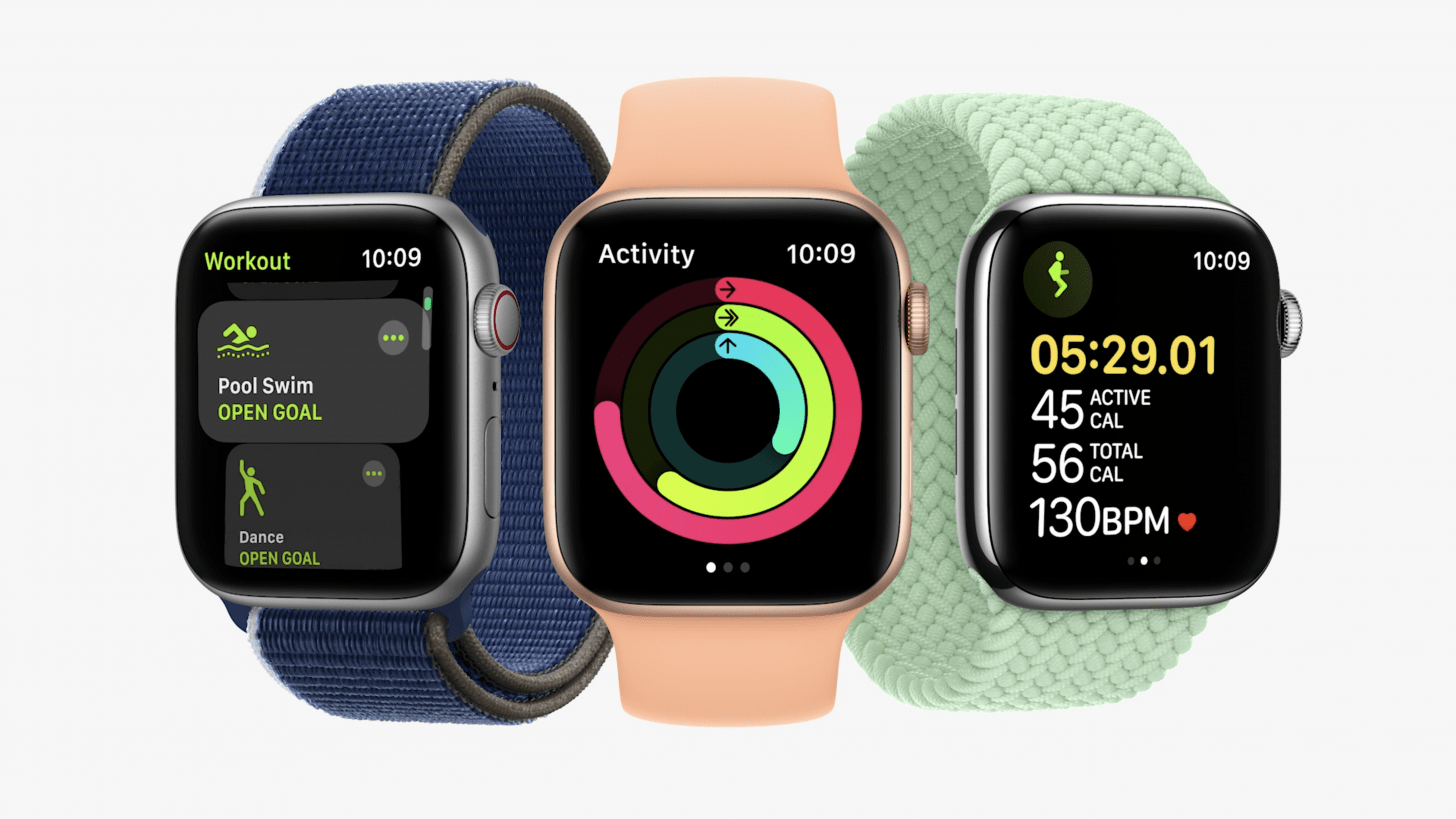 Availability: The shipping version of watchOS 8 will be released in the fall. A beta version will be available to the public in July at beta.apple.com.
Compatibility: watchOS 8 is compatible with Apple Watch Series 3 or later paired with iPhone 6s or later, running iOS 15.
Apple Watch enthusiasts are sighing at the focus on breathing rather than any significant upgrades in watchOS 8. However, there is more to the Mindfulness app, Sleeping Respiratory Rate, and Walking Steadiness features than meets the eye. Improved Health features and the ability to easily share them could be the first steps to tracking mental health. Although the changes to watchOS 8 may not be dramatic, the scope of the changes is impressive, as it impacts many frequently used features. For example, the ability to set multiple timers, more flexible Message writing and editing options, and the ability to set statuses across all devices make it easier for users to multitask or focus in a more seamlessly integrated Apple ecosystem. Plus, the exciting additions to Apple Wallet will allow Apple Watch users to open literal doors (to your home, office, or hotel room) with a flick of the wrist. The Apple Watch will also gain independence from the iPhone with AirTags and other items added to the watch's FindMy app. Finally, let's not forget the new Portraits watch face that gives your watch a new, customizable look! 
Apple's Health Updates Give You More Control of Your Health
With dramatic new improvements to the Health app and its corresponding features on devices within the Apple ecosystem, Apple seems to be taking aim at what has historically been a topsy-turvy communication network between medical professionals and patients, and it'll be interesting to see how effectively this rollout bridges the patient-provider gap. The release of iOS 15 will allow users to access and even organize their health records, and to opt to share their health data with family, caregivers, and medical professionals. This particular feature sounds like it'll make communicating about results, medications, treatments, and ongoing care a simpler process, but a lot hangs on participation from the caregiver side, and for now, only certain health care software will interface with Apple's systems. New features like Walking Steadiness, Breathe app improvements, and Sleeping Respiratory Rate stood out as potential segues to even broader health functionality in future, possibly paving the way for things like sleep apnea monitoring, panic attack prevention, and early warnings before fall detection is needed. For those nervous about privacy, Apple has assured interested users that each of the new sharing functionalities will be easy to opt in or opt out of, and that all sharing is secured via Apple's typical labyrinth of security protocols.
Privacy Updates Include On-Device Siri Processing, iCloud Plus & Centralized App Privacy Report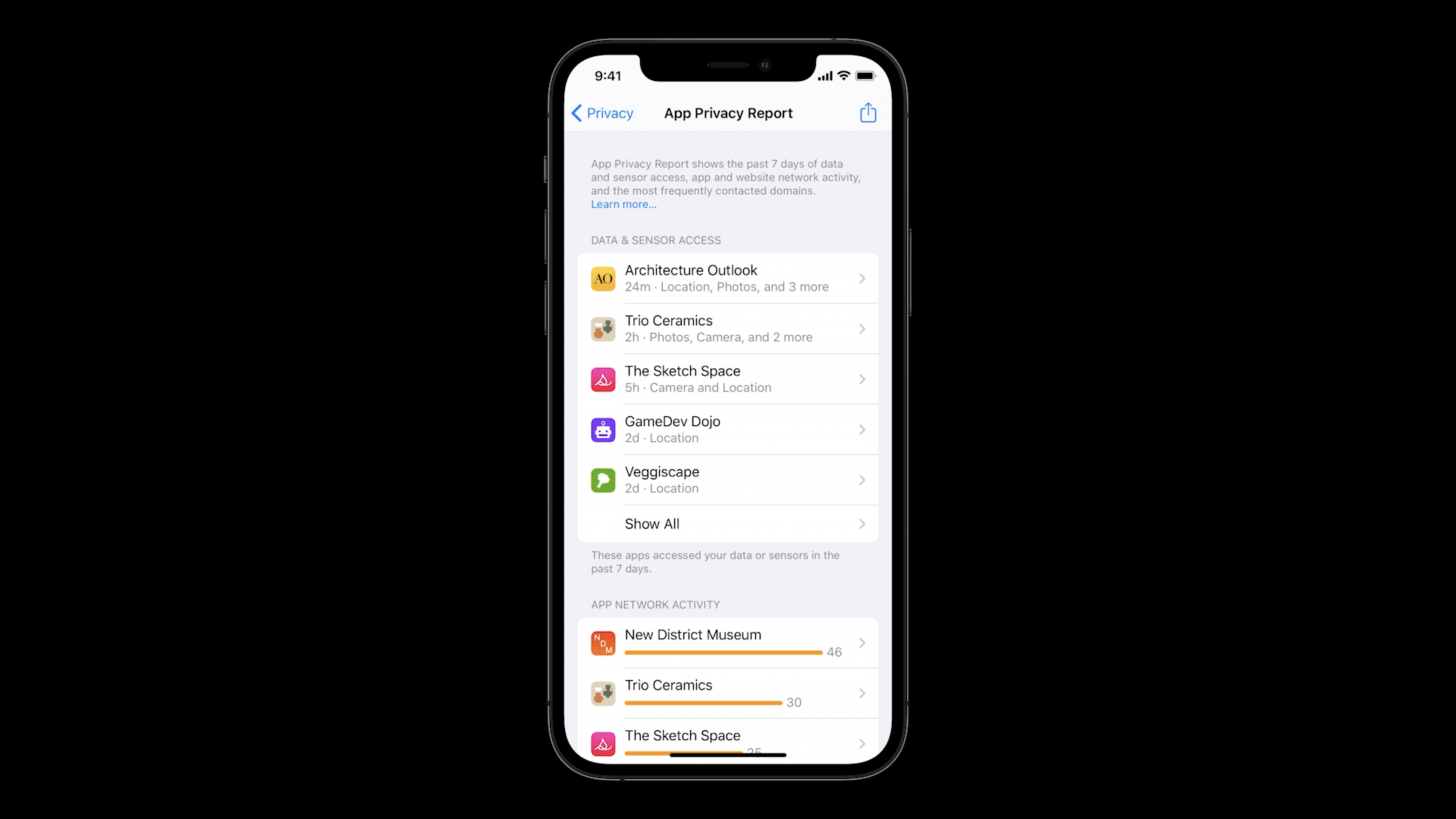 The word "privacy" was used by virtually every presenter at today's WWDC keynote, demonstrating how privacy and security concerns touch every aspect of Apple's business and users' digital lives. One exciting addition to Apple's suite of privacy-forward offerings is an enhancement for iCloud subscribers, called iCloud+. This new subscription offers to encrypt your web traffic much like a VPN. It can hide your email address on web forms, expanding on Sign in with Apple's features. iCloud+ can also cloak your details even in your iCloud email inbox, providing protection against tracking pixels in incoming emails. Finally, iCloud+ also offers unlimited encrypted storage for your HomeKit security camera video. Apple is offering iCloud+ at no increase in cost over its existing iCloud subscription tiers.
Other new privacy features include on-device voice processing with Siri (so your data never leaves the device), a new App Privacy Report in iOS 15 that centralizes all your app privacy data, and a host of exciting and encrypted features for FaceTime and Messages intended to entice users of secure messaging apps like WhatsApp and Telegram. With the new version of FaceTime, you'll be able to join encrypted FaceTime calls even from Android devices.
Sounds Good: AirPods Get a Big Find My Update, Spatial Audio Comes to Apple Music
With updates ranging from the new Conversation Boost feature to the addition of Spatial Audio, there have been some exciting upgrades to AirPods and Apple Music! For AirPods Pro, the new Conversation Boosts feature utilizes computational audio to enhance the voice of the person speaking in front of you, while simultaneously reducing ambient noise. The Announce Messages with Siri feature can now read you your notifications and upcoming reminders while honoring your Do Not Disturb and Focus settings, and your lost AirPods Pro and AirPods Max can now be found using the crowdsourced Find My network.
Apple also made some potentially impressive upgrades to its audio experience with Spatial Audio. Powered by Dolby Atmos, spatial audio uses directional audio filters to make the sound seem like it is coming from all around you, while AirPods Pro and Max take it a step further by tracking your head movements so the sound maintains its correct position even as you look around. No longer limited to AirPods Pro and Max, Spatial Audio has now been added to FaceTime and Apple Music. With the studio-quality audio experience, Apple Music may have just pulled ahead of other music subscription apps, but will Apple live up to its promises? Time will tell.
New tvOS 15: HomePod mini as Default Speaker, Spatial Audio Support, SharePlay & Siri Controls
Availability: The shipping version of tvOS 15 will be released in the fall. A beta version will be available to the public in July at beta.apple.com.
Compatibility: tvOS 15 is compatible with Apple TV HD (4th generation) and Apple TV 4K (5th generation and later.)
The new features of tvOS 15 were barely mentioned during the packed two-hour WWDC keynote, but a few notable improvements are coming our way. In tvOS 15, HomePod mini users will able to pair their HomePod to the Apple TV 4K rather than connecting them via AirPlay every time; currently only the original HomePod can be set as the default speaker for the Apple TV. HomePod mini users will also enjoy better Siri controls via their HomePod. Those with compatible AirPods will be able to enjoy Spatial Audio while watching TV shows and movies that support it. Other updates include a grid view of multiple HomeKit cameras and on-screen HomeKit notifications, SharePlay functionality, and For You suggestions for Apple TVs with multiple user profiles.
This article was written with the help of members of the iPhone Life Team