By

Erin MacPherson
Updated 10/29/2021
Apple's WWDC 2021 keynote highlighted an important and oft-missed point about the health care industry: whether you're caring for yourself or for family members, health monitoring can be a hassle, and it's difficult to remember health history and details by the time you're in the doctor's office. With improvements set to roll out with the fall 2021 release of iOS 15, Apple is aiming to change that. 
Related: Everything Apple Announced at the WWDC 2021 Keynote
New Health App Features
Health Sharing
Walking Steadiness
Sleeping Respiratory Rate
New Reflect sessions and improved Breathe sessions in the Mindfulness app
Expanded Trends health metric tracking
Improvements to Health Records to allow for improved immunization records management and lab results navigation
Availability: Fall 2021 with the release of iOS 15

Discover your iPhone's hidden features
Get one daily tip each day (with screenshots and clear instructions) so you can master your iPhone in just one minute a day.
Your Health at Your Fingertips
Did you know that the Health app already gives users full access to their medical records, synced from whichever official medical provider's system you currently use? It's called Health Records and many (but not all) providers already allow Health Records access via iPhone. I have mine set to sync with MyChart through the hospital I visit for medical care, and honestly, Apple's interface is much simpler to navigate once you sign in and enable syncing, which is also surprisingly simple. My medical history, lab results, and more are just a few taps away, and all updated frequently and secured by standard Apple security on top of the medical system's security features.
With iOS 15, Apple intends to broaden the scope of this access. Starting this fall, users will be able to pin the results that they find most important, and will be shown highlights of important results and ranges to verify whether they're in normal range or need to discuss with a doctor. Health app users will also be able to download and store immunization records (like COVID-19 vaccination cards) in the app, even if the provider doesn't currently support syncing with the Health Records feature. I'm a little skeptical about how easy this will be to manage, to be honest, but if it's as easy to use as the current Health Records features, it likely won't pose a problem for most users.
Balance Your Body
The Walking Steadiness feature, which Apple claims is an industry first, will use metrics like balance, stability, and coordination to analyze and determine your risk of falling or otherwise hurting yourself by losing your balance. According to Apple, this feature "was established using real-world data from the Apple Heart and Movement Study, with more than 100,000 participants across all ages." 
While there are obvious immediate benefits to this new health metric, such as detection and warning of fall likelihood so that users and caregivers have time to improve balance prior to a fall becoming imminent, I can also guess that it's a forward-planning move to increase awareness of fall detection, maybe even to a point that alerts can be utilized right before a fall to give users and caregivers time to catch or support the person falling. As of right now, it's just for planning purposes and even comes with recommendations for basic movements to increase stability and mobility.
Mind Your Wellness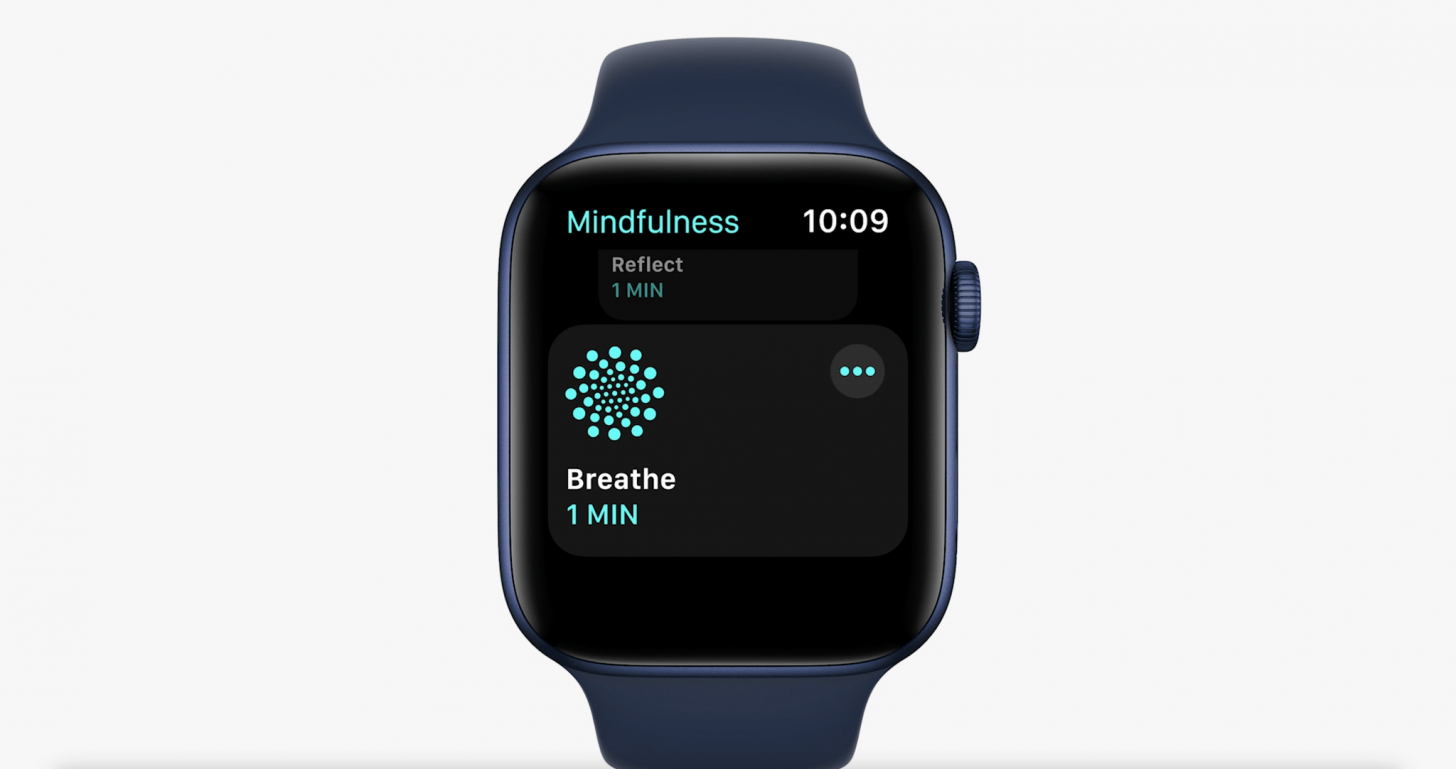 Another update that seems excellent at first glance is the addition of Reflect sessions for improved positivity which, when paired with improvements to Breathe sessions, are meant to contribute to overall physical and mental wellbeing. Unlike health sharing, though, I don't expect these changes to be showstoppers. Not that I don't personally love the idea of encouraging and reminding people to take time out of their day for positivity and calm, I just happen to know that Breathe reminders tend to be fairly unpopular among current Apple users, so hopefully the current trend doesn't continue. Who knows, maybe the updates will change my mind!
Share Your Care
Apple's biggest and potentially farthest-reaching Health app update is the advent of health information sharing. Even if you don't depend on anyone else for care or safety, it can feel really nice to have someone else who has access to your health information, just in case. If you do share your care with family members or others on a care team, you probably know how difficult it is to access, store, and recall the many health details needed to communicate effectively with your family members and health care teams when needed. From where I'm sitting, Apple's progress on this front is much needed and, hopefully, a game changer for the patient-provider relationship.
If you're a Health app user, you will also see more advanced trend analysis for 20 new data sets to help you monitor things like your blood sugar levels, sleep, fitness, fertility windows, mobility data, and more. These trends will be shareable with family members and others to keep them in the loop about your health and activity changes, and to keep them appraised of any trends you may need support on, such as health concerns and those things you may want to discuss with a health care provider. With iOS 15, you'll be able to share your cardio or blood sugar trends with your doctor, sleep activity with your spouse, mobility data with your physical therapist, or whatever sharing situation will give you the best support for your health needs.
Many have offered a critique that this amount of information sharing may open the door for helicopter-caregiving. I think that's a reasonable concern, but I can say from personal experience that many, many users will find that the benefits of sharing this kind of basic health data outweigh the downsides. Plus, if you ever change your mind, Apple promises that health sharing settings can be modified or sharing can be stopped at any time. Apple also assures users that each person will have full control over what information they want to share, and who they want to share it with. 
Protect Your Privacy
As always, these intriguing new iOS 15 features will be rolled out within the parameters and protection of Apple's privacy and security system, so if you're concerned about the privacy implications of sharing your health data or syncing via Health Record, your fears are likely unfounded. Still, it'll be a good idea to keep an eye out for privacy settings related to this feature on its release with iOS 15 in the fall.
Now you know the many ways that your Health app can help you stay on top of your health! Did you know that you can sync your Fitbit and other third-party fitness trackers with the Health app?