By

Elisabeth Garry
Updated 08/18/2021
Though Apple's latest iPad Pro has an M1 chip and all the power to perform like an iMac, iPadOS is still no macOS. Apple announced new iPadOS 15 features at its WWDC keynote, including multitasking upgrades, widgets, an iPad App Library, improvements to the Notes app (including the new Quick Note), the Translate app on iPad, and updates to Swift Playgrounds. The iPadOS 15 beta is available for those who want to try the new features now, while more cautious users can update to iPadOS 15 in September when the finished version is released. 
Related: Everything Apple Announced at the WWDC 2021 Keynote
iPadOS 15 Availability
Availability: The shipping version of iPadOS 15 is due to be released in Fall 2021. Pioneering spirits can join the iPadOS 15 public beta program in July.
Compatibility: iPad mini 4 and later, iPad Air 2 and later, iPad 5th generation and later, and all iPad Pro models.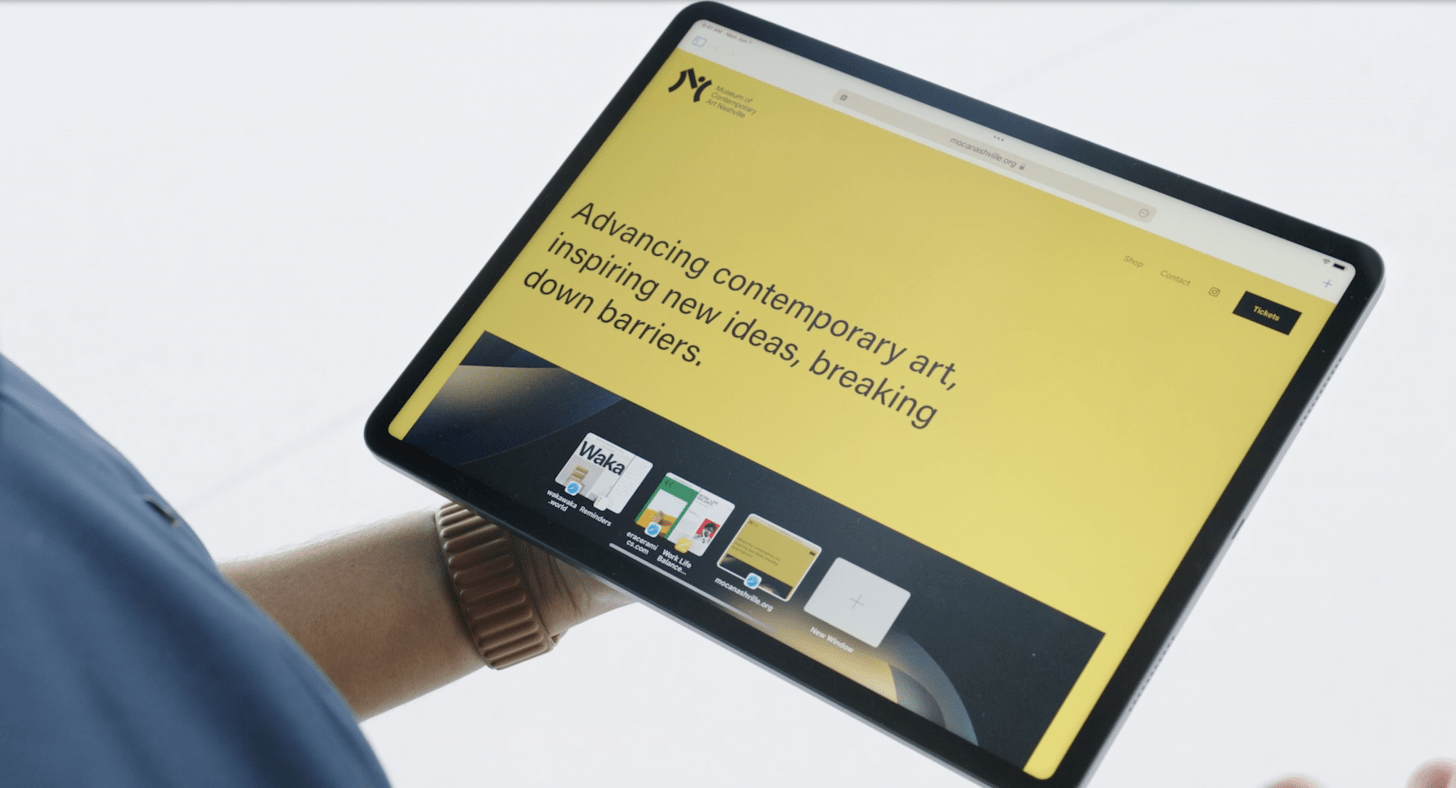 Multitasking Got a Lot Better
The new multitasking features on offer are exciting, but it's disappointing that Apple didn't go further. The new iPad Pro has the same M1 chip that's in the iMac. Theoretically, the new iPad Pro has the power to run macOS, but unfortunately, iPadOS 15 just isn't comparable. Here's what we did get:

Discover your iPhone's hidden features
Get a daily tip (with screenshots and clear instructions) so you can master your iPhone in just one minute a day.
iPadOS 15 makes multitasking easier to use by making Split View and Slide Over more accessible. Now, apps will feature a multitasking menu at the top when open, so you can tap an icon to enter Split View or Slide Over, or close a window straight from the menu. When entering Split View, iPadOS 15 will show you the Home screen, so you can browse apps and select the app you'd like to use Split View with. You can also open a window from Split View by tapping and holding on an email or other message. When you're done previewing the message, you can minimize it by swiping down, which will send it to the shelf.
The shelf is a new area that shows you all open windows in an app It will appear whenever you open an app. You can tap on a window in the shelf to open it or swipe it to the edge of the screen to close it. The App Switcher in iPadOS 15 now includes Slide Over apps and lets you drag one app over another to create Split View. These new multitasking features will come with a new set of keyboard shortcuts. These updates certainly make features like Split View easier to manage, but imagine how much easier working on your iPad would be if it were just running macOS.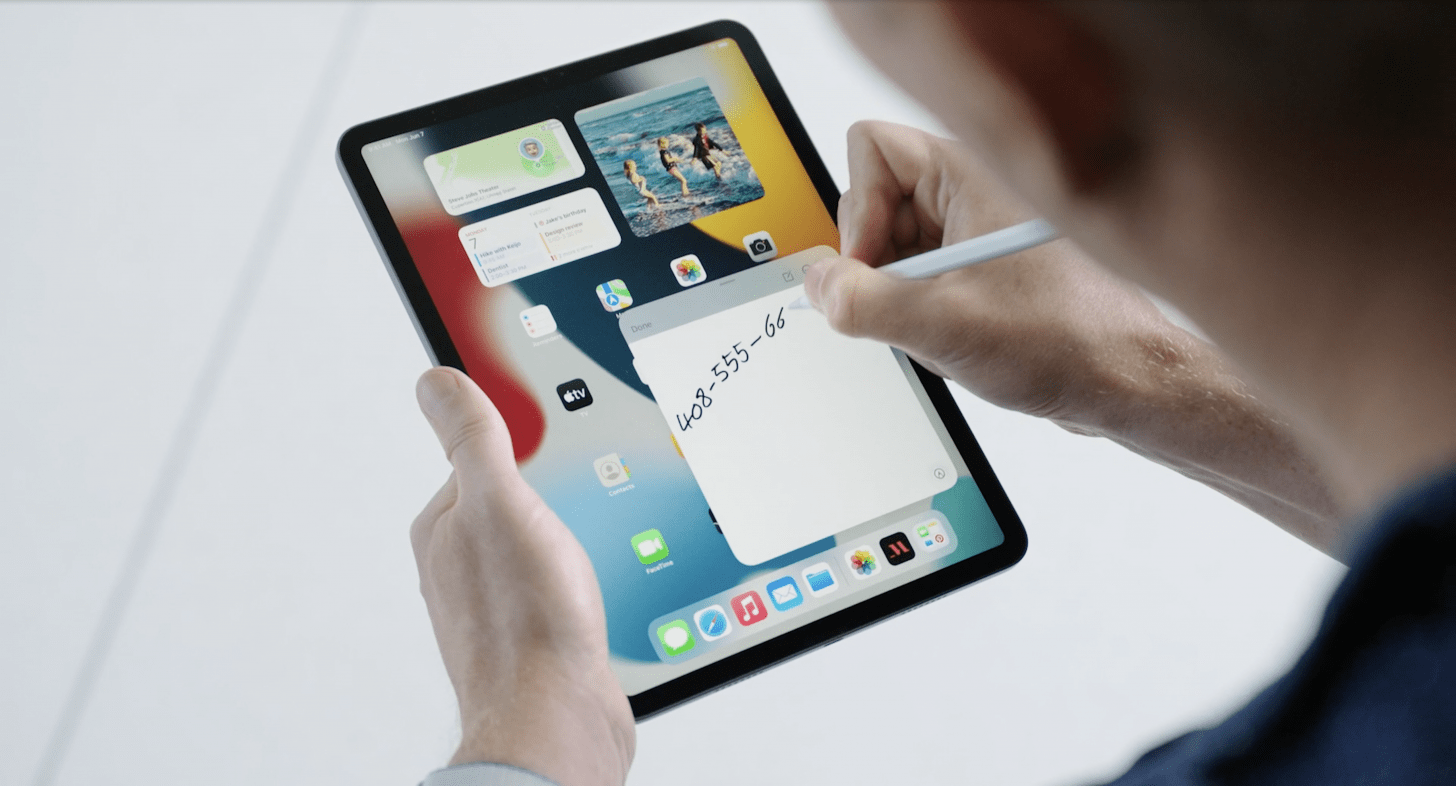 The Notes App
A welcome addition to the Notes app that also helps with multitasking, Quick Note lets you take, well, quick notes no matter what you're doing on your iPad. With a quick swipe from the corner of your screen, you can open Quick Note over any app—even in Split View—and type a note, scrawl one with your Apple Pencil, or even copy a link or other text from a webpage in Safari. When you tap a link in Quick Note, it will take you back to the spot on the page from which you copied it, and when you visit a page you've copied information to Quick Note from, you'll see a thumbnail of the note you took. You can adjust the size and position of the window and move it to the side if needed, where it will be available should you need to call it back up.
The Notes app also has a few other new features, including mentions to tag friends in Notes, an Activity View to see a record of changes in a shared Note, and tags to help you organize your Notes.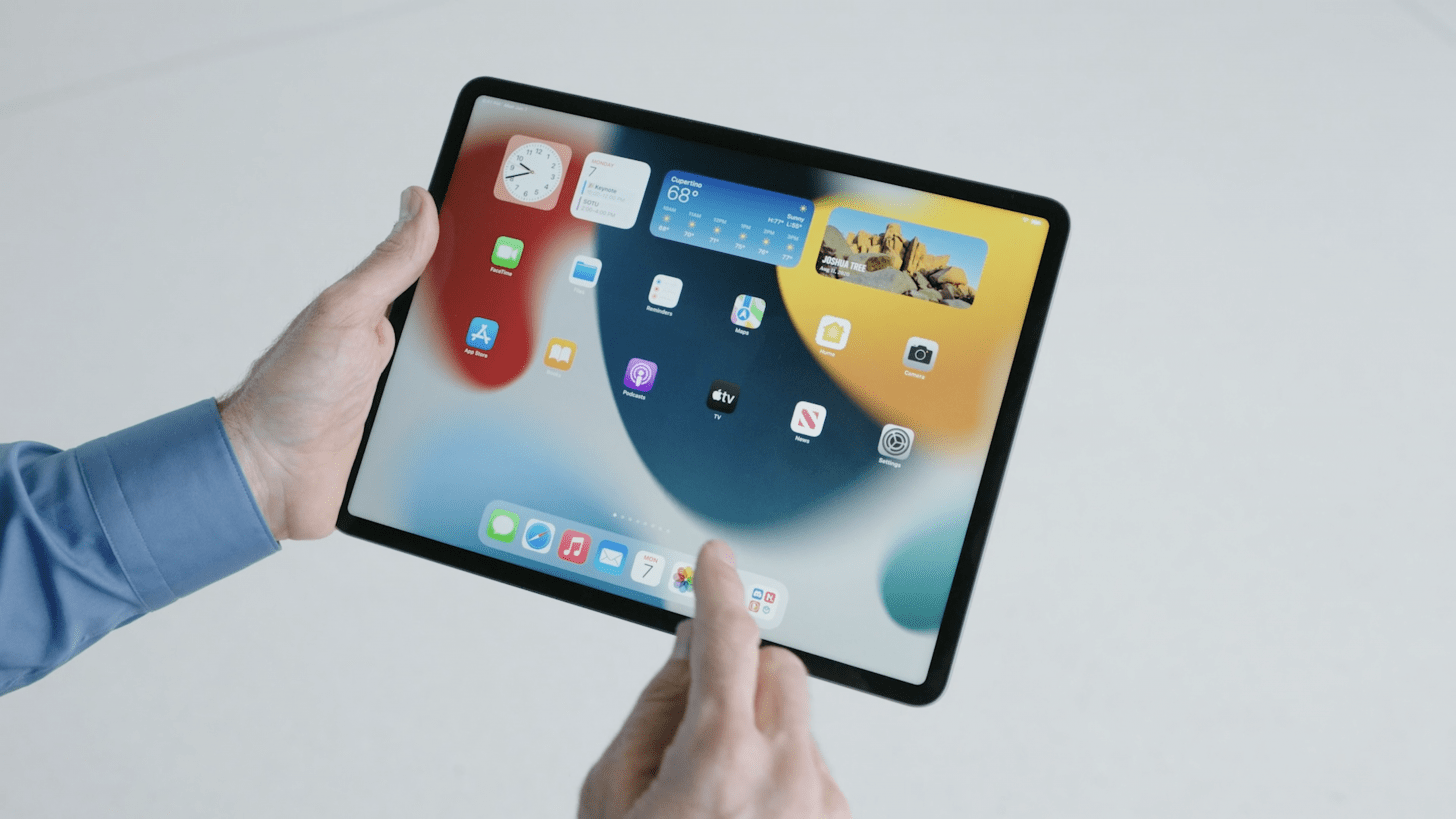 Widgets
Keen to take advantage of the iPad's bigger screen, iPadOS 15 includes bigger, more fully functional widgets that you can add and use to customize your Home screen. You'll be able to place widgets just where you want them on the Home screen. iPadOS 15 also introduces several brand-new widgets for Find My, Contacts, Game Center, App Store, and Mail.
You can reach friends and family directly from the new Contacts widget using Phone, Messages, FaceTime, Mail, or Find My. Parents can also use Family Sharing to help manage their kids' requests using this widget.
Game Center gets two new widgets in iPadOS 15: The Continue Playing widget, which lets you see and access your recently played games; and the Friends Are Playing widget, which shows you what games your friends are playing.
The App Store widget brings the Today tab from the App Store straight to your Home screen, so you can see stories, collections, and in-app purchases.
The Mail widget seems particularly helpful: it lets you see your most recently received email and access your inbox from your Home screen.
iPadOS 15 will also suggest widgets for you to add to your Home screen based on your past activity, which could either be helpful or supremely annoying, depending on your outlook. To learn more about what widgets you might like to add to your iPad Home screen, check out our Tip of the Day newsletter.
App Library
iOS's App Library is coming to iPad with iPadOS 15. Like on iOS, the App Library for iPad will automatically organize your apps into categories like Productivity, Social, Recently Added, and more. Helpfully, the App Library will be available in your iPad's Dock, so you can access it from any screen. With App Library, you can also hide pages from your Home screen and reorder them.
The Translate App
Also coming to iPadOS 15 is the Translate app. The iPad app uses Auto Translate to automatically detect what language you're speaking and translate it into the desired language. It also offers a face-to-face view, so two people can sit across from each other and see translations of their conversation partner's speech. The Translate app can even use the new Live Text feature for Photos to translate text in photographs.
Swift Playgrounds
Swift Playgrounds 4 for iPadOS 15 will now let users design apps straight from their iPads. Users can build apps for both iPhone and iPad with Swift Playgrounds 4, view live previews of their in-progress apps, run full tests, and submit apps to the App Store for review.
Universal Control
iPadOS 15 is compatible with Apple's new Universal Control feature, which you can use to work between iPad and Mac using a single keyboard and mouse. iPadOS 15 will be able to interact with macOS, letting you drag and drop from one device to the other. There are a lot of cool uses for this function: Apple suggests sketching on your iPad with Apple Pencil and dragging the sketch to a Keynote slide on your Mac, but the possibilities are endless. You can read more about Universal Control in our coverage of the newly announced macOS Monterey.
New Features Across the Apple Ecosystem
In addition to the new features exclusive to it, iPadOS 15 also supports new updates to FaceTime, Safari, Photos, Maps, and Siri, as well as features and programs such as Focus, iCloud+, and privacy and security updates across the Apple ecosystem. To read about those in more detail, check out our coverage of iOS 15, which was also announced at the 2021 WWDC keynote.