If your Apple Pencil won't charge, there are several easy things to try before you contact Apple.
By

Amy Spitzfaden Both
Updated 04/10/2023
What to Know
If your Apple Pencil isn't charging, try restarting your iPad, turning Bluetooth off and on, and unpairing and re-pairing your Apple Pencil.
Updating your iPad can also provide a solution if the issue is from a known software bug.
Physical issues might be to blame; clean your Apple Pencil and iPad, and if none of this works, contact Apple Support.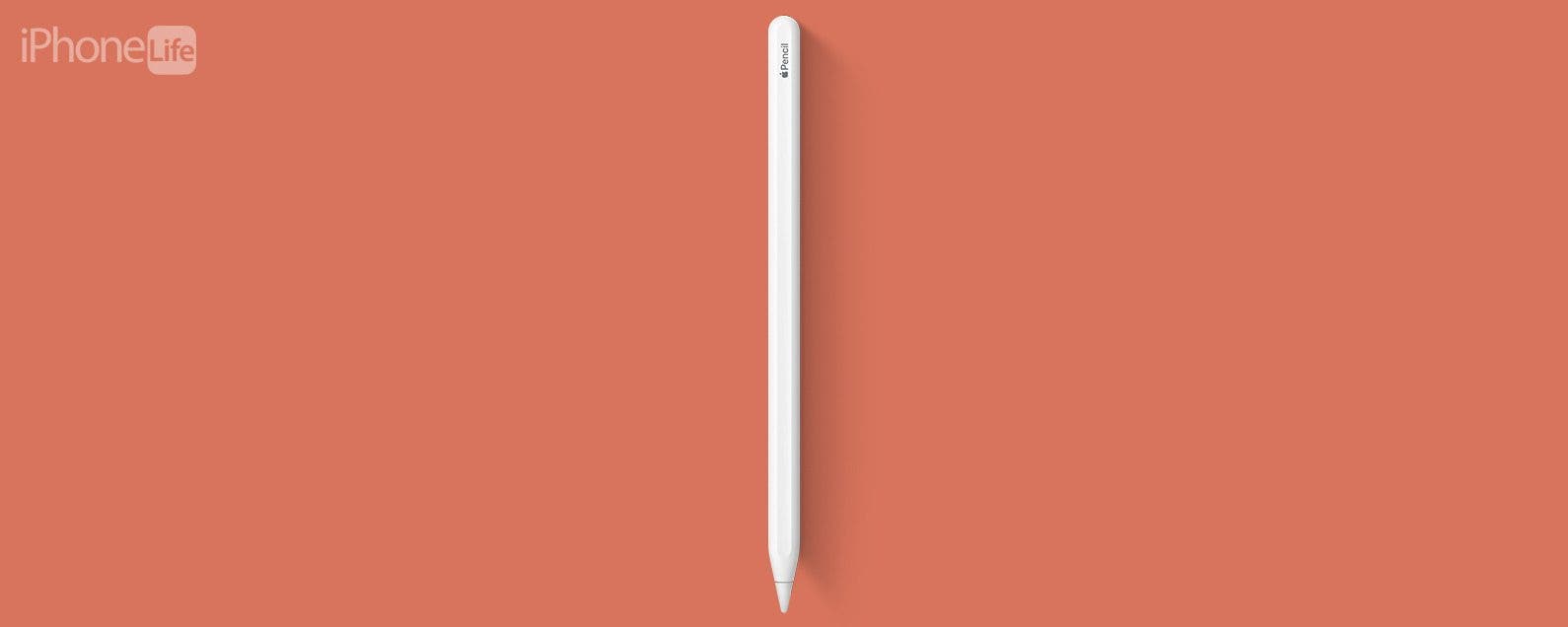 Why is my Apple Pencil not charging? An uncharged Apple Pencil can put a dent in any iPad user's workflow. Buying a new Apple Pencil can be expensive, so before you throw your Apple Pencil away and order a replacement, try these quick and easy fixes.
How to Fix Apple Pencil Not Charging
Why won't my Apple Pencil charge? Connection issues can cause an Apple Pencil to not charge properly. Luckily, there are a few easy ways to remedy connection issues.
Disconnect & Reconnect Your Apple Pencil
If your Apple Pencil won't charge because of a glitch, you may be able to fix it by simply toggling Bluetooth off and on again. If you have a first-generation Apple Pencil, try unplugging it from your iPad and plugging it back in again. These simple restarting techniques might get your charging back on track. For more easy troubleshooting tips, check out our free Tip of the Day newsletter.
Restart Your iPad
Your Apple Pencil may not be charging if your iPad doesn't recognize that it's connected. This can happen due to processing errors, which can usually be resolved by restarting your iPad. Simply turn your iPad off and back on and see if that fixes the issue.
Unpair & Re-pair Your Apple Pencil
If the above steps did not solve your issue, you might need to unpair your Apple Pencil and then pair it to your iPad again. This is a good method to try as it severs the connection between both devices and lets you start again from scratch, which might set your charging problems straight.
Clean Your iPad & Apple Pencil
Sometimes dust and debris can cause a faulty connection between your iPad and Apple Pencil. Carefully clean both and make sure there isn't any dirt or other physical blockages that could be causing your charging issue.
Update Your iPad
Software updates frequently address known glitches and bugs, so if your Apple Pencil still won't charge, check to see if you can update your iPad. Even if the update isn't specifically there to address the charging issue, it may do what's needed to get your Apple Pencil working again.
Contact Apple Support
If none of this works, your Apple Pencil may have a hardware issue. Contact Apple Support to find out your options for repair or replacement.