Universal Control lets you connect an iPad to your Mac, along with other features that bring macOS closer to iOS and iPadOS.
By

Amy Spitzfaden–Both
Updated 08/18/2021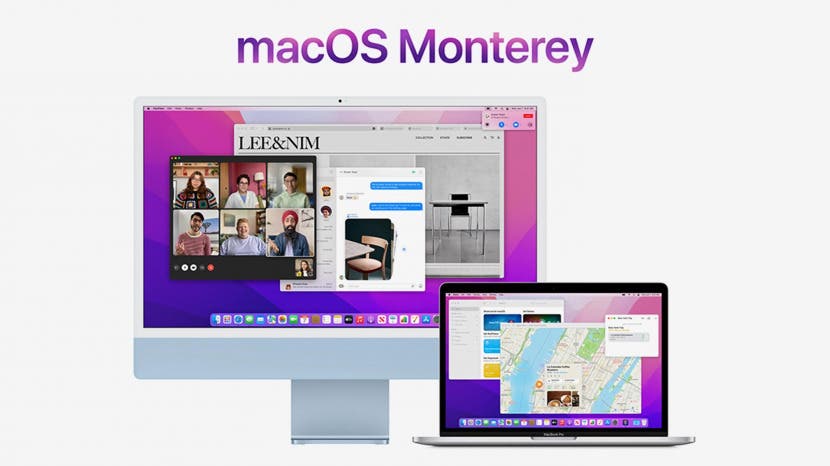 Expect macOS Monterey to further blur the line between your Mac and your iPad. A new Universal Control feature Apple announced at its WWDC keynote allows you to control a Mac and iPad simultaneously using the same keyboard and mouse and drag and drop files easily between devices. Aside from opening up this hybrid work option, macOS includes new iOS 15 and iPadOS 15 features, like media sharing in FaceTime and notification controls tailored for different activities. Other macOS updates include redesigned tabs in Safari and an organization option called Tab Groups, which lets you sort your tabs into—you guessed it—groups that you can revisit later. And let's not forget that your Mac is now an AirPlay destination!  The macOS Monterey beta is available for those who want to try the new features now, while more cautious users can update to macOS Monterey in September when the finished version is released. 
Related: Everything Apple Announced at the WWDC 2021 Keynote
As macOS moves closer in functionality to iOS and iPadOS, we find ourselves questioning whether Apple is setting itself up for a battle between the Mac and iPad that one will eventually lose. After all, if the devices become too similar, what's the point of having them both? Currently, the iPad can't really replace a laptop, and the Mac still can't compete with many of our favorite iPad features, most notably its portability. But as macOS Monterey takes a step closer to its mobile counterparts, change may be on the horizon. Let's dive in and take a closer look at everything coming to macOS Monterey.

MacOS 12 Monterey Availability
A public beta of macOS Monterey will be available in July, and the full version will arrive in the fall. A developer beta is already live on the site.
MacOS Monterey Compatibility
MacOS Monterey is compatible with:
Late 2015 and later iMac
2017 and later iMac Pro
Early 2015 and later MacBook Air
Early 2015 and later MacBook Pro
2019 and later Mac Pro
Late 2014 and later Mac Mini
2015 and later MacBook
Late 2013 and later Mac Pro
Universal Control
As opposed to using your iPad as an external monitor for your Mac (which you could already do using Sidecar), Universal Control is a new feature that allows you to use your Mac and iPad as two full devices that work together. For example, if you want to add a video clip from your iPad into a movie you are creating on your Mac, instead of transferring it the usual way, you can just drag and drop, as if it was already on the Mac. Your keyboard and mouse and/or trackpad work for both devices, so you can even use trackpad gestures for quick actions on your iPad. Best of all, there's no setup required, so all you have to do is move your mouse off your computer screen toward your iPad, and the mouse will automatically move over to it. This is a super helpful feature for those who already have both an iPad and a Mac as part of their regular setup. We'll have to see, however, how easily you can drag and drop different file types between devices. Still, the potential here is big, especially considering Apple may be looking for ways to integrate the iPad and Mac in a way where they support, instead of replace each other. Getting us to use more than one device at a time may be Apple's way of making sure we invest in both devices for years to come, instead of allowing one to replace the other.
Note: Universal Control will work with one Mac and one iPad, unless you have an M1 MacBook Pro, which will support more than two devices.
Safari Update: Tab Groups & Web Extensions
Tab Redesign & Groups
Safari is getting a cosmetic makeover, with redesigned tabs that are rounder and less intrusive. More exciting is the web browser's new feature called Tab Groups, which lets you organize tabs like bookmarks—keeping them off the screen to reduce clutter but easily accessible when you need them. I'm horrible at separating my work and personal internet browsing and even worse at closing tabs when I think I might need them again. It's too easy to open open work tabs when I should be relaxing or sort through tabs of vacation ideas when I'm looking for the work I did. Tab Groups is a promising solution to these self-inflicted issues. Extra sorting doesn't always feel like a time saver, so the success of this feature will largely depend on how easy and intuitive it is to use.
AirPlay Comes to Mac
You can finally AirPlay to your Mac! While you could already stream from your Mac to your Apple TV or iPad using AirPlay, you can now cast from other devices onto your Mac. This feature opens up the door to use our Mac screens as a TV (which I've been inclined to do anyway) or use our Mac's speakers to play music instead of relying on our iPhones. Rather than an exciting feature, this update underlines the strange fact that it was missing until now; but either way, it's a solid addition.
Create Shortcuts on Mac
Shortcuts haven't typically been the most popular feature of the iPhone and iPad, at least among our team, as they can be complicated to set up and not as simple and time-saving as they seem. That being said, Shortcuts on Mac feel promising. Perhaps it's because we're more willing to invest time into streamlining our experience on Macs, or maybe it's because it's easier to tackle complex tasks on a desktop, but whatever it is, I will be trying this new-to-Mac feature out. For those unfamiliar, Shortcuts let you trigger a sequence of actions using one command.


Other Goodies
Here's a quick list of iOS 15 and iPadOS 15 features coming to macOS Monterey. 
FaceTime Updates: FaceTime now includes Spatial Audio that mimics the sound distribution you experience when talking with several people. You can also use Portrait mode in FaceTime and enjoy Voice Isolation features to keep background noises out of your call.
Focus: Focus is a new feature of iOS 15 that lets you set up customized Do Not Disturb settings across your devices for when you want to ignore notifications, such as if you are working or in a social situation.
Notification Changes: Notifications can be overwhelming, but with macOS Monterey, you'll be able to do things like mute notifications based on smart suggestions, see time sensitive notifications, and more.
Quick Note: Quick Note lets you jot something down no matter the app you're in and can be set up as a hot corner, so all you have to do is move your mouse to a corner of your screen to jot something down without leaving the app or webpage you're using.
Live Text: Your device can now read text from photos! This helps with searching, tagging, and even calling phone numbers displayed in an image.
Maps: Maps has a whole host of new features including directions based on scans of your area (only available in a handful of cities), an interactive globe, and improved search.
Privacy: MacOS Monterey has many new features focused around privacy. 
iCloud+: iCloud+ offers additional privacy features to anyone with a paid iCloud storage plan at no extra cost.