Enroll in the Apple Beta Software Program to test the new macOS Monterey features.
By

Ashleigh Page
Updated 07/06/2021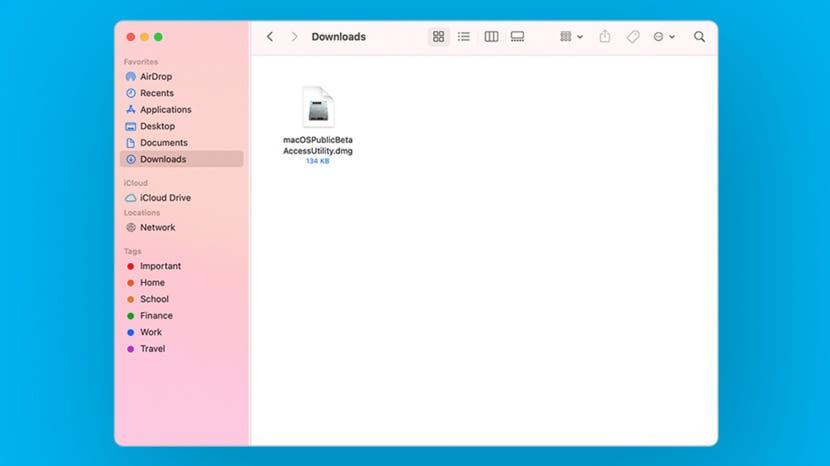 The macOS public beta is now available, with exciting new features promising system-wide translation and the ability to drag and drop files between your Apple devices. The Apple Beta Software Program operating systems haven't been extensively tested, so if you download the macOS beta, you'll get a first look at all the new features but you'll also experience the glitches that come from unrefined software. If you'd rather not deal with a glitchy operating system, I'd recommend waiting for the finished macOS to be released. We'll cover macOS compatibility and how to install the newest version of macOS in the Apple Beta Software Program.  
Related: How to Sign Up for the Apple Beta Program for iOS 15
Jump To: 
macOS Beta 
The following devices are capable of downloading and running macOS Monterey. If you're wondering, "What MacBook do I have?" we have an article that goes over all the generations.
MacBook Air (early 2015 and later)
MacBook Pro (early 2015 and later)
MacBook (early 2016 and later)
Mac Mini (late 2014 and later)
iMac (late 2015 and later)
iMac Pro (2017 and later)
Mac Pro (late 2013 and later)
Is the macOS Beta Download Safe?
Now that Apple has showcased all its new software during WWDC, the anticipation may be too high to wait until the shipping versions are released in the fall. The good news is that signing up for Apple's beta program is easy. But remember that macOS Monterey in this stage is Apple's beta version software. So there are some pros and cons to consider before you join the Apple Beta Software Program.  
Pros:
The best part? You don't have to wait until macOS Monterey is released to the public! That means you'll be able to see and immerse yourself in the best new features first. You will also have a Feedback Assistant app on your Mac; this app allows you to report any issues or bugs in the software directly to Apple.
Cons:
Of course, the public beta is how Apple works out as many issues and bugs in the software before it's officially released, which means you're the one experiencing those bugs and bringing them to Apple's attention. The potentially glitchy software poses a risk to your data, which means it is very important to do a full backup before downloading any of the beta software. 
My Take: 
Overall, I really prefer not to install beta software, which poses a potential risk to my data and device functionality. Resolving these issues can become time-consuming and I'd rather avoid the process altogether. However, if you enjoy being the first to try new things, you'll love being a beta tester. But if you don't like debugging your computer and troubleshooting issues, you'll likely hate it.
Important Steps before Installing macOS Beta Software
The benefit of creating a partition on your Mac is that it will keep your previous software version in place and make it easy to switch back and forth. The downside is that you do have to carefully follow the instructions when resizing and changing partitions on an existing drive, otherwise you risk losing data. For this reason, we recommend installing the software on an external hard drive as a slightly safer option.
How to Sign Up for Public Beta Testing (macOS Monterey) 
Once you've completed the steps above, you can begin the Apple beta download. 
Plug your device into power and make sure you're connected to Wi-Fi or a stable, wired internet connection.
Visit the Apple Beta Program page and click Sign In.


You'll be prompted to sign in with your Apple ID and password.


You'll be taken to a Guide for Public Betas. If you haven't downloaded a public beta before, scroll down and click the download utility button to enroll your Mac.


Click to open the downloaded Public Beta Access Utility package.


Click Continue.


Click Agree to accept the terms of agreement.


Click Continue. 


Click Install.


Now you'll see a notification like the one in the image below, with a blue line indicating download progress. 
Once the new operating system is finished downloading, tap Install Now.
A window comes up that informs you you'll need to restart your device; tap Restart.
Your Mac will display a black screen with the Apple logo and a progress bar; the device will reset once the update completes.
You'll notice a new app called Feedback Assistant in the CoreServices folder (there should also be a shortcut in the Beta Utilities folder). This is where you can report bugs and glitches to Apple. Accept the terms, sign in with your Apple ID, and you're good to go!
Welcome to macOS Monterey! Hopefully, you'll have a smooth experience and a fun testing of new features.  However, if you do find that the software is glitchy, you always have the option to unenroll and restore your Mac.