By

Cullen Thomas
Mon, 06/07/2021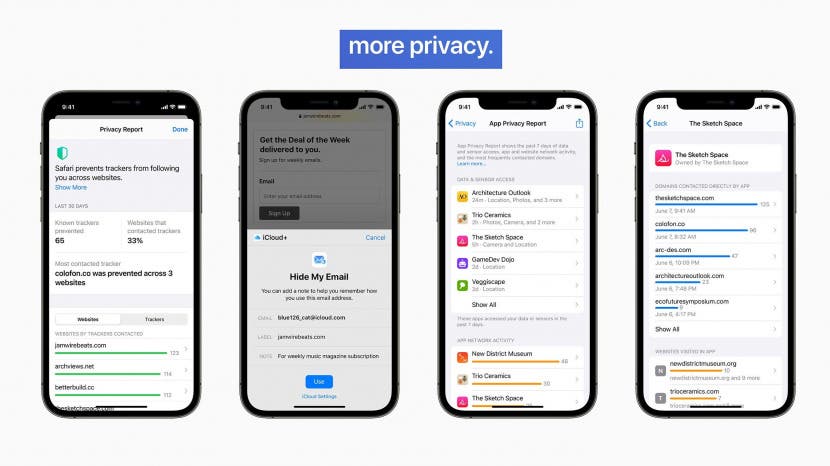 Apple has written the word Privacy on a flag, tied its brand to that flag, and charged with it into new territory. The June 7 keynote address at Apple's 2021 developers conference wove privacy and security updates into every app and service, but there are a few stand-out features. Here are the most exciting privacy features coming soon with iOS 15 and the rest of Apple's new operating systems.
In Brief:
While privacy and security updates touch basically everything in the Apple ecosystem, there are four main updates that really have us excited:

Discover your iPhone's hidden features
Get one daily tip each day (with screenshots and clear instructions) so you can master your iPhone in just one minute a day.
An enhancement to iCloud's subscription tiers called iCloud Plus offers premium web-privacy features for subscribers.
On-device processing for Siri will be fast and keep your voice data on your own phone.
A new centralized App Privacy Report in iOS lets you track how your apps use your data.
Finally, end-to-end encrypted FaceTime calls will be possible with Windows and Android users.
These features are already available for developers in the developer's betas of iOS 15, iPadOS 15, and macOS Monterey. The eager can get their hands on them with public betas in July and the shipping version in the fall.
iCloud Plus Offers Reasons to Subscribe Besides Storage
Apple's new iCloud Plus subscription will offer premium privacy features at no increase in cost over the existing iCloud subscription tiers. iCloud Plus will include a feature called iCloud Private Relay, which cloaks your personal details, encrypts your traffic, and bounces your signal off several private servers so that nobody, including Apple, can track how you use the web.
While Safari already hides your identity and traffic in many important ways, iCloud Plus will bring some of that additional, built-in, background privacy to your email inbox as well. One way that companies learn about their clients is by embedding what's called a tracking pixel into an email and then sending that email to the client. The tracking pixel learns when the email is opened, and can learn some details about the person who opened the email, then transmit that data back to the entity who sent the email. This is mostly used by companies who want to know if their emails are valuable to the recipients, but they can also contribute to advertising profiles like those sold by Facebook and Google. With iCloud Plus, your iCloud email inbox will hide your identity and activity from any tracking pixels you receive.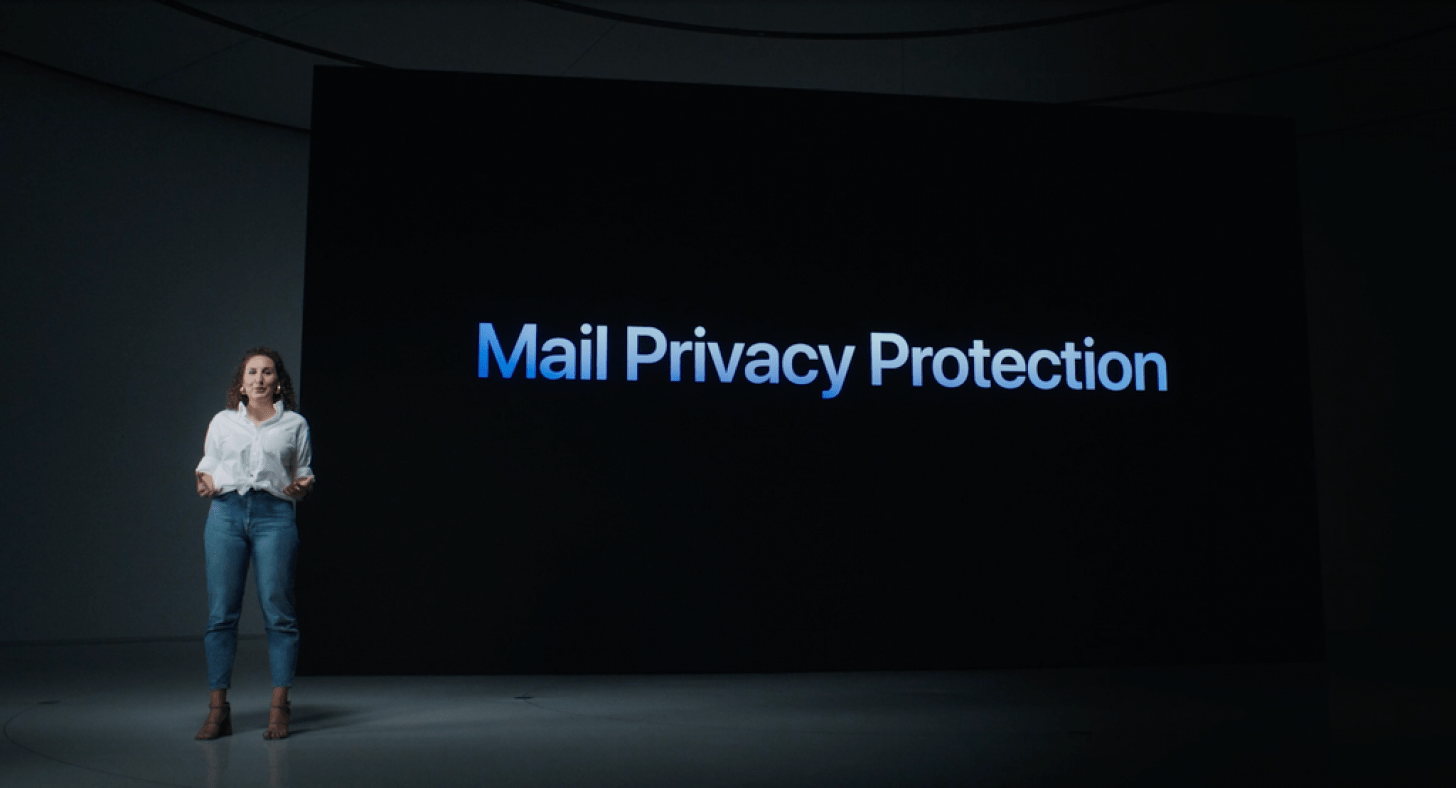 Ever been in the middle of signing up for a service and felt a twinge of concern about entering your private email address? A feature of iCloud Plus called Hide My Email will generate a unique decoy email that you can use. Any email sent to that decoy address will be flagged and forwarded to your iCloud email inbox, but the sender will remain ignorant of your identity.
A final feature of iCloud Plus will only appeal to those with HomeKit-enabled security cameras. Apple already promised that your security camera footage must remain private even when it is stored on the internet in your iCloud, but with iCloud Plus at the top, 2 TB, subscription tier you'll have unlimited secure storage in your iCloud of all HomeKit enabled security camera footage. This will not count against your iCloud storage limit: you can save your security camera footage without fear of running out of space for your photos and files.
This is a real power play for Apple. The business models of Google and Facebook rely on tracking internet users. Making anonymous browsing an essentially free upgrade to existing iCloud users will throw a blanket over a huge portion of web traffic. It will certainly help bring VPN use, which achieves the same privacy effect, into the mainstream. But it's not just Google and Facebook in Apple's crosshairs this time: many niche businesses rely on their email lists to reach interested customers and want to know if their emails are opened so they can deduce if the email content is perceived as valuable. For example, this is an important part of fine-tuning our Tip of the Day email service to show you iPhone features that you will enjoy and use.
App Privacy Report
First Apple added the Safari Privacy Report that told you how a website tracked you, then it added what it calls Privacy Nutrition Labels in the App Store: details of what data an app will need to track that you can read before you buy. Your iPhone already warns you when an app has been tracking your location and limits the ways that your apps can access your photos and files. With iOS 15, Apple will offer an App Privacy Report in one centralized place so you can see which apps have accessed which sensors, when, and how often. A quick look at the App Privacy Report screen should tell you if any of your apps have been gathering more data than they need.
This feature expands on existing offerings, but it does so in a particularly powerful way by aiming to make privacy easier, more understandable, and more accessible to the average user.
On-Device Siri Is Fast & Private
The update to iOS 15 will increase the number of voice commands that Siri can process without help from the internet. Local processing on your device is faster and more private. Many users worry that their devices might be listening to them, and processing the data on the iPhone without communicating it to third parties, assuages those concerns. On-Device Language Processing was introduced last year at WWDC 2020, but iOS 15 will offer more commands, faster, with more different voices.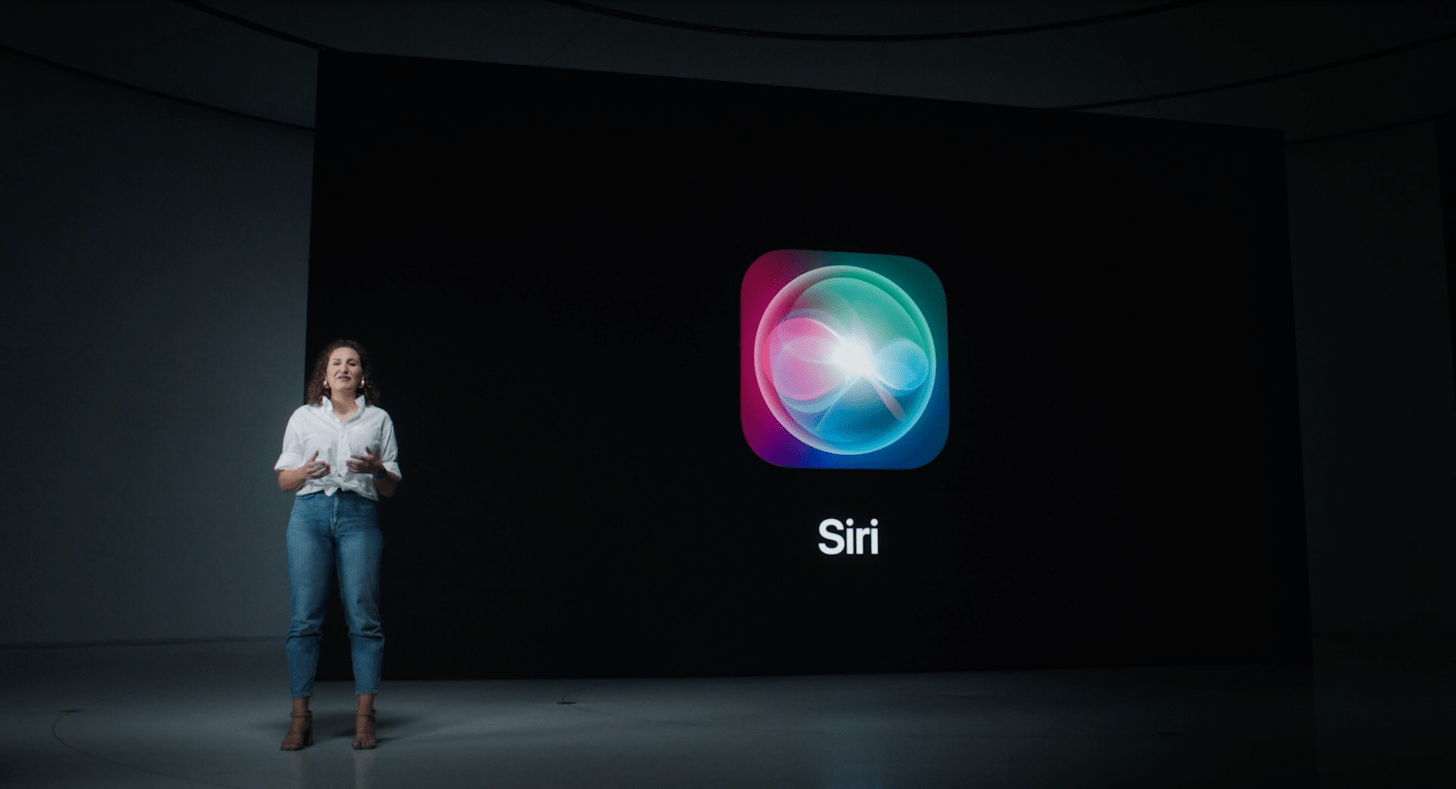 FaceTime Encrypted Calls Reach Out to the World
A few of the most interesting privacy-oriented announcements at WWDC 2021 were folded into the sections on other apps. iOS 15 will bring a boatload of new features, but one update to FaceTime is a privacy game-changer. More than a billion users rely on WhatsApp for secure encrypted messaging but concerns about that app's acquisition by Facebook have thrown its privacy bona fides into doubt. FaceTime and iMessages have always been encrypted end to end, so nobody including Apple can access their content. However, there was one big problem with using Apple's apps as your main secure messaging go-to: they only work with other Apple devices. With iOS 15, FaceTime users will be able to create a FaceTime video link—just an ordinary web link that anybody can click—but share that link with an Android or Windows user and they can use it to join your FaceTime call. And the call will still be encrypted end-to-end.
This was the feature FaceTime was missing to compete with WhatsApp and Zoom. Will it be enough to lure WhatsApp users into making the switch? You decide.