By

Amy Spitzfaden Both
Mon, 06/05/2023
What to Know
Apple's biggest announcement was the Vision Pro, a mixed reality headset, available early 2024 and costing $3,499.
The WWDC 2023 keynote also announced new features coming our way in iOS 17, iPadOS 17, watchOS 10, and more.
Apple is completing its transition to Apple silicon chips by releasing three new Macs: a 15" MacBook Air, and a new Mac Pro and Mac Studio, both with the new M2 Ultra chip.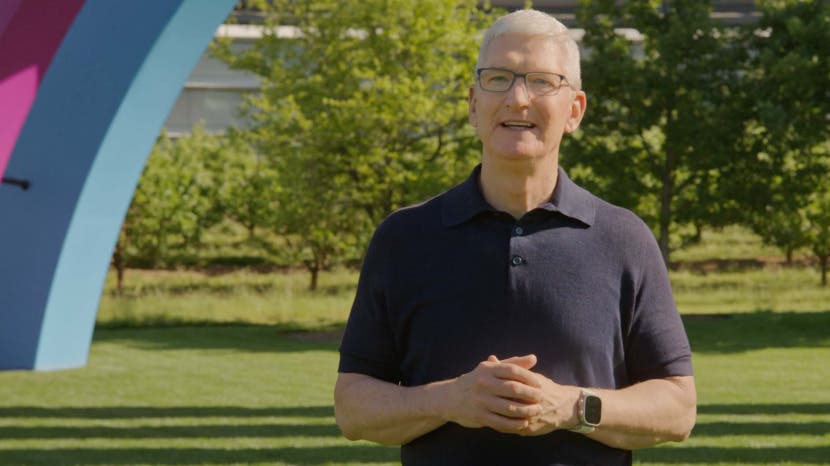 Apple used its 2023 WWDC keynote to usher in a groundbreaking new era of computing with its new Vision Pro, a spatial computer headset, its first new product in eight years. It also announced the expected software updates to its existing devices, including iOS 17, iPadOS 17, watchOS 10, and more. Many of these updates are small but practical, hopefully leading to an elevated experience across devices. Let's dive into the details.
The Highlight Reel
The Belle of the Ball
Leading the pack of exciting things coming our way is, of course, the Vision Pro. It's been a long time coming, so many of us felt more than prepared for the announcement, but even with the build-up we've been seeing over the past few years, the headset itself is somewhat breathtaking. The features (which we'll get into below) set Apple head and shoulders above its competitors (battery life not included), and promise an entirely new way of blending physical and digital realities. While its hefty price tag will likely keep the Vision Pro from being a general consumer product, at least for the time being, this is likely to be the push that gets the ball rolling on an entirely new digital landscape.
Healthy Harrumphs
One big theme that spread across the announcement was health, specifically, that special kind of health that comes from Apple tracking every single thing you do, say, or think. These upgrades include the Health app coming to the iPad, a new mood-tracking feature that can help identify signs of anxiety and depression plus lifestyle and environmental triggers, and a new Journal app to inspire reflection and gratitude. I am personally excited for almost all of these upgrades, especially the mood-tracking app, as I've had trouble identifying periods of bad mental health, much less what might cause them or ways I can avoid triggers. However, being told to practice gratitude can have the opposite effect, much like the famous Apple Watch breathing reminders, causing stress and frustration rather than well-being. New vision health features can track how long a child spends outside in a day, walking the line between helpful feature and yet another avenue to shame parents.

Discover your iPhone's hidden features
Get one daily tip each day (with screenshots and clear instructions) so you can master your iPhone in just one minute a day.
Usability Utopia
This year, Apple is doubling down on making things easy. This includes widgets and displays Tim Cook proudly deems "glanceable," a new way to share phone numbers via AirDrop called NameDrop, and Messages features that make it easier to scroll to your last-read message search through your conversations. This year's WWDC keynote was chock full of these seemingly small but super helpful little changes, meaning we might end up with a pretty different hands-on experience once we tap Update on our devices in the fall. Still, none of these features seem too hard to master or too off-the-wall. Each one of them seems easy to implement (even creating animated stickers and sending them to your contacts) and genuinely helpful in everyday use, like the Check In feature, which will tell your selected contact(s) when you're home in case you forget to send that "Home safe!" text. Compared to some recent updates where the main benefits were upgraded display customization or fairly dense (but important) privacy upgrades, this year's updates promise to strike a balance between fun to use and truly practical.
Introducing the Vision Pro
Price: $3,499
Availability: Early 2024
Now let's get into Apple's mixed reality headset, a device with the potential, like the iPhone and the Mac before it, to change how we relate to our computers and each other. The mixed reality headset is called Vision Pro, and it's powered by an operating system called visionOS. It consists of an M2 processor (like those in newer MacBooks), plus a new kind of specialized video-processing chip called the R1, which is necessary for the lagless flow of high-definition video from its many video sensors to its many screens.
Those many video cameras can capture 3D video of the wearer's environment, an accurate scan of the wearer's face for a digital avatar, and the wearer's hand motions. The Vision Pro's screens include the internal-facing ones, which offer greater than 4K resolution per eye, and an external-facing display meant to help the wearer stay connected with the people around them by depicting the wearer's eyes and activity. It's controlled by gestures and eye movements without the use of controllers but can connect to Bluetooth devices like a mouse and keyboard. As for apps, it can run specialized visionOS apps, as well as thousands of apps designed for iPhone and iPad.
Its price puts it in the computer category, rather than the phone category, and indeed it does seem to serve more of the function of a Mac than a phone. Its powerful screens and ability to interface with the wearer's environment seem engineered to offer everyday utility, especially in productivity and entertainment, by plunging the user into an immersive, enhanced version of their ordinary environment. Its battery life is only about two hours, but that seems to be on par with current competitors, like the Oculus Rift. While our team is divided between excitement and distress at the idea of headsets overtaking our digital lives, everyone agrees this is a big moment in tech. Read our full Apple Vision Pro roundup for all the details.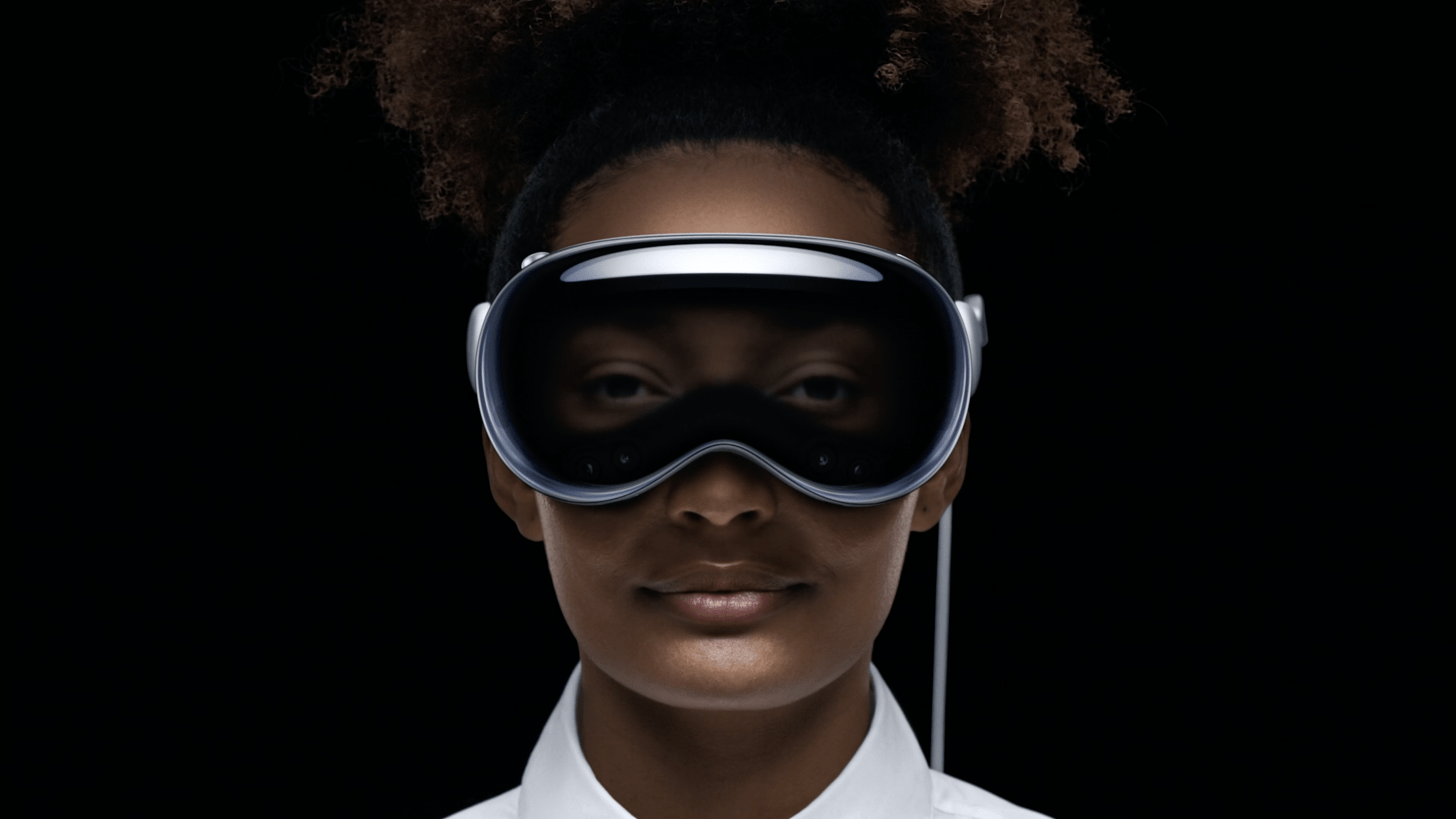 Eyes on iOS 17
Availability: The public iOS 17 release date will happen this fall, likely in mid-September. A beta version of iOS 17 will be available to the public in July.
Compatibility: 
iPhone 14, 13, 12, and 11 series
iPhone XS and iPhone XS Max
iPhone XR
iPhone SE (2nd generation or later)
This year, Apple is using the iOS 17 upgrade to make almost every part of your iPhone just a little better. Apple's Senior Vice President of Software Engineering Craig Federeghi said, "With iOS 17, we've made iPhone more personal and intuitive by deeply considering the features we all rely on every day." This really sums up what we expect from the update: the little things that we do on our iPhones once, twice, or a hundred times per day advancing to a level where we have to think less about them and enjoy our smartphone experience more. In this vein, here are some of the most exciting features coming in iOS 17:
Contact Posters: Announce yourself to whomever you're calling with a personalized screen displaying a picture of your choice, complete with the same customization options we saw added to our Lock Screens in iOS 16.
Live Voicemail: See your voicemails transcribed in real time to help you decide whether or not this is a call you need, or want, to answer.
FaceTime Upgrades: You can now leave an audio or video message when you FaceTime someone, FaceTime on your Apple TV, and enjoy new Reactions in the app.
New Messages Features: Create Live Stickers from Live Photos, enjoy Search filters in your messages, and tap an arrow to scroll up to your last read message to catch up on your group chat.
Check In: Keep your promise to tell your friend or loved one you made it home safely by having your iPhone automatically send the notification when you arrive home. Your iPhone will also keep track of your progress to make sure you don't suddenly stop and will alert your contacts of any pertinent information.
NameDrop: Share contact information simply by moving your iPhones close to each other. You can also use this gesture to SharePlay or share content.
StandBy Display: Turn your phone sideways while charging for a specialized screen displaying the time, favorite photos, widget stacks, or whatever else you want to easily see without waking your charging phone.
Journal App: Record your days and adventures and enjoy specialized suggestions to help you capture moments easily and with style.
Privacy Upgrades: Share passwords and passkeys with others and keep your Safari browsing even more private with advanced tracking and fingerprinting protections.
Mood Tracking: Track your moods in the Health app and see what factors might be influencing them.
"Siri": Drop the "Hey" and get right to the point with your digital assistant.
For complete coverage, check out our full iOS 17 article.


Innovations for iPadOS 17
Apple is focusing on its new customization features for iPadOS 17, but that's not all this update is rolling out. We're also seeing the Health app come to the iPad, plus PDF functionality expansion. Here are some of the highlights:
Customizable Lock Screen: Remember all the cool stuff we could do to customize our iPhone Lock Screens in iOS 16? Well, now you can do the same on your iPad!
Interactive Widgets: Customize your Home and Lock Screens with interactive widgets that let you engage with an app with just a tap.
PDF Upgrades: Just tap a field to enter text into a PDF (including autofill!), add a saved signature, and add your PDF to your Notes app for a fuller interactive experience.
Health App: The Health app has come to the iPad! Enjoy all the features you have on your iPhone, including the new mood-tracking features, on a larger screen for easier interaction.
Safari Profiles: Create and easily switch between profiles to keep your work and personal activities separate but still at your fingertips.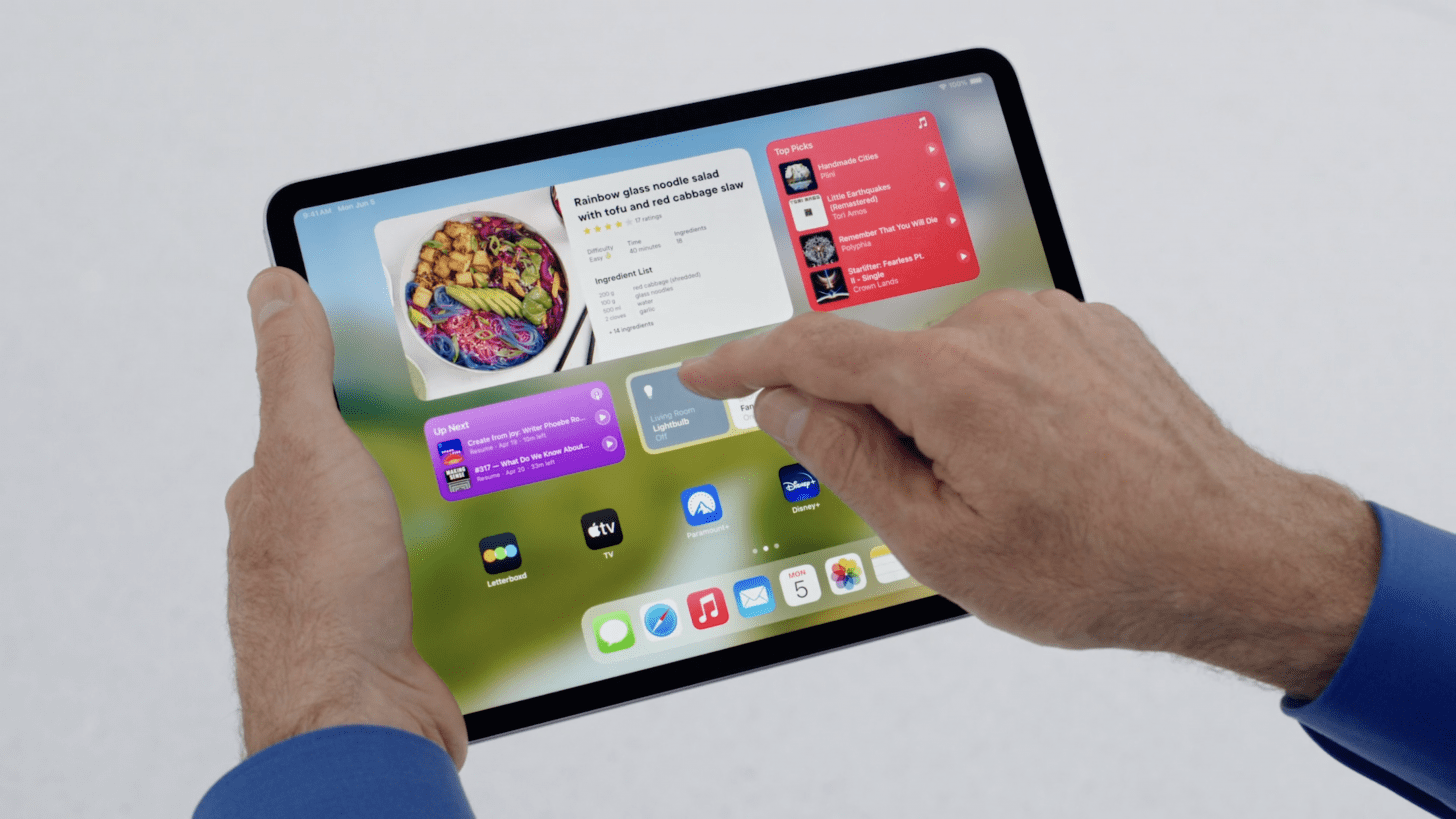 Meet macOS Sonoma
Productivity power up! With all the Macs now upgraded to Apple Silicon chips, Apple is not holding back in its macOS upgrades. Mac's new OS is named Sonoma, and here's some of the best we can expect from the wine-country titled upgrade:
Interactive Widgets: Just like on the iPad, interactive widgets are coming to the Mac. You can move them right onto your desktop, now, too, instead of isolating them in your Notification Center. Don't worry, Apple's made sure the move looks good.
Presenter Overlay: Keep yourself front and center (or off to the side, or wherever you want your face) while you're presenting with this new feature that lets you choose where the video of yourself goes while you screen share. This features works with Zoom, FaceTime, and other popular video conference apps.
Web Apps: Add your favorite or most-used websites to your Dock to turn them into clickable apps that get you right to where you need to be.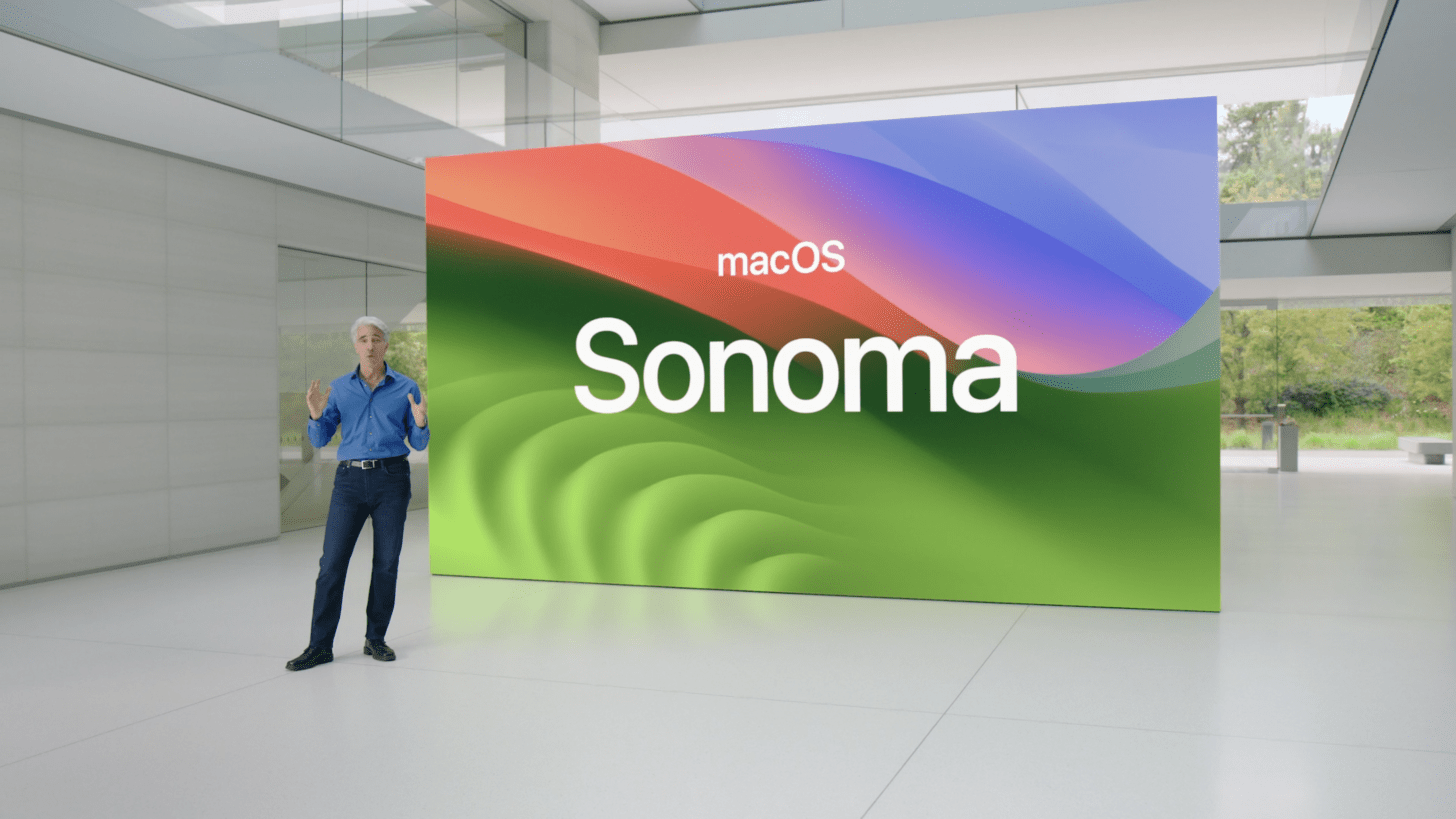 Welcoming watchOS 10
Apple calls this year a "milestone update" for the Apple Watch, and they certainly have come through with some usability upgrades. Here's what you can expect when you download this year's watchOS update:
Redesigned interface: watchOS 10's interface is going to focus on usability and providing information from apps quickly and upfront so you can get the information you need at a glance.
Widget Smart Stacks: The Smart Stack feature is coming to the Apple Watch, letting you stack your favorite widgets and scroll through them using your Digital Crown.
Mental Health Tracking: The mental health tracking feature is also coming to your Apple Watch, letting you record moods right on your wrist without getting lost in the land of your iPhone or iPad.
Cycling and Hiking Upgrades: The Cycling activity in the Workout app will include new metrics such as Heart Rate Zones, and the Compass app will also see an upgrade, including Waypoints that automatically track the location of your last cellular connection and the last place you can connect via any carrier to make an emergency call while on a hike.
Vision Health: The Apple Watch will aim to help prevent nearsightedness in children by tracking time spent outside, aiming for 80 to 120 minutes per day, and reminding them to hold the screen of their Apple devices away from their face if they are looking at it too closely.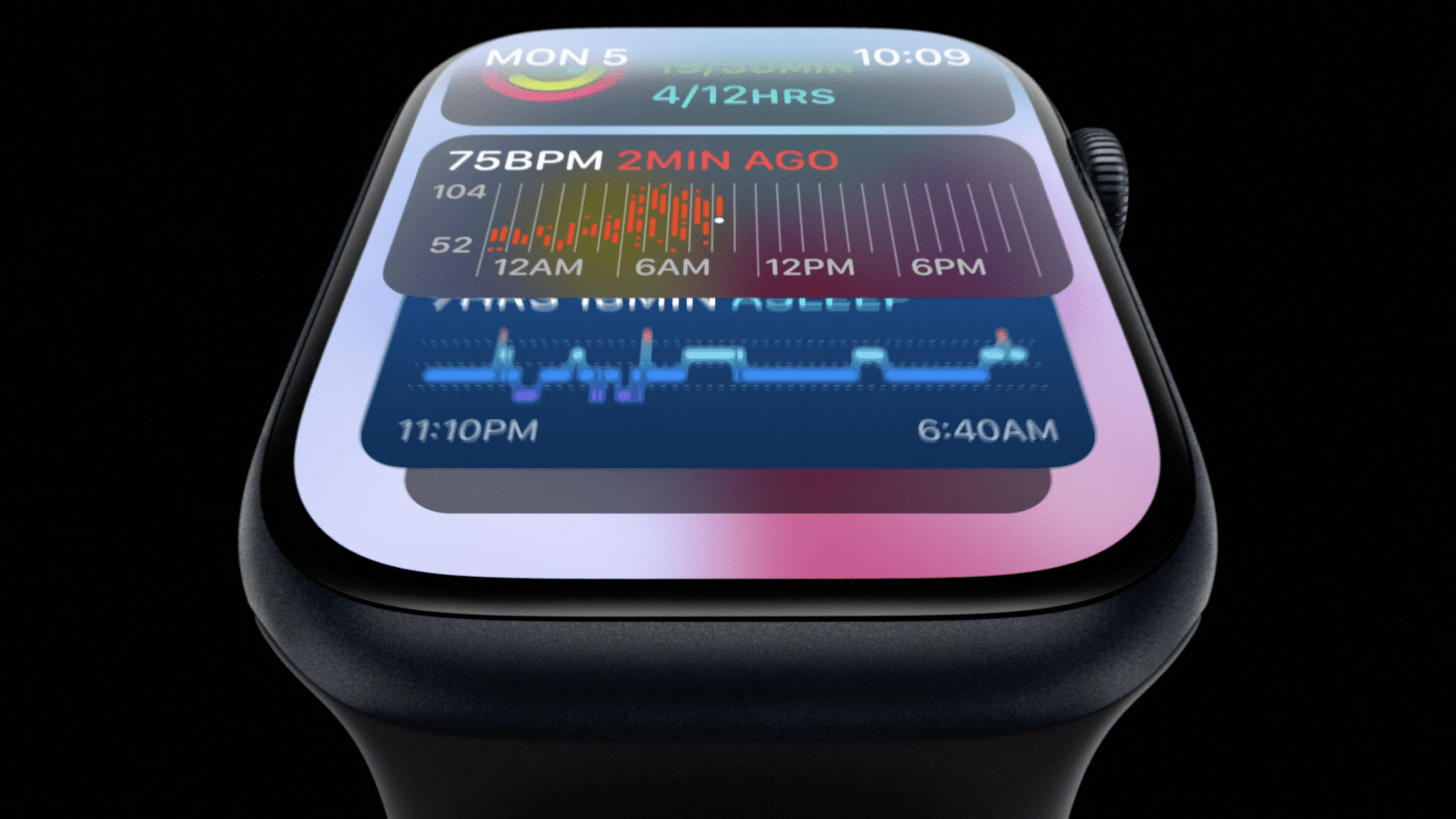 Conquering the Apple Silicon Empire
Apple rounded out its transition to all Apple Silicon chips today by introducing three new computers and a new M2 Ultra chip. First, Apple announced the brand-new 15-inch MacBook Air, complete with an M2 chip. It offers a massive performance upgrade over the MacBook Airs that still run on an Intel chip, and a larger size than any of the MacBook Air versions on the market. Next, the company announced the new Mac Studio, powered by the M2 Ultra and M2 Max, and Mac Pro, powered by the M2 Ultra chip. What this means, besides super impressive processing speeds, is that every model of Mac has been upgraded to Apple's in-house processors, something the tech giant has been working on for several years now. Let's take a look at when we can buy these new releases and how much they each cost:
15" MacBook Air
Availability: Order June 5, in stores June 13.
Price: Starting at $1,299 and $1,199 for education.
M2 Ultra Mac Pro
Availability: Order June 5, in stores June 13.
Price: Starting at $6,999 and $6,599 for education.
M2 Max & M2 Ultra Mac Studio
Availability: Order June 5, in stores June 13.
Price: Starting at $1,999 and $1,799 for education.