A VR headset for the iPhone is almost certainly coming, but when, and what will that mean?
By

Amy Spitzfaden–Both
Thu, 09/01/2022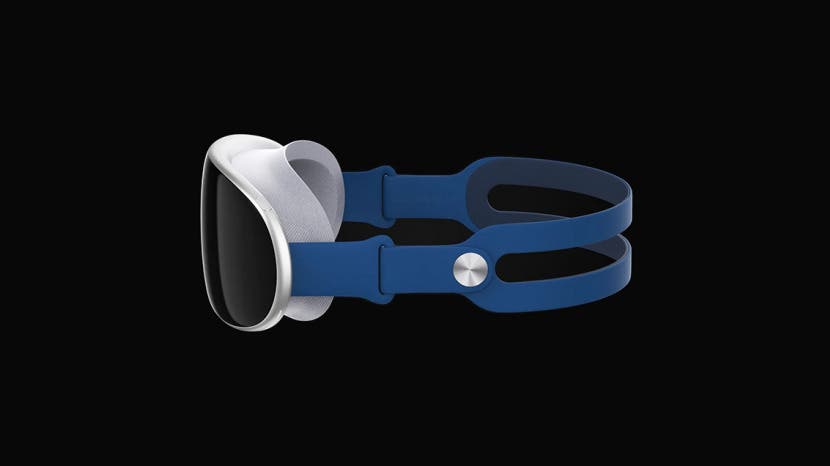 We've been hearing about a possible VR headset for the iPhone for quite some time now, and by the looks of it, one might actually be on the way. But what does that mean? Let's go over all the rumors about an Apple VR headset, Apple AR glasses, and what we might see when.
What Is a VR Headset?
VR stands for Virtual Reality. A VR headset is a goggle-like contraption worn over your eyes and secured with a band that plays a screen to make you feel like you are in a different setting. According to patent filings, Apple may have been working on Virtual Reality technology for almost twenty years. Publications like Bloomberg have started ramping up their predictions for this technology, but the specifics remain up for debate. Currently, the two options appear to be a VR headset (the full Virtual Reality headband kind) coming perhaps as early as next year, and AR glasses. AR stands for Augmented Reality, and instead of putting you in a completely different virtual setting, it mixes virtual features in with your physical settings. Glasses are a lightweight and easy way to do this, as they don't block out all the light and visuals of the world around you like a full VR headset would. These are still strongly predicted, but not for another few years.
When Will Apple Release a VR Headset? What Is the Apple Glasses Release Date?
Mark Gurman of Bloomberg reported in May that Apple had presented its new VR headset to the board, indicating it's in the late stages of development. Gurman also stated that Apple plans to publicize its plans sometime this year, and then release the headset to consumers in 2023. This means we might see an announcement at Apple's upcoming Far Out event; perhaps "far out" indicates a release next year? Since VR headsets have been around for some time now, it might seem a little strange that Apple is waiting until the mid 2020s to release its own, but this is actually typical of Apple. It tends to like to wait until a technology is perfected, or at least advanced, before releasing its own version, like it did with AirTags, when there had already been competitor versions on the market for a while.
The idea of glasses that offer augmented reality instead of a headset with full virtual reality is definitely a less developed one, so here it makes sense we'll likely have to wait until about 2025 for anything like this. That truly is far out, but I doubt we'll see it announced this time around.
RealityOS
Some Twitter users have discovered something called "realityOS" in Apple's code, as well as trademark filings for "realityOS," indicating this will be what the VR/AR operating system will be called. These same trademark filings suggest "Reality Pro" and/or "Reality One" are the names we'll see with these new devices. Gurman claims in a report published to Bloomberg that we'll be seeing an entirely new App Store for the rOS, offering games, immersive experiences, and even things like virtual FaceTiming with heads replaced by Memojis. Cameras and sensors will abound to track eye movement, hand movement, and more, to create a realistic and fluid experience.
Headset Design
Apple is expected to trim down the bulk in its headset design, offering a "sleeker" design than other VR headsets out there. There's also talk of headbands you can swap out, with different features, like extended battery life, and Spatial Audio. Apple analyst Ming-Chi Kuo told us to expect processing chips similar to the M1 chip, giving the headset processing power similar to the Mac. Below is a render by Ian Zelbo, based on reportedly leaked information.
iPhone VR Headset & Apple Glasses Price
MacRumors suggests a $2,000 or $3,000 price tag on the VR headset, but expects the Apple Glasses to be less expensive, around $499. There isn't much else out there at this time, so we'll have to see. It would make sense to launch a high-end premium version and then offer a more affordable price tag with the AR glasses a few years later, if the interest is piqued in those who don't want to drop several grand. With the launches so far away, though. It can be hard to speculate. We'll have to wait and see!