By

Leanne Hays
Updated 04/05/2023
What to Know
To rename group chats, tap the contact names at the top of the thread, tap Change Name and Photo, and type a new group name. 
Follow the same steps to easily rename the group chat at any time.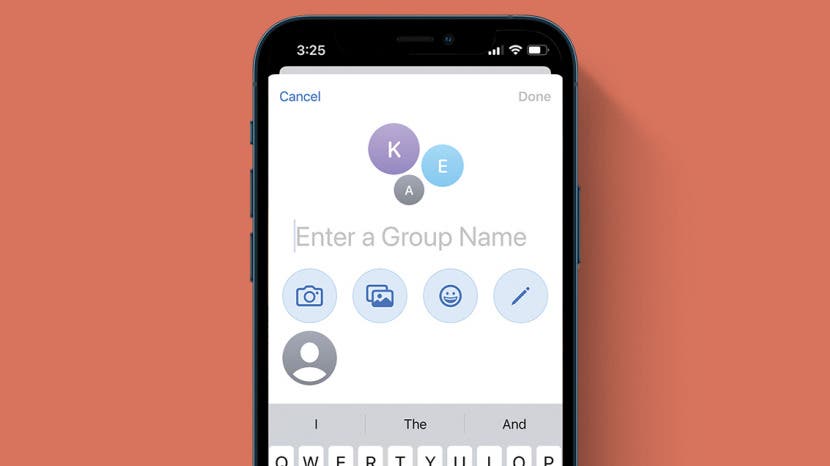 Group messaging is a convenient way for everyone in the conversation to communicate with each other and share information. If you've started several group text conversations, giving them each unique names may be useful, so you don't send the wrong comment to the wrong group! We'll show you how to name a group text, so you can easily find your text thread when you need it. 
Jump To: 
How Do I Name a Group Text on iPhone?
You can only name group iMessages, not group MMS messages. This means that all members of the group need to be iPhone users or signed into Messages on an Apple device such as a Mac or iPad. Also, when you name a text group on iPhone, other people will see the same group name, so it's important to keep this in mind! Now, here's how to name a group chat on iPhone:
To name a group text, start by opening your Messages app.



Open the conversation you want to name and tap the number of people in your group or their icons.




Tap Change Name and Photo. (If you don't see the option, there is likely a group member who is not using Messages.)


Type the name of your group.



Tap Done to save the group name. 


Tap Done to close edit view. 


If you would like to change group chat names again later, you can easily follow these same steps to rename your existing group chats. Next, find out how to sync messages from iPhone to Mac.
FAQ
Can you name a group text on iPhone with Android users? No. You can only rename group chats as long as everyone in the group is using iMessage. If another person uses an Android phone or is not logged into iMessage, the group text will instead use MMS messages. (You can quickly tell the difference by looking at the color of the text bubbles. iMessage texts are blue; MMS messages have green text bubbles.)
How do you leave a group chat on iPhone? Please see our guide on how to leave a group text. It is important to note that you cannot leave a group chat with only three participants, or if anyone in the group is using an Android phone.
Why can't I name a group text on iPhone? If any users are on an Android device or are not signed into iMessage, the group text will use MMS messages instead of iMessage. In this case, you cannot give your group chat a unique name, or leave the group.
How many people can be in a group text on iPhone? This depends on several factors, and we recommend checking out our article on size limits of group chats.
If you're new to group texting, you might also consider checking out how to make a group chat.